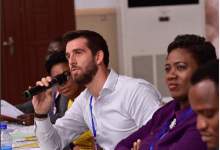 Stand the Chance to Win $10,000 at Pitch Global Startup Pitch Competition
Entrepreneurs in Nigeria, Kenya, and Harlem can now apply to pitch at Startup Pitch Competition for a chance to win up to $10,000. Applicants that are creating a business or running an early stage company are welcome to participate.
This event is put together by Pitch Global and according to them, in addition to the $10,000, participating startups also stand the chance of getting mentorship, free business advisory services, media coverage, and lost more.
Application Stages
Step 1:
Preliminary Application, where applicants introduce their businesses
Step 2:
Pitch Deck Application, where applicants prove their potentials to the selected judges
Step 3:
Video Application, where applicants demonstrate that they could do a good job on stage at Pitch Day
Pitch Days Deadlines
Nigeria: November 1st
Kenya: December 1st
Harlem: January 10th
Step 4:
Pitch Day, where applicants convince the judges that they would be able to put the money into good use if they won.
Pitch Days
Nigeria: December 8th
Kenya: January
Harlem: February
Benefits
Exposure to potential partners, investors, customers, employers, and mentors
Applicants who make it to the Video Application round will receive feedback to help ready them for pitch day
Participants at Pitch Day receive feedback from the judges and audience members
Method of Application
Interested startups can apply through the website.
Featured Image: Pitchedglobal