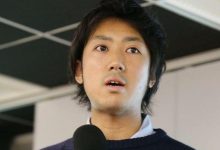 US-Based Leapfrog Ventures Wants to Fund 200 African Startups by 2020
Located in California, USA,  Leapfrog Ventures — a joint venture with Samurai Incubate that specialises in funding seed-stage startups in Eastern Africa — is aiming to invest in 200 African startups by 2020.
This announcement was released as a statement by founder /CEO, Takuma Terakubo, following a report by Japanese publication The Bridge earlier this week which states that the venture capital firm had invested $50 000 in Kenyan startup Biasharabot and said he was motivated by the continent's logistics challenges.
"My first target is 200 startups to invest until end of 2020 and ticket size is basically $30 000 to $50 000, sometimes $100 000," Terakubo.
Worthy of mention is that prior to the report,  Leapfrog Ventures already has plans to invest $190 000 in three Ugandan startups: Francom, Swipe2pay and Xente.
Terakubo founded Leapfrog Ventures in May this year in a joint venture with Japanese startup incubator Samurai Incubate. The Bridge reported that the venture capital firm's fund is worth $4.5 million.
According to him, his purpose is to establish a community of 200 startups which will "incubate the whole continent" and help it solve its problems. Also, in addition, he intends to connect this startup community with Japanese tech companies.
To this end, Leapfrog Ventures and the Rwandan government are working on Sandbox , a project that aims to encourage collaboration between Japanese tech companies and African startups
"Logistics is a big problem in Africa for economic growth, my motivation is to solve this problem and make a smooth distribution network with them," Terakubo said.
In addition to making massive investments in local African startups, Leapfrog Ventures wants to foster entrepreneurs by leveraging the region's unique demographics that the younger generation accounts for the vast majority.
With Sandbox, the company wants to create open innovation opportunities between Japan and Rwanda so that Japanese companies can easily conduct PoC (proof-of-concept) tests without concern about regulations.
---
Smepeaks is hosting Africa's first platform to share and learn from founders' failure stories. Reserve a seat immediately!
---
Featured image: Leapfrog Ventures founder and CEO Takuma Terakubo 
---
On September 8, 2018, Smepeaks is hosting Africa's first revolutionary conference to share and learn from founders' failure stories. Reserve a seat immediately!