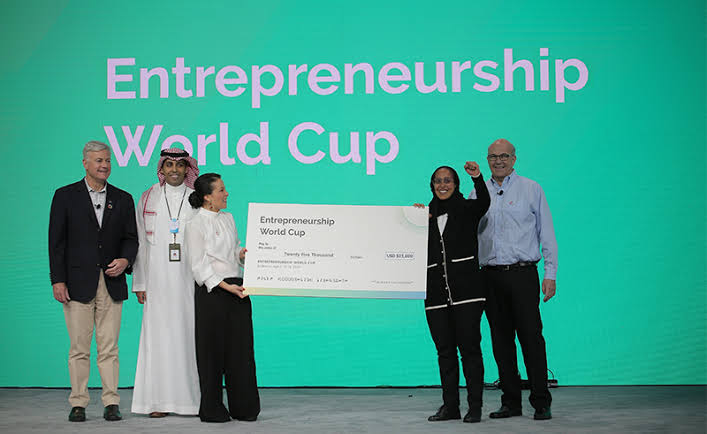 Credits: Startupscene
Apply Now for the 2024 Entrepreneurship World Cup pitch competition and win $1 Million
With over 370,000 entrepreneurs from more than 200 countries and territories participating, the Entrepreneurship World Cup (EWC) has become one of the largest and most varied startup pitch competitions and assistance programs of its kind. 
The Entrepreneurship World Cup is more than just a competition. Numerous hours of coaching and training have been imparted, in addition to valuable entrepreneurship programs designed for each of the three World Cup participating stages.
Cash prize winners or members of elite cohorts, EWC alumni have gone on to accomplish incredible things in the world by coming up with creative answers to the most pressing problems in their local communities.
Benefits
Participants stand a chance to receive the following benefits:
$4 million in cash prizes and $150 million in in-kind prizes awarded.

Lifelong impact, with many achieving remarkable success by addressing local community challenges.
Eligibility
Open to startups globally

Startups must be officially registered in their home country or have plans to register

Startup age limit of ten years on the day of the Global Finals (based on registration date)

EWC Global Winners from 2019–2023 can reapply in 2024 with specific candidacy requirements

Only prizes that differ from the ones won during an earlier competition participation are available to EWC applicants

Only EWC Grand Prize winners –first place overall) are ineligible to participate as applicant candidates for EWC 2024

Previous runner-ups in places two through five and/or category winners are welcome to apply, although they cannot compete for the same spot

All candidates will go through the same judging process to promote fairness in competition. Previous winners are not eligible to compete in the Global Finals through a fast track.
How to apply 
If your startup meets the criteria, seize this opportunity by applying before Sunday, March 31, 2024. Don't miss your chance to join a diverse global community of entrepreneurs and elevate your business to new heights.
---
Got an interesting scoop or news tip? Shoot an email with the subject "story worth telling" to [email protected]