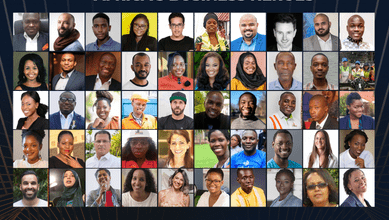 50 finalists selected by Jack Ma's foundation stand a chance to win $1.5m
Out of over 22,000 applications received from all 54 African nations, the 2020 Africa's Business Heroes (ABH) prize competition, founded by the Jack Ma Foundation's Africa Netpreneur Prize Initiative (ANPI), has selected the top 50 finalists from the first stage of the shortlisting process to continue into the next phase of the competition. 
Going forward, 10 entrepreneurs will be chosen out of the fifty to compete in the grand finale later in the year.  The competition aims to provide entrepreneurs from all over Africa with a platform to showcase their talent and business ideas, regardless of nationality, industry, age or gender. 
The top fifty finalists were selected from twenty-one countries which include Algeria, Benin, Botswana, Cameroon, Côte d'Ivoire, the Democratic Republic of the Congo, Egypt, Ethiopia, Ghana, Kenya, Liberia, Morocco, Mozambique, Namibia, Nigeria, Senegal, South Africa, Tanzania, Tunisia, Uganda, and Zimbabwe. They were also picked from the sectors including agriculture, AI, Big Data, business services, construction, education, engineering, eCommerce, fashion, financial services, healthcare, ICT, logistics, manufacturing, management services, retail, renewable energy, and transportation.
In an exclusive virtual boot camp hosted by Africa's Business Heroes team holding today, July 28, the fifty selected entrepreneurs will be invited before moving into the second round of selection while the second phase of the competition will determine the top 20 finalists. The boot camp will give aspiring candidates the opportunity to bounce off ideas and insights from the ABH network. 
During the boot camp, they will have the chance to receive feedback from round 1 judges such as Rafeh Saleh, director of the Founder Institute and Omolara Awoyemi, senior programme manager at Facebook. Participants will also have the opportunity to attend interactive workshops with industry and business leaders, who have been partnering with the network this year. 
The final selection process to spotlight the 2020 Africa's Business Heroes finalists will continue throughout the summer. This will come after the participants have gone through the round 2 interviews and the semi-finale pitch. 
Subsequently, the top 20 and top 10 finalists will be announced in August and September respectively. The final 10 participants will be given the opportunity to pitch their ideas to business moguls including Jack Ma and stand a chance to win their share of $1.5 million prize pool.
---
Got a story worth telling? Shoot us an email with SUBJECT — "Story Worth Telling" — to [email protected].