8 tips to help your business gain visibility on Instagram
With over one billion users, Instagram has become the second most engaged network after Facebook, making a large number of businesses embrace this platform. With it, you can tell your brand's story using the Instagram stories feature, build a connection with other businesses, stay up to date with current trends and boost your business sales. 
However, despite its several possibilities, many businesses struggle with gaining visibility on Instagram due to its ever-changing algorithm.  If your business is experiencing a similar challenge, the good thing is, you can still stand out despite the many brands jostling for the users' attention on Instagram. Read on to find out.
Set up an Instagram business profile
 A business without an Instagram business account is compared to a farmer without modern tools. He might be successful using his crude implements to farm but he may not get maximum growth and profit from his farming business.
To get results from Instagram, a business account is a must. It is part of having a strong online presence. Instagram analytics, a feature found only on business accounts tells you when and how people interact with your posts. Without visiting your office, customers get to know your value proposition.
Information such as business hours, location, website, phone number and directions to your business location can be found on the platform. Users can easily make a purchase using the contact details on your Instagram business account.
It allows you to promote posts and drive traffic to your site. An account with a following of up to 10,000 can add links to Instagram stories. When uploading content to stories, you can insert IGTV as a link to the story.
Develop a consistent brand
Your brand is like clothing that identifies you. It's what sets you apart from other brands. If you want your customers to quickly identify your brand, it's important to develop a consistent brand.
As an image-conscious social media site, your profile photo should be at par. If you're using a business logo, ensure that it matches with your website and other social media platforms. Your description should be clear, motivating and inspiring enough to reach your audience emotionally.
Use colours, fonts and logos that reflect your brand consistently when posting. Instagram posts template can include your brand's logo, name or slogan and should be used when appropriate. Use the same filter for all Instagram photos.
The Preview App can help you edit photos and preview the Instagram feed before posting. Include your brand's colour in quotes, objects, walls, clothes, and background in your Instagram story. Are you funny, professional, motivating? Allow it to reflect in your caption each time you post. Creating a hashtag for your brand will also make your captions unique.
Creating consistency builds trust, reliability and improves customer perception enabling the target audience effortlessly identify your brand amongst so many brands on Instagram.
Use influencer marketing
Instagram influencers can help increase your brand's visibility on Instagram. Influencers are perceived as experts in their field, enjoy a strong rapport with their fans, have a large number of loyal followers and their recommendations are held in high regard. 
Working with an Influencer whose niche matches that of your brand will help a lot in growing your following and drive traffic to your site. Search for Influencers in your niche and employ their services. Invite them to contribute to your blog, run contests and referral programmes with them. People are more likely to engage with your brand if recommended by Influencers.
Run Instagram contests
This involves giving away a product/service when users carry out a specified action (liking your post, tagging friends or any activity that matches your brand's objectives). Instagram contests can help boost your follower count and increase brand awareness in a short period of time. This is because people naturally are drawn to goodwill, the higher the number of contests, the higher the chances of having an increased following.
When organising an Instagram contest, it's important to state the rules, how to be eligible, restrictions, the prize(s) to be won, deadline and the time a winner will be announced. Once the contest is over, promote the results on social media. You may also decide to partner with other brands to host your Instagram contests.
Every contest has a goal. It could be an appreciation to your audience for sharing your User Generated Content (UGC) or celebrating the achievement of 1,500 followers. Examples of the contest are: like to win, tag to win, selfie contest, caption contest, and challenge contest. Gifts awarded should be relevant to your audience, otherwise, you risk losing credibility and followers.
User-Generated Content (UGC)
This happens when your audience post about your brand on social media platforms. It's a great way to increase visibility on Instagram because it proves your brand is trustworthy enough to be shared by someone else. 
For instance, if a customer makes a purchase, you can ask them to share the product on their timeline using your brand's hashtag and tagging your brand as well. Share a post encouraging your audience to share with your brand their favourite product/service your business offers, tagging your business in the process.
Don't forget to credit the original creator when sharing user-generated content on your Instagram platform, tag them in your post. If you want followers to provide you with user-generated content, you need to offer them something in return. When used in the right way, user-generated content creates credibility, drives sales and promotes brand awareness.
Instagram advertising
Advertising is a way to reach out to a large audience in a short period of time. It helps put your brand in front of your audience. To run an ad on Instagram, your account needs to be connected to a Facebook business page. To run ads, follow these steps:
Choose an objective

Identify your audience

Select your ad placement

Choose a budget

Create your ads
Instagram ad types can be photo ads, carousel ads, video ads, Instagram ads and story ads. Choose any that resonates with your audience. Analysing your ad campaign results will help determine its level of performance and effectiveness. Adjustments can be made where needed with the information from the analysis.
Share lively, engaging and quality content
Creating a quality, lively content is a must for brand visibility on Instagram. Users come online to chat and relax. A friendly caption will go a long way in reaching your audience and move them to engage with your post. Utilise Instagram stories feature. It lasts for 24 hours but they can last forever if added to your stories highlights.
Online design tools such as Adobe, Canva and Venngage are useful for crafting a quality image for your feed. Consider the colours you want your brand to be associated with, filter to use and content to post. Crafting a content calendar will help you plan ahead, it saves time and helps attain your business objectives.
Focus on posting engaging content like inspirational and motivational quotes, cute pet photos, short videos, an enticing caption that can be short or long depending on the objectives. Use a clear call to action to encourage engagement, spend time liking posts, viewing stories and engaging with your followers and relevant influencers in your niche.
Hashtags increase engagement to a great extent. A minimum of ten and a maximum of twenty. Research on trending hashtags in your industry and use those that match your content. Mix the hashtags, e.g. popular hashtags with niche hashtags and location hashtags. All Hashtag is an online tool that helps generate relevant hashtags for your post.
Instagram Television (IGTV)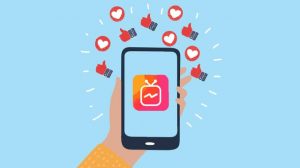 As the name suggests, it's a free application to share long-form videos. It can be accessed using either the IGTV App or Instagram. With this feature, you can add more details about your business for up to 15 minutes when uploading from a mobile device and an hour when uploading from the web as against the 60 seconds Instagram allows. This offers an opportunity to engage your target audience with videos they'll love. When videos are published, they don't last for just 24 hours but forever.
To create an IGTV, upload existing edited videos in your possession. Applications like Inshot or Splice can help you add music, emojis and special effects to the videos. Grab your audience attention at the beginning by doing a welcome note preview with an attractive cover photo. Add relevant hashtags to enable users discover your video even when they don't follow your channel. For the series, come up with an innovative idea of the theme. It's important to create one that resonates with your audience.
IGTV can be used to announce a new brand, teach your audience how to use a product, present reviews of your product, giving an online tutorial, cover company events (social gatherings, industry trade shows), take viewers on a tour of your company, and holding an Ask Me Anything (AMA) session.
The AMA session will answer questions viewers may have about your business. Prior to that, taking a poll using the question sticker on Instagram stories will help you gather relevant questions from your audience.
To find out how the audience feels about your videos, take a look at your IGTV insights ( open the video and tap 'view insight'). To increase your ranking, use an attractive cover photo for each video, a compelling title and relevant keywords in your description.
Use IGTV to educate and entertain your audience, boosts products/ services, generate engagement and appeal to your audience emotionally. Consistency will help your audience know when to expect a series and with time, you'll have a following from IGTV.
Getting recognition as a business on Instagram can be difficult but utilising the use of hashtags, Instagram analytics, Influencer marketing, IGTV, effective ads, Instagram contests, user-generated content, and sharing stories with an emotional appeal will help your business stand out.
Remember to stay true to your brand's voice, create value for your audience and most importantly enjoy using the platform. With consistent effort, your brand will be visible to everyone.
---
We've partnered with Sidebrief, a Legal compliance company to help as many as possible businesses access and get the necessary document for the FG N50bn Covid-19 credit facility. Interested? Get started for free. 
---
Got a story worth telling? Shoot us an email with SUBJECT — "Story Worth Telling" — to [email protected].