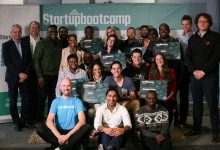 Meet the 8 Nigerian Startups Shortlisted for Startupbootcamp Accelerator Cape Town
Startupbootcamp (SBC) Africa recently announced the top 22 startups selected to attend selections days for the organisation 's accelerator based in Cape Town, South Africa.
This is the final step in the selection process before next month, when Startupbootcamp Africa will announce the final 10 startups that will take part in its second acceleration program which will commence in August 2018.
Philip Kiracofe Co-founder and CEO of SBC Africa, in a statement, said selecting the finalists had been "an intense process due to the exceptionally high calibre of startups applying to the program from across the continent".
From 1004 applications made, 22 of the most creative teams tackling daunting African problems were selected. According to Philip, one of the key differentiators for startups participating in the SBC Accelerator is the opportunity to secure commercial contracts with Startupbootcamp's sponsors.
In order to make it onto our top 22, each startup has been chosen by at least two sponsors for potential proof of concept projects. The 2018 cohort is already shaping up to be a milestone moment for Africa," said Philip.
Of the top 22 startups that have been selected to join the final selection, Nigeria presents the highest numbers with eight representatives. Listed below  are the eight Nigerian Startup that made the lot:
Biyabot: an easy payments platform that lets users do airtime top-up, pay bills and transfer funds easily via Skype, Slack, Telegram, Facebook Messenger.
Credpal: a platform that allows users to make payment for purchases in bits through a fixed monthly payment plan.
FriendsVow: connects family, friends, colleagues and cooperatives, with access to multiple streams of credit.
Kudimoney Bank: a branchless bank that takes away the heavy cost of banking, thereby helping users save automatically.
Medikal HMS: a hospital and health care center management platforms that equip clients with every necessary tool needed to effectively manage staff, patient records, and departments such as the laboratory, radiology, nursing, etc.
NebulaPay: a secure conversational payment platform that creates an easy way for users to pay bills (Cable channels, electricity), buy airtime and send money to any bank by chatting on Facebook messenger, Skype and more.
Other Nigerian startups in the mix are Bankly Technologies and ZEEZZ Planet Solutions.
Nigeria is followed by South Africa with five and three from Uganda. Ivory Coast and Kenya have two startups each while Ghana and Ireland both have a startup each. The final 10 startups will be announced on 12 July at PwC's Cape Town offices.