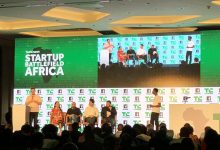 TechCrunch Startup Battlefield is Hitting Lagos This December ($25,000 Up for Grabs)
TechCrunch, an American online publisher of technology industry news is once again partnering with Facebook to host its second African edition of TechCrunch Startup Battlefield in Lagos.
TechCrunch Startup Battlefield is a competition that brings the world's top early-stage startups together on one stage to compete for the coveted Disrupt Cup, a $50,000 prize, and the attention of media and investors. The judges include TechCrunch editors as well as top VCs and entrepreneurs, and past winners include names like Vurb, Dropbox, Mint, Yammer and many more. Participation is entirely free and open.
Last year, TechCrunch Startup Battlefield, in partnership with Facebook made its debut in Sub-Saharan Africa with Kenya as the host country, where Lori Systems emerged the winner.
This time, Startup Battlefield is coming to three major cities in emerging startup communities.
In Beirut, TechCrunch's editors will strive to find the best early-stage startup in the Middle East and North Africa. In São Paulo, the hunt is for the best in Latin America. And in Lagos, Nigeria, TechCrunch will once again find the top startup in Sub-Saharan Africa.
From the pool of applicants, TechCrunch will choose 15 companies in each region to compete. Transport support will be provided for finalists to reach the host city. Prior to the d-day, finalists will receive intensive coaching from TechCrunch's editors "to hone their pitches to a razor's edge before they take the stage in front of top venture capitalists from the region and around the world".
At the event, the winner gets $25,000 plus a trip for two to the next TechCrunch Disrupt event, where they can exhibit free of charge, and, if qualified, could be selected to participate in the Startup Battlefield competition associated with that Disrupt.
According to TechCrunch:
More than 750 Startup Battlefield alums have raised over $8 billion and produced 100+ exits to date.
While definite dates haven't been fixed for the event, TechCrunch hints that the Lagos edition will hold early in December 2018. However, early stage startups could begin applying to qualify among the 15 which will be selected. Here's the application portal.