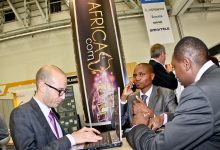 AfricaCom Invites Startups to Submit Pitch Videos
Arguably the organisers of the largest tech and telecom festival on the continent, AfricaCom is calling on African startups to submit a three-minute long pitch video for a chance to win all access passes to AfricaCom 2018 as well as a possibility to pitch at the event.
AfricaCom event will take place in Cape Town again this year from 13th – 15th November whereas many as 14 000 techs and telecom experts are expected to attend.
Pitching sessions will take place on the AHUB – Azure Hybrid Use Benefit- stage at the event.
Criteria for participation
Startups must have raised less than $1 million in funding
Have been found within the last four years
Pitch videos must be uploaded to Vimeo or YouTube) before videos will then be submitted to AfricaCom's YouTube channel where people can vote for their favourite pitch
The best pitches will go on to pitch their idea at the AfricaCom event later this year.
Criteria for application
A three-minute video submitted by startups much answer the following questions about your company.
What problem are you trying to solve?
How are you solving this problem?
Have other companies attempted to solve this problem before and if so why is your company's approach unique?
How to apply
Once you meet you meet these guidelines, please feel to take any approach you want to your video pitch, then head to the website to submit your video pitch. Deadline for applications is Friday, September 14, 2018.
---
Featured image: biznisafrica
On September 8, 2018, Smepeaks is hosting Africa's first revolutionary conference to share and learn from founders' failure stories. Reserve a seat immediately!