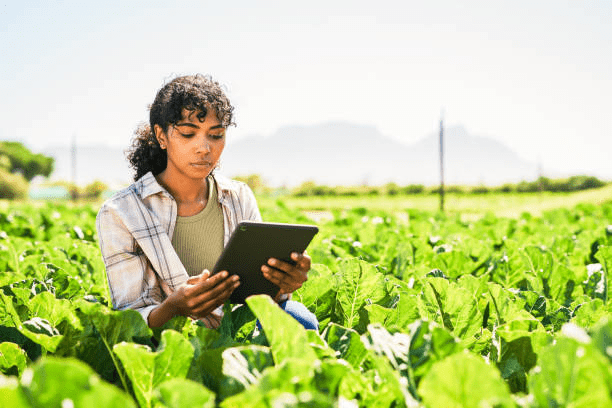 Source: Getty Images
Agritech and Edtech, which is more impacted by Artificial Intelligence?
Artificial Intelligence (AI) is now a force driving innovations across various industries, impacting activities across departments. 
Among these industries are two key focuses – Agritech and Edtech – which one has been more profoundly impacted by the integration of AI?
Agriculture, the backbone of our society, has witnessed significant advancements due to AI. From precision farming to crop monitoring, AI-powered technologies are enhancing efficiency and sustainability in agritech.
Precision Farming: AI-driven sensors, drones, and satellite imagery allow farmers to collect data about soil health, weather patterns, and crop growth. This data enables precise resource allocation, optimizing irrigation, fertilization, and pesticide usage.
Crop Monitoring: Computer vision and machine learning algorithms analyze images of crops, detecting diseases, pests, and nutrient deficiencies. This early detection helps farmers take timely action, reducing crop losses.
Robotic Farming: AI-powered robots perform tasks like planting, harvesting, and weeding with precision. They reduce the need for manual labor, leading to increased productivity and reduced costs.
On the other hand, Education technology, or Edtech, has also been revolutionized by AI, transforming traditional learning methods and enhancing personalized education.
Personalized Learning: AI analyzes students' learning patterns and adapts content to their individual needs. This tailored approach improves comprehension and engagement, making learning more effective.
Virtual Classrooms: AI facilitates interactive virtual classrooms with features like real-time language translation and sentiment analysis. This enables seamless global collaboration and more inclusive learning environments.
Automated Grading: AI-powered grading systems can evaluate assignments and tests, providing instant feedback to students and saving educators valuable time.
Which is More Impacted Between Agritech and Edtech?
Determining whether Agritech or Edtech is more impacted by AI depends on the lens through which we view impact. Both sectors have witnessed remarkable transformations, but the extent of impact varies.
Agritech has experienced significant changes in farming practices, leading to increased yields, reduced resource wastage, and improved sustainability. AI-powered technologies are addressing critical challenges such as food security and efficient resource utilization, making agriculture more resilient.
Edtech, nevertheless, has fundamentally altered the way we approach education. The personalization and accessibility AI offers have opened new avenues for learning, making education more adaptable and equitable.
Both Agritech and Edtech have been greatly impacted by AI, but the scope and nature of their impact differ. While Agritech focuses on improving food production and resource management, Edtech aims to provide inclusive and personalized learning experiences. 
The impact of AI is not a competition between these sectors, but rather a symbiotic relationship that drives progress across multiple fronts. As AI continues to evolve, its influence on both Agritech and Edtech will undoubtedly keep expanding, ushering in a new era of innovation and growth.