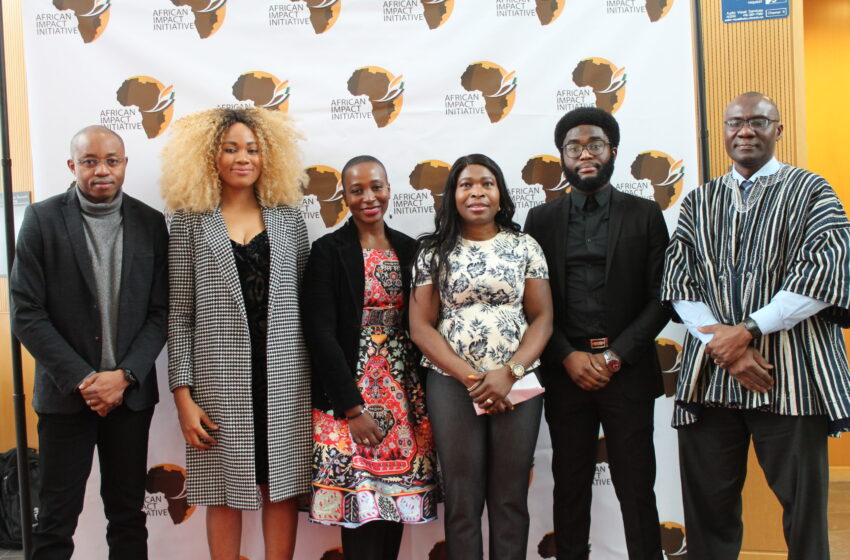 Speakers at the last African Impact conference at University of Toronto (January 2020). Right to left: Wisdom Tettey (Vice President, University of Toronto), Efosa Obano (Founder, AII), Olutoyin Oyelade (Founder, CASA foundation), Sandra Chuma (Founder, Ndini Media), Ehi Ademabo (Mindset Surgeon), Obidimma Ezezika (Assistant prof, University of Toronto)
Apply to Receive $25,000 in African Impact Challenge for Entrepreneurs
Focused on supporting early-stage innovators leveraging technology to solve critical problems in their countries, applications are on for the African Impact Challenge.
The Prosperity Paradox, building solutions to alleviate poverty in Africa, organized the African Impact Challenge (AIC) which has been running in different African countries, including Ghana, Kenya, and Rwanda, among others, yearly since 2020.
Since launching, the programme has trained over 500 early-stage African entrepreneurs and funded over 80. 
The programme will take place in South Africa this year, where top-performing teams will receive grant funding or a simple agreement for future equity (SAFE) investment. In addition to these, participants will get a trip to Toronto for 3 months next summer, where they will learn and expand their entrepreneurship network. 
AIC aims to successfully kick-start innovations aligned with its selection criteria across the continent by providing the capital, resources and guidance necessary for early founders to (re)start from scratch, and build viable solutions in the market.
Benefits
Selected applicants stand the chance to receive the following benefits:
$25,000 in either grant funding or a simple agreement for future equity (SAFE) investment

Capacity Building

Incubation

Mentorship 

MVP Capital

Market Penetration 

Cost-covered travel to Toronto
Eligibility
Applicants should fulfill these criteria to qualify:

Applicants must be young Africans (under 39) who live in the countries of the given year's challenge

Applicants should have the desire to pursue impact-focused entrepreneurship as a means of livelihood

Applicants should desire to solve critical problems with technology.

Full-time commitment from the team building the venture

2023 Stream 1: Ventures based in

South Africa

from any sector

2023 Stream 2: Ventures

across Africa

that

enable positive health outcomes

Applicant's idea should address an identified problem/challenge

in your country, by providing a comprehensive solution through a clearly defined job to be done

Applicant's solution should be technology enabled

in its creation and/or use

Preference will be given to solutions that

target non-consumption, by increasing adoption, accessibility or affordability

Preference will be given to innovative and scalable business models
How To Apply

Apply for the African Impact Challenge and stand a chance to receive the above benefits. Applications close on Saturday, April 15, 2023.