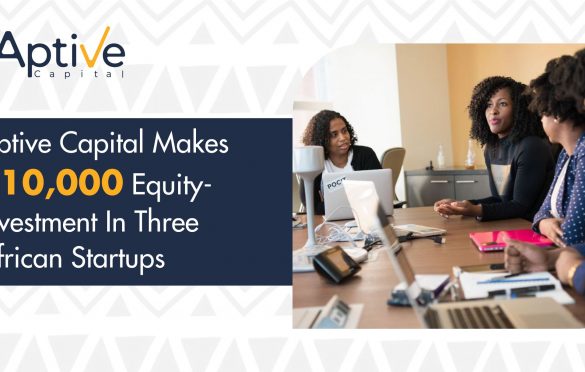 Aptive Capital makes $10,000 equity-investment each in three African startups
Aptive Capital, a US-based VC, today announces its equity investment in three early-stage businesses in Africa; Nigeria, and Uganda.
Earlier in June 2020, the Africa-focused investment company opened up applications to invest $10,000 equity capital into eligible and high potential startups based in Africa, from its $1 million portfolio fund.
The application, which ran for a month, had over 500 entries from high growth companies with very impressive founders across Africa. After thorough phases of scrutiny and submission reviews by investment professionals, three startups were selected for the early-stage funding.
Speaking on the investment, Dr Ben Peter, Managing Partner at Aptive Capital said, "We had lots of entries from impressive founders across Africa who showed so much enthusiasm and had amazing solutions. We've settled for these three, not because they are the best, but because we believe their visions as impact-led companies directly align with our goals to promote measurable and innovative social causes in Africa. Our team has kickstarted support for these energetic companies who believe the solutions they are proffering will solve the continent's most daunting problems. This is what Aptive Capital is committed to doing."
According to the organisation, the criteria which determine the selection include; early-stage business, evidence of impact, founding team, uniqueness of the solution, traction, leverage of technology, further projections and validity of the startup industry.
While applications rolled in from sectors such as Digital Storytelling, eLearning, Access to market, Digital payments, Supply Chain management, agriculture, Logistic, eCommerce, Gamification, Big data, Cybersecurity, Crowdsourcing, and eLiteracy, the selected companies include:
Skyfire Digital (Nigeria) – Digital marketing agency supporting MSMEs in Africa and the US market to achieve their business ROI objectives as well as scale through various online channels.
Mimi Money (Uganda) – Bitcoin payment solution using crypto to transform payment in Uganda.
Emmnoch Farms (Nigeria)– Fish farm solution providing end-to-end along the fishery value chain and connecting rural farmers and bridging the nutrition gap through fish farming.
From the pool, barely 100 startups made it to the second stage which involved due diligence and further documentation. The next round was a one-on-one Zoom pitch, that saw 10 selected startups make it to the finals. At the final stage, only these three startups were able to successfully gain investment interest from Aptive Capital.
According to Peter, "Our selection process was quite intense and we're glad that these ones not only saw it through but also emerged victorious in the end because of their belief in their solution as well as a very lucid business model."
In the next couple of months, Aptive Capital will, in addition to the $10,000 funding, offer technical support, mentorship, coaching to intensify the social impact of its portfolio companies. Aptive says its next call for investment rounds will open before the end of the year.
---
Got a story worth telling? Shoot us an email with SUBJECT — "Story Worth Telling" — to [email protected].