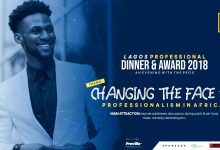 Win $3,000, Other Prizes at the Proville Lagos Professional Dinner and Awards, 2018
On Friday, December 14 2018, Proville.Net, Nigeria's leading freelancing platform will host the maiden edition of Lagos Professional Dinner and Awards (LPDA) to celebrate professionalism in Nigeria.
Proville.net is Africa's leading online service marketplace for top professionals to deliver top-notch services to prospective clients seeking professional services. Launched in 2018, Proville's aim is to bridge the gap between professionals and their prospects looking to get their jobs done efficiently.
The LPDA Ceremony is themed "Changing the Face of Professionalism in Africa"  and will feature keynote addresses from industry leaders, discussions, networking, comedy, music and the "Pitch and Win Contest". The latter will see winning startup walk home with $3,000 alongside media services worth $2,550 from Smepeaks, Proville's media partner for the event.
About Pitch and Win
Proville Startup Pitch and Win Contest is for African startups to stand a chance of winning up to $3,000. Selection will be made after submissions are carefully scrutinised by seasoned judges. The following will be considered in applicants selection:
Problem being solved
Target audience, or whom you're offering your solution to
Competition analysis
Traction
Team
Instructions
Record a video not more than 3.00 minutes, explaining why you think you should be a winner of the pitch and win contest
Upload the video on youtube and paste the link in the appropriate field given when filling the form. You may begin your application process immediately. Application deadline is Friday, November 30, 2018.
Main Event Details
Date: Fri, December 14, 2018
Time: 5:00 PM – 9:00 PM WAT (Add to Calendar)
Location: Civic Centre, Ozumba Mbadiwe Rd, Eti-Osa 100001, Lagos (View Map)
Reserve your spot immediately by registering online.