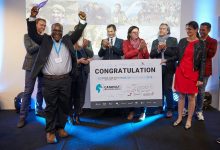 A Micro-Insurance Company from Uganda is CATAPULT: Inclusion Africa Winner
From 14 ventures selected to participate in the CATAPULT: Inclusion Africa, Ugandan Four One Financial Services  emerged the overall CATAPULT: Inclusion Africa, winner and bagged the "Best Catapulter Award" with 5,000 Euros as cash prize and entry to the 2019 African Microfinance Week.
CATAPULT: Inclusion Africa, initiated by the Luxembourg House of Fintech (LHoFT) Foundation is a week-long programme focusing on companies developing financial inclusion technologies and willing to build bridges between Africa and Europe.
Four One Financial Services, CATAPULT: Inclusion Africa Winner 2018, founded the Mayicard platform which offers micro-healthcare insurance, and prepayments for assets like land and housing. The venture also claims to deploy Uganda's first micro-pension scheme first. The founder's inspiration stems from his poor background. According to InFinance, Mukasa lived in poverty in the slums of Kampala until aged 25. He received a college education and wanted to help his fellow countrymen and women escape poverty just as he had. This explains why he created Uganda's first micro-pension service and the Mayicard platform, which gives access to healthcare insurance and other savings products.
"When you realize that your failure might mean someone living in poverty, perhaps for the rest of their lives, you have no choice but to succeed," said Livingstone Mukasa
The jury presented the winner after a live pitching event, which was the crowning of the competition. Although 14 ventures were selected for the bootcamp, only 11 were able to participate.
They include three from Uganda, (Akaboxi Limited, Four One Financial Services and Vouch Digital Limited)  two from South Africa (Akiba Digital and Inclusivity Solutions), two from Luxembourg (Bitvalley and Koosmik Corp) and one each from Tanzania, Senagal, Israel and the United States (Nala , Matontine Senegal , Oko  and Ovamba Solutions respectively).
The other selected ventures that couldn't participate are  SmartTeller LTD, from Nigeria, WeCashUp, (Cameroon/France) and Refuge Network, Malta.