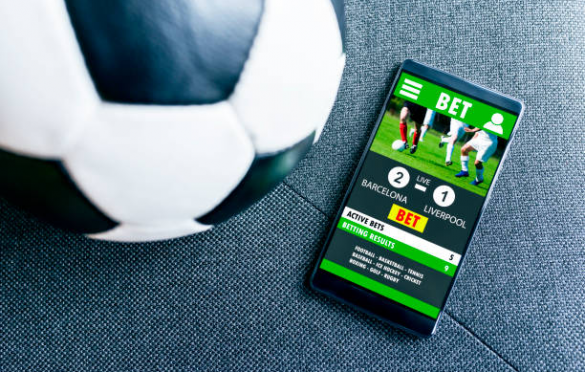 Bet9ja is now the second most visited website in Nigeria, topping Facebook and almost unseating Google
A couple of days ago, I was deep into some editorial research when I chanced on something staggering. Bet9ja is now the second most visited website in Nigeria based on the Alexa ranking, leaving behind Jumia, Jiji, Nairabet and even giants like Facebook, YouTube, and the list goes on. The only platform (probably struggling) to maintain its position is Google–still ranking as #1, for now.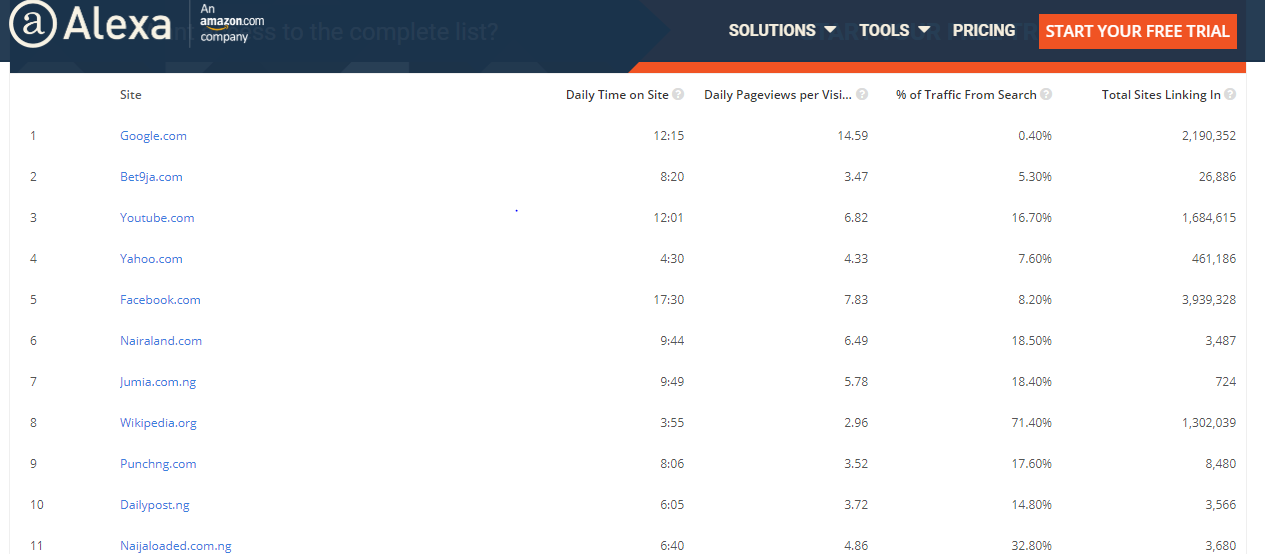 Should this be a 'thing'? 
To a lot of persons, Bet9ja's uptick on the internet track might not come off as a surprise, especially to ardent bettors. But for a country known to be reserved on matters such as gambling, this is quite a thing. In fact, it is a big deal. 
For decades, young Nigerians, who make up more than 60% of the country's internet populace are known to have their online craze for entertainment and gossip which largely fueled the income sources for blogs that embraced the entertainment niche early enough. Recent events however are making it clear that the interest may have shifted from entertainment. 
And the fact that betting now gains more traction than all of these other niches speaks a lot about what the current craze is. 
Since not all that glitters is gold, I decided to unravel whether or not Bet9ja's traffic source is genuine and from real humans by digging deeper.  
Here's what I found: 
Genuine visits or click baits? 

Running the Bet9ja through SimilarWeb reveals that the website receives about 57.6 million visitors on a monthly basis. Obviously, that's an astonishing figure driven by the online betting platform, but it wasn't enough to convince me. Here's why.
As you may know, many popular brands, desperate for massive traffic, often adopt click baits and redirection techniques to "force" visits. 
(Recall that scenario where you visit a site, mistakenly click on a white or empty space and you're redirected to another website entirely which you often angrily exit? Then, you realise you're swarmed with click-baits and have to be careful when navigating such sites. If you visit a lot of movie websites, for instance, chances are, you encounter this a lot, and it's often frustrating.) 
Well, back to the main deal. 
I didn't dismiss the thought that Bet9ja could be one of such websites conjuring " forced visits with invisible baits". And the fact that the website's traffic had dropped by 7.16%–from 80 million hits in August 2019 to 57million–reinforced my uncertainty. 
This dissatisfaction led me to weigh the Bet9ja's traffic credibility against other metrics. First, I picked Bounce rate. 
Interestingly, for a niche of its kind, the website has a fairly low bounce rate of 27.11%, with visitors spending an average of 8 minutes on the website.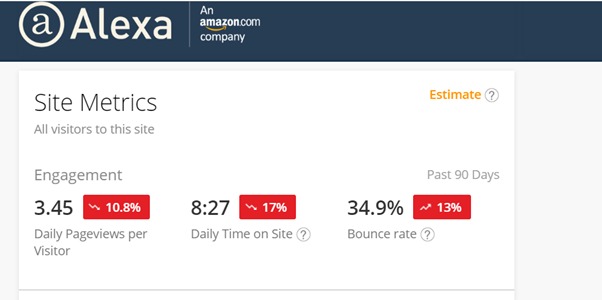 Alexa attests to these stats, although with a slightly higher bounce rate, yet fair enough for a betting website.
At this point, it's OK to admit that Bet9ja gets really massive traffic from real visitors, many of whom are ardent local bettors, returning to their favourite betting spot at least every other day.  
A quick fact is, the platform has its server based in India. It may have been built there as well, but here's what might interest you more. Bet9ja appears to be leading in its niche not only traffic-wise but also industry-wise.  First, it has ousted its primary competitor, NairaBet on the ranking of Alexa, by a huge 249 slots displacement (as at publishing time, NairaBet only ranks 251st most visited Nigerian website according to Alexa).  Although other related betting platforms like 1xbet (31), Sportybet (47), and Live (41) have their share of the niche's traffic, none is as close as Bet9ja to being the favourite betting platform of many young bettors across the country.
Good for Bet9ja. But, we aren't just about the platform's 'impressive'  stats. The fact is that, what lies beyond these numbers, hiding in plain sight, becoming widespread and often nurtured in an almost enviable manner, is its addictive clause. And this is catching on with the youthful population faster than anyone could ever envisage. Here is where the worry begins. 
Past and recent events have established that gambling usually only offers a momentary relief, leaving behind an insatiable hunger for more in its victims. More often than not, the need for its continuity has resorted in a significant number of societal vices. Little wonder gamblers are often stigmatised. 
Even in Nigeria, pioneers have had to fight to legalise gambling-related activities like lottery "locally known as Baba Ijebu" and sports betting, stating that imposing bans on these could as well be akin to restricting the fundamental rights of choice on citizens. However, gambling rate is constantly on a meteoric rise amongst youth.
Although arguments were won and sports betting became welcome, it hasn't cushioned the vices on the populace. There's also a resultant effect of growing uncharted mental disorientation on those who frequently engage. 
For starters, Bet9ja's elevation to become the biggest betting platform in Nigeria mirrors how subscribers on the platform are locked up in the frenzy of making 'quick wealth' by winning stupendously on the Nigerian sports betting sites. The scary thing is, even its players are aware of the looming implications. Yet, the knowledge of plagues gambling wreaks on victims isn't enough to decelerate its rapidly growing embrace. 
In a recent survey we conducted, a gambler had us startled by her response "sports betting kills a man's sense of worth faster than anything I've seen". She said this to buttress her points on what ripple effects betting has on its players. "It's a continuous action where you keep losing to win someday, and that day may never come. Even if it does, you're bound to lose it as quickly as you got it. In a flash." 
Our close to 45 minutes of engagement with her can be surmised in a sentence–gambling is addictive and many youths can't resist the lure of continuous patronage.
We interacted with more bettors who revealed that addiction may be the least or the start of more imminent problems facing an ardent bettor. 
There's the case of going really broke, getting emotionally distorted, mentally disoriented and even having matrimonial troubles. A report by TheNationOnline illustrates one of many similar cases where a woman divorced her husband on the grounds of betting addiction "A housewife, Omotayo Adewole, 35, approached an Ikole Customary Court in Ekiti state seeking the dissolution of her 16-year-old marriage to one Ojo Adewole, over his addiction to gambling," the report stated. 
Another report by Blueprint.Ng establishes more effects sports betting culminates into — from being frustrated and angry at losing a bet, to wastage of resources, extravagance, poverty, laziness and suicide contemplation. 
Yet, the favourite pastime of the youth is becoming more renowned at their own expense and to a point where it's now a major destination for millions of youth who constitute the majority bettors. Families are not exempted from this crave for immediate reward. In 2017, an online survey carried out by NOI Polls reveals astonishing figures of family engagement in betting. 

The demographics above shows the proportion of gambling/betting in Nigeria across all six geo-political zones.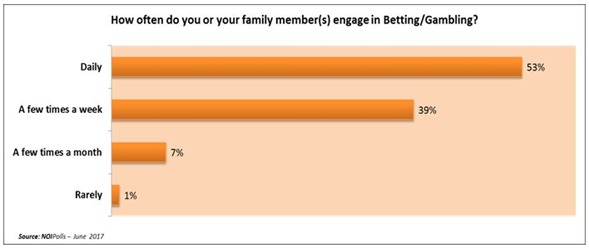 And even when wins aren't guaranteed, quitting is usually not an option.

Considering the level of addiction, and the often irreparable dents bettors are susceptible to, it begs the question of why they aren't stopping or taking breaks to at least control the addictive surge. Unfortunately, even our respondents, despite their responses, aren't considering the option to pull back from gambling. 
Not knowing whether to feel sad or sorry for them, we continued the one thing we know how to do best–ask more questions. 
Our next set of questions were centred around how they got caught in the web of addictive betting, and despite knowing its effects, aren't ready to pull the plug. This, linked to why Bet9ja is the point of call for most of them. 
Responses from our survey shed light to many grey areas.  For instance, we found that one of the ways Bet9ja gets majority flocking to the website daily is by using a silent marketing technique. Let's call it the hook. 
The platform has mastered the art of deploying the most common bait adopted by betting platforms to attract new customers (visits) to their site; offering generous welcome bonuses for new sign-ups. It often positions a display ad notice on third-party platforms with claims to "offer a 100% welcome bonus to new visitors". There is no way such an alluring offer wouldn't deliver.  
Clearly, Bet9ja hasn't only found, (and capitalised) on the Achilles heels of its competitors but the appealing points of its demographic. I have also personally noticed that its rate on online display advertising as well as offline posters and similar banner ads is often second to none in the industry. 
This, however, is a small part of a whole marketing scheme. 
Analysing the other 'hooks'
Not so long ago, Sportytrader.com did a comparative test of top betting platforms operating in Nigeria which placed Bet9ja on top. 
Launched on September 10, 2013, Bet9ja's rise to stardom within seven years, displacing NairaBet which was launched four years before it, didn't only rely on a solo marketing schematic. The hook is one, but there are other ways the platform is successfully gaining the unflinching affinity of its audience. 
Chief among them, according to respondents are its hugely competitive odds, easily navigable website, ease of deposit, direct withdrawal directly from accounts, astonishing bonus offers, and promos. Extra toppings in the form of a large cache of games statistics are also available on the website, all culminating to good selection in the sports betting market.
Of course, all of these are in addition to the massive publicity and online advertisement the platform has committed to doing over the past few years.
In a chat with smepeaks, Tony (real name withheld)  a self-imposed betting addict expressed thoughts that more or less solidified my observations "You only place your bets on the betting site you know of whenever you need to place a bet right? And, the more you advertise, the more your name rings a bell and remains in the hearts of sports lovers. You become the go-to guy in no time."
On the flip side…
While there's a whole pointer to the fact that betting generally fuels a moral decadence amongst the youth, there is the sentimental consensus shared by bookmakers–that sports betting has taken many youths off the streets, formed the major source of income for many households and also recorded some actual big wins amongst bettors. 
Some of the positives derived out from sports betting in Nigeria include; employment opportunities for agents, the opportunity for unemployed youths to get busy and an avenue for bettors to earn on their passion.
And the case isn't different in sports betting. 
---
Read Also: The billion-dollar gaming opportunities in Africa everyone's missing
---
At some points, it has also been alluded to drive digital-inclusion. Because, with the widespread access to the internet and technological advancement now prominent, the ability to follow up on bet status has made betting platforms easily accessible to internet users.
However, recent events only scream the fact that when it comes to gambling, the cons often outweigh the pros. And the case isn't different in sports betting. 
Betting amongst Nigerians — a blessing in disguise or bane on the loose? 
One thing gambling in Nigeria has made evident is the opportunity to get quick-money from competitive odds chance and providing an avenue for online betting platforms to attract large audience turnout. 
Gambling may have emerged one of the most profitable ventures anyone can go into, both for the bookmakers and punters, but the scary belief among punters that "there are higher chances of becoming rich by playing more games as efforts are rewarded over time" only makes things worse. 
And life is such a mysterious stream with a linear effect on every change. Which is why just as Bet9ja is having an upward projectile, the addictiveness of sports betting is skyrocketing at an alarming rate. All in barely seven years of launch. 
Despite the intense engagement with our respondents, there are still a few loose ends we couldn't tie up. For instance, the actual percentage of those who have become rich through betting seems obscure. Who really are the biggest gainers in this space? Will the ever-growing urge to keep getting quick cash from online betting platforms abate? 
Perhaps, it's high time we focused on the less serious concerns —is there a chance that Bet9ja will topple Google as the #1 most visited website in Nigeria? Just how long will that take?
Who knows? Bet9ja might still have one more trick up its sleeves. 
And if that happens someday, it might instill in us to start taking more acute measures towards resisting this current craze ravaging the people of their youthful minds. 
---
Featured Image Credit: iStock Images
---
Got a story worth telling? Shoot us an email with SUBJECT — "Story Worth Telling" — to [email protected].