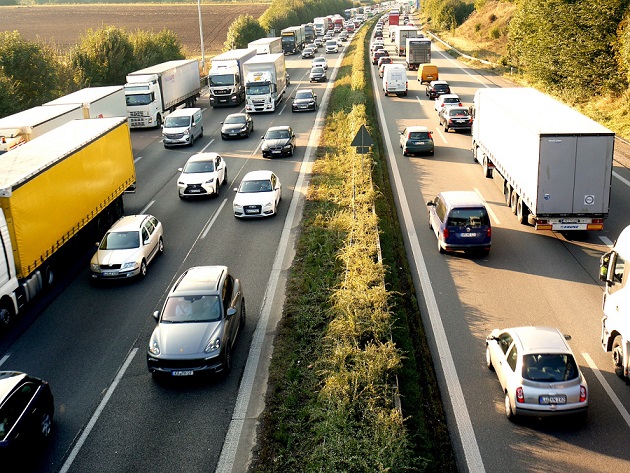 #BuhariVisitsLagos: A 24-hour distortion of Lagos' Economy?
A few days ago, the Lagos State Government announced that President Muhammadu Buhari will be visiting Nigeria's Commercial Capital, Lagos, to commision a bus terminal, and carry out some "groundbreaking ceremonies" during the course of his visit. As a result, Thursday, March 28, 2018, was declared a work-free day throughout the state.
https://twitter.com/AfricaFactsZone/status/978904152402219010
President @MBuhari to commission the new Ikeja Bus Terminal constructed by Lagos State Government .. #PMBinLagos pic.twitter.com/d2O96hJZN0

— Jubril A. Gawat (@Mr_JAGs) March 28, 2018
The President, will during the course of his visit carry out some groundbreaking ceremonies and inspect some ongoing projects in the State.

— The Lagos State Govt (@followlasg) March 28, 2018
As it turns out, this announcement didn't settle well with so many Lagosians. A lot of fuss has been generated all over social media, especially on Twitter with hashtags like; #BuhariVisitsLagos, #PMBInLagos, #PresidentialVisit. Complaint saturating the internet range from disruption of movement, obstruction of business activities, inhibition of the economic flow, and further evidence of Nigeria's backwardness in governance have been flying over the internet. Lagosians are particularly concerned that the government's action to shut down a megalopolis like Lagos signals a subtle threat to businesses operating in the region. 
Ambode declared tomorrow as work free because Buhari is coming to commission a bus stop in Lagos.

Lagos is the 5th largest economy in Africa.

The person that declared tomorrow work free, the person that will commission the bus stop, and the people that will attend are all mad.

— GiveawayNaija (@GiveawayNAlJA) March 28, 2018
The ordeals so far…
#HelloSir @AkinwunmiAmbode Eh-Sir, this moring I av trekkk from Sango to Mongoro because Say-Baba is coming to open bus stop in Lagos. is it fiar like that?
Sir, there's kpandamonium everywhere. Pls epp. #PMBinLagos pic.twitter.com/Gdrv8lREIT

— Lagos Class Captain (@AmbodeObsarver) March 29, 2018
Buhari's Lagos visit : Lagosians seen trekking to work today because Roads are blocked .

Lol y'all should enjoy the sufferhead . Maybe it'll give you people sense in 2019 🤣🤣🤣 pic.twitter.com/PzmuPE1UzZ

— The Lazy Chef 👨🏽‍🍳 (@ItsTheLazyChef) March 29, 2018
Today's Lagos road closures are totally unnecessary and unfortunate. In the 21st Century, nobody closes down a mega city. President and Governor should simply have used helicopters. No right thinking person will close down New York or London or even Sydney

— Atedo Peterside (@AtedoPeterside) March 29, 2018
Then there is a feeling of contempt mixed with questions of uncertainty
https://twitter.com/Tunnyking/status/978884344948363264
Despite the complications, some took this on the lighter note
Lool😭😭

— #EndSARS (@ibienebidiaque) March 28, 2018
Can someone please explain to me why @followlasg is shutting down the 4th largest economy in Africa for 1 day because President Buhari is visiting? If @AkinwunmiAmbode cannot see the implications, @MBuhari MUST! We've successfully fought "Environmental Saturday's", now this? Smh

— Dr. Joe Abah (@DrJoeAbah) March 28, 2018
While a few others took the warning tone
This New Airport Terminal in Lagos was built and commissioned by GEJ

No public holiday was declared for its commissioning
No road closures.
No fan fare

Buhari is coming to Lagos to commission a "Bus stop" and we have a State of Emergency on our hands pic.twitter.com/Pqgekwj4gT

— Ebube The Statesman (@akaebube) March 29, 2018
Lagos people, it doesn't matter how upset you are at Buhari, please don't throw anything at the president's motorcade. You'll be rightfully deemed a threat and the consequences could be fatal.

Do not throw anything at the president's motorcade!

— Editi Effiòng (@EditiEffiong) March 28, 2018
Speak of the devil
On the Lagos holiday, let me play devil's advocate.
Won't Nigeria lose more money if something happened to our President while stuck in Lagos traffic? I think we should also look at the other side of the decision. Helicopters are not necessarily 100% safe. Remember NSA Aziza?

— Osaretin Victor Asemota (@asemota) March 29, 2018
But the #BuhariVisitsLagos is just for a while
Road closures and diversions for Buhari's visit affect few areas and will be very temporary, pls. bear with us https://t.co/aJiH6OHqPe

— The Lagos State Govt (@followlasg) March 28, 2018
More roads would be dualized within Alapere Ketu axis for ease of vehicular movement https://t.co/IFTHznFf4V

— The Lagos State Govt (@followlasg) March 28, 2018
Considering that this will be President's Buhari's first official visit to Lagos, one wouldn't blame the Lagos State Government for trying to make the event as significant as possible. However, we can't turn a blind eye to the 'pause' it's bringing on activities at the moment.
Are you living or operating in Lagos? How has the #BuhariVisitsLagos affected you so far?