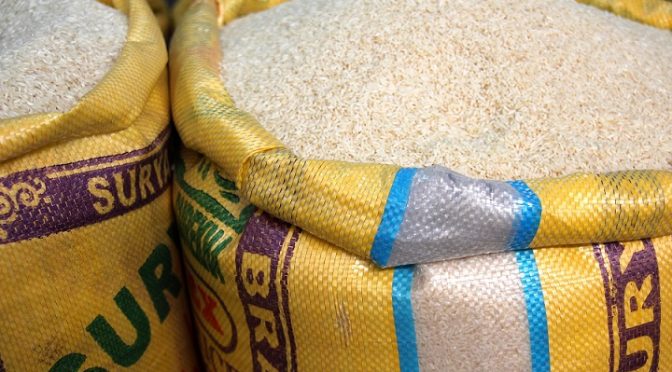 Beware, You Might Be Eating Unhealthy Imported Rice, FG Warns
Rice is one of the most consumed foods worldwide, with Africa having a large base of consumer interest and Nigerians being particular die hard fans of the white grain. Despite this, a recently reported announcement from the Federal Government might be a signal for Nigerians to cut down on their consumption of imported rice.
As reported by TodayNG,
the Federal Government has raised alarm over the unhealthy status of imported rice being smuggled into the country.
Of the numerous reasons given by the Federal Government, two struck the most; having spent months on the seas, the health status of the imported rice can't be guaranteed. Also, most of the rice dumped into the country are old or probably rejected. As such, the Minister of Information and Culture, Lai Mohammed admonished that Nigerians should alternate the foreign rice for its local counterpart. Asides that the health status of local rice is guaranteed, patronage from Nigerians also complements the effort of the government in pushing for consumption of home grown and locally processed commodities.
We don't know where or how imported rice is made or how old it is? It is reported that most of the rice dumped on us are old and probably rejected. The citizens of those countries do not eat this rice. The citizens of Benin also do not eat it. But they send it to us. Unhealthy foods are dangerous to health. So let's eat what we can vouch
for,''
As was further pointed out, rice smuggling has been one of the crucial challenges facing rice production in the country. Earlier this year, the government — in the bid to cut down on rice smuggling — had approved over N1 billion for the purchase of 'anti-rice smuggling vehicles'
According to the Minister of Finance, Kemi Adeosun, the vehicle would check the incessant smuggling of rice — which is a major painpoint — into the country.
"As you know, our effort to become major rice producers had resulted to the revival of local rice growers. But what we found was although that there was 90 per cent reduction in the official import of rice, smuggling has increased and of course our borders are very porous.
"We believe that to protect our farmers and to protect the investments that the people had made and gone back to the farm government must really act to stem the tide of illegal rice importation via smuggling'
On one hand, it's a good thing the the government is doing all it takes to combat the illegal smuggling of rice into the country. On the other hand, considering that Nigeria has an ever increasing population — which currently stands at 190 million — current local producers or rice may not be able to satisfy the demand from the massive population.
Perhaps, this is a good time for entrepreneurs, interested in agriculture to jump on rice production. Perhaps.