From a challenge to a business, meet Ibe who makes shoes for people with "big feet"
Every month, more than one million pairs of shoes are exported from the Ariaria international market, in Aba, Nigeria to the West African coast. With a few types of equipment, a shoemaker can produce about 10 shoes daily which sells at a price range of as low as ₦ 2,000 to ₦20,000 depending on the shoe architecture.
Obviously, the shoe business isn't going into extinction anytime soon. In fact, it is a goldmine, yet to be fully explored even as several others are venturing into it as the day goes by. In the fourth quarter of 2018, Nigeria's manufacturing industry contributed over ₦1.6 million to the nation's Gross Domestic Product (GDP). In Aba, for instance, over ₦1 billion worth of shoes are exported to Europe weekly.
The industry itself has created thousands of employment for the young working population struggling to make ends meet in  Africa's most populous nation, Nigeria. For a large percentage of people, the business they find themselves managing and making huge returns, yearly, usually isn't what they set out for initially.
Ibe Paul's story isn't any different. Though not new in the business world, Ibe, before launching his footwear company, Easyfit Footwears, was (is still), a Google certified Digital Brand Strategist and runs a digital marketing training agency called Digital Marketing Masterclass (DMM).
However, Ibe's career took a new twist when he discovered there were difficulties in getting the right pair of shoes for his big foot. It's either he got a size close to his and end up damaging it or he gets one that would take him donkey years to put on and pull off– this got really frustrating, so he opted for self-construction.
"Personally I have a big foot and I find it very difficult to get my shoe size anytime I visit shoe stores, so I make all my footwear"
It wasn't long before Ibe's self-made shoes started garnering compliments from admirers. Especially at functions, where a lot of people couldn't hold back their hunger for one of those. That was when his business prowess came alive, "Why can't I create a business out of this," he thought to himself.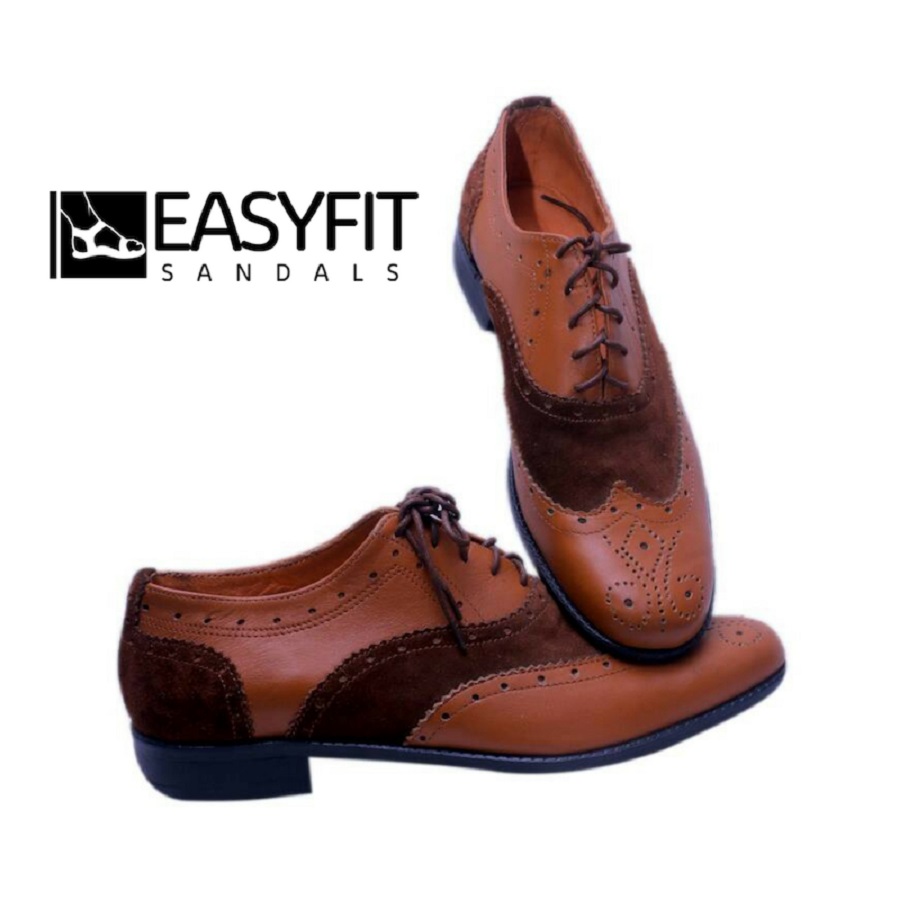 As time passed, Ibe realised he wasn't the only one with the blessing of big feet, and he may as well convert them from allies to clients. Not to mention the challenge of trust on existing shoe markers because a percentage of them use substandard materials for production. This category of individuals end up coming to Ibe to make for them, and this was how Easyfit Footwears began.
The very beginning
Launched in January 2018, Easyfit Footwears is an indigenous brand that specialises in the production and distribution of bespoke footwears across Nigeria. With the sole aim of satisfying the incessant hunger for quality footwear by Nigerians and beyond, the company has pitched its pickup office at Ogba, Lagos, Nigeria, which also serve as the workshop where the dirty job is done.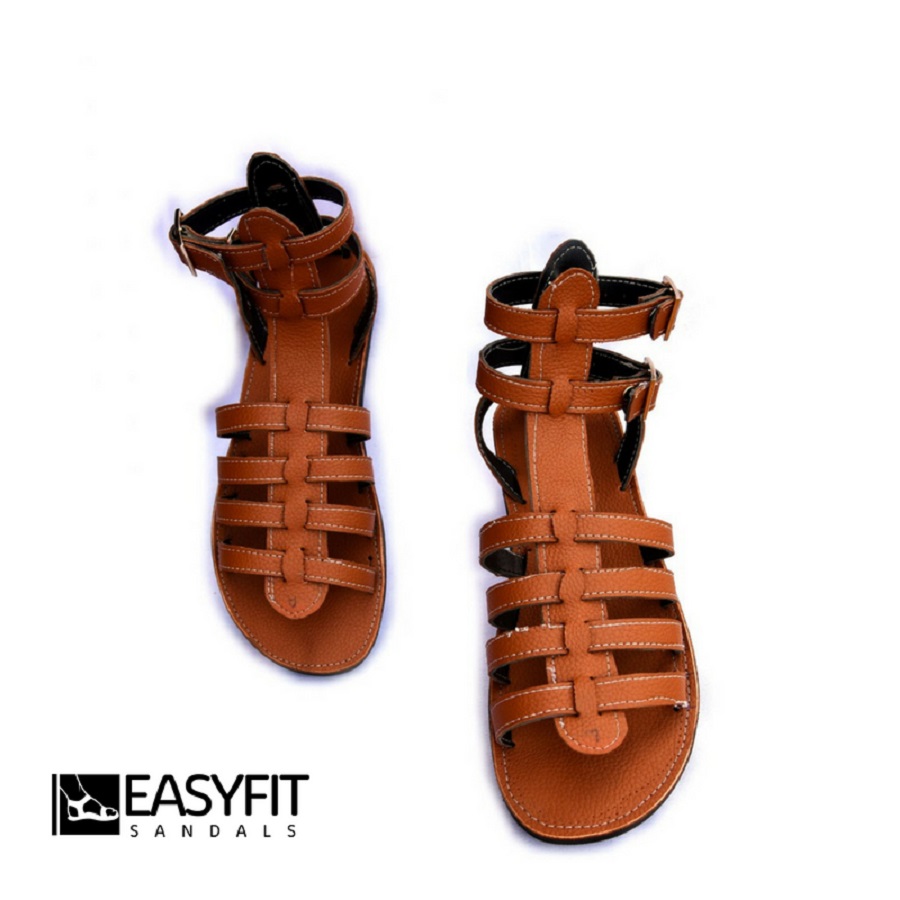 Over the years, Ibe has used his brand to proffer solution to the dilemma of several individuals who find it daunting getting the right size of shoes for themselves, and the story has been that of recommendation from one satisfied client to another.
"Apart from the fact that I enjoy it when people use and recommend my brand to others, I also enjoy that my brand, is  a solution to a certain crop of persons who have been struggling with getting their shoe size and that alone, keeps me going."
Another interesting thing about Easyfit Footwears, is production materials are locally sourced for, thereby promoting the "buy Nigeria" campaign, which encourages giving back to the economy. However, this doesn't mean there aren't plans by the company to start importing from overseas in the near future.
"We are still a growing brand, so we get most of our materials from Mushin here in Lagos and sometimes, we travel down to Aba too"
Even though raw materials are gotten locally, the products are very durable and extremely cost effective. According to Ibe, some products the company specialises on such as strap sandals, come in different varieties with prices ranging between  ₦3,000 ($8.29)  and ₦10,000 ($27.65). Ibe further divulged that their leather sanders is one of Easyfit Footwears' most wanted product. Despite starting off as a full-blown B2C outlet, Easyfit Footwears has grown to mass producing and selling to wholesalers, who in turn retail at their own prices across Nigeria.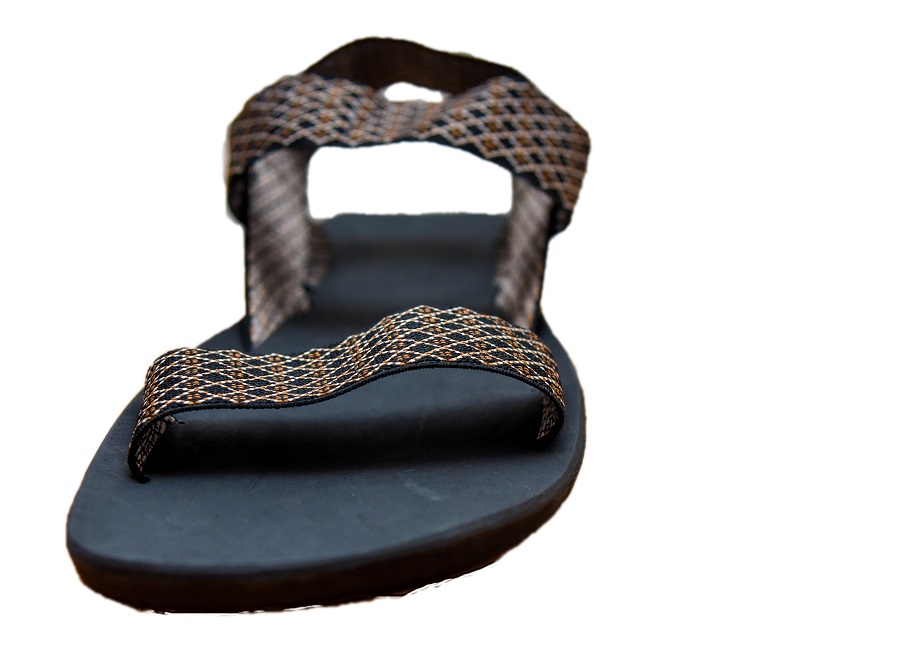 "We have people who buy from us and resell at their own rates across Nigeria and so far, there has never been a single complain from any one of them".
Considering that production materials are being sourced locally, one would have thought they would be gotten at a cheaper rate. But then, it is a different ball game as these materials are to some extent expensive which can widely be attributed to the current economic situation in the country.
Also, the unstable price of production materials has left Ibe with the option of only sourcing as the orders come.  But not minding the challenges, Ibe isn't letting anything stop at from delivering quality products to his teeming clients.
"Cost of production has been a bit expensive of late due to the  dwindling economy, but then, we still try as much as we can to deliver quality products."
Inside Easyfit Footwears; the journey so far
Ibe boasts of a solid presence in regions across Nigeria and hopefully, with time would start exporting overseas.
"Business has been good so far as the company has resellers in Ado Ekiti, Markurdi and Port Harcourt"
Also, Easyfit Footwears recently launched its official website in its bid to expand beyond local reach. Additionally, it is making plans to employ more office staff to handle the administration and logistics aspect of the business.
"We have resellers in Ado Ekiti, Markurdi and Port Harcourt but we can still do better as we are nothing close to the vision we've painted just yet"
Though skeptical about revealing how much revenue Easyfit Footwears has grossed since inception, Ibe didn't deny the fact that starting the business has been quite rewarding as the brand keeps growing by the day. However, he is optimistic that the revenue will skyrocket as the company progresses. And so far, the strides pulled by the company has even made others replicate the brand.
"We've succeeded in distinguishing ourselves from other inferior brands that have been seeking to replicate the same thing we do through product branding and good customer relationship".
On securing capital
According to Ibe, funding the business wasn't much of a challenge, besides his personal savings of about  ₦100, 000 which he used in setting up Easyfit Footwears' workshop, his clients were ready to pay him up front. Being a smart businessman, Ibe ensured to reinvest the proceed into the business.
"Starting Easyfit Footwears was like a fairy-tale . It started on trust and that's the same model we still run with till date. Most people see me wear my products and they freely give out cash for me to make same and that was how we replicated the same model until we grew this big."
Challenges
Just like every new business, Easyfit Footwears has its own share of challenges in a dwindling economy as Nigeria's. Aside inflation of the cost of production materials, another issue Easyfit Footwears was confronted with is logistics.
Obviously as a growing brand with a handful of customers outside Lagos, getting orders delivered on time via third-party delivery services has been a major issue. The company has experienced a couple of delays and disappointments most of the time, which is not good for business. However, Easyfit Footwears has been able to reduce this challenge to a minimum by including clients on its Service Level Agreement (SLA) at the initial stage of negotiation. The SLA includes the duration of which a product would be delivered and in cases where it exceeds the timeline, the client is updated.
"For instance, our sandals take three working days after booking, while the shoes take about five to seven working days. This gives enough time to cover up any logistic delay."
Achievements
Notwithstanding the challenges, Easyfit Footwears has also experienced some level of growth since inception. From just a Facebook page when it launched, it is now working on its e-commerce website.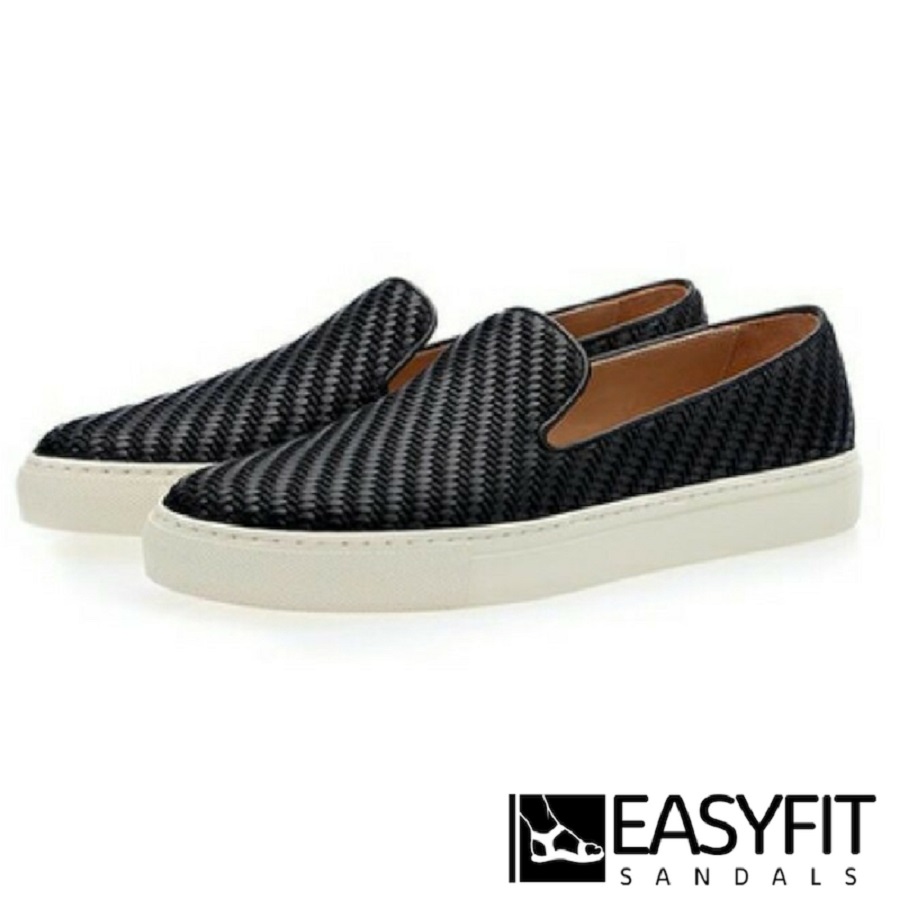 Furthermore, what started mainly with the production of strap sandals has grown to making other footwears types and is expanding by the day. Even the number of client it gets on a daily basis has quadruple, which has "in the long run brought in massive revenue" for the company.  All of these points to one thing— growth. Hence, Easyfit Footwears is looking forward to training more hands in the future and expanding its tentacles.
What to expect next
There's one fascinating thing about Ibe though. When he initially set out on this venture, he never cared what people around him thought about his business. Granted, the industry is very competitive, but this realisation has been the driving force behind his success so far.
---
Suggested read: These 6 Nigerian Women Are Scaling Heights In The Shoemaking Business 
---
"I wasn't paying attention. People must have said a lot but I wasn't looking, hence it didn't matter to me"
Ibe hopes that in the next five years, with the structures they are putting on the ground, Easyfit Footwears would be one of the biggest indigenous shoe brand in the country and even beyond Africa. To achieve this, Easyfit Footwears is expanding his team by bringing in more hands to ensure its marketing team is fully equipped to achieve the set targets.
Ibe also believes other young people in business and those who hope to venture into the business world someday should get to work immediately, the reason being that whatever they can see, they can achieve– only if they're willing to back up the vision with corresponding actions that it requires.
---
Never miss an important story during the week. Subscribe to smepeaks weekly newsletter now.