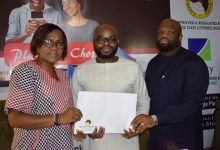 How Ekojara Intends to Change the Face of Online Gaming/Lottery in Nigeria
On Monday, October 1, 2018, Koborise App Technologies Ltd launched Ekojara, an online raffle gaming system for consumer sales promotion.
Ekojara was designed to accept a predetermined equal amount entered by customers and qualify them to stand a chance of winning an advertised item.
At the media launch in Lagos, the Co-Founder/CEO of Ekojara, Mr. Hillary Nwaukor, an auctioneer, disclosed that the game is the company's means to add value to millions of Nigerians.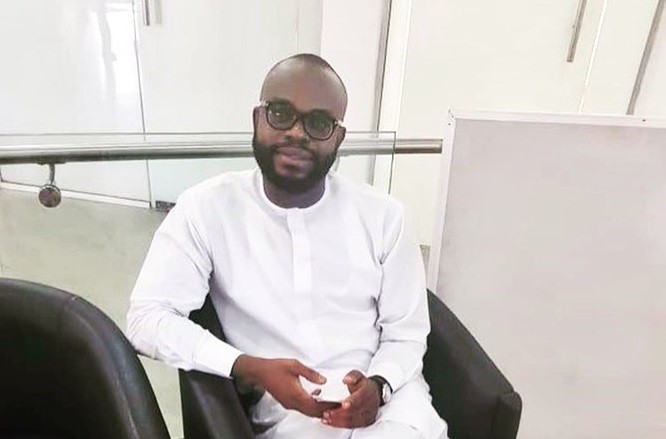 According to the CEO, Ekojara is the first tech-driven auction platform in Nigeria, a spinoff its parent company — Koborise App Technologies Ltd. However, in this auction type you do not just bid to become the winner, you are required to put in an amount of money.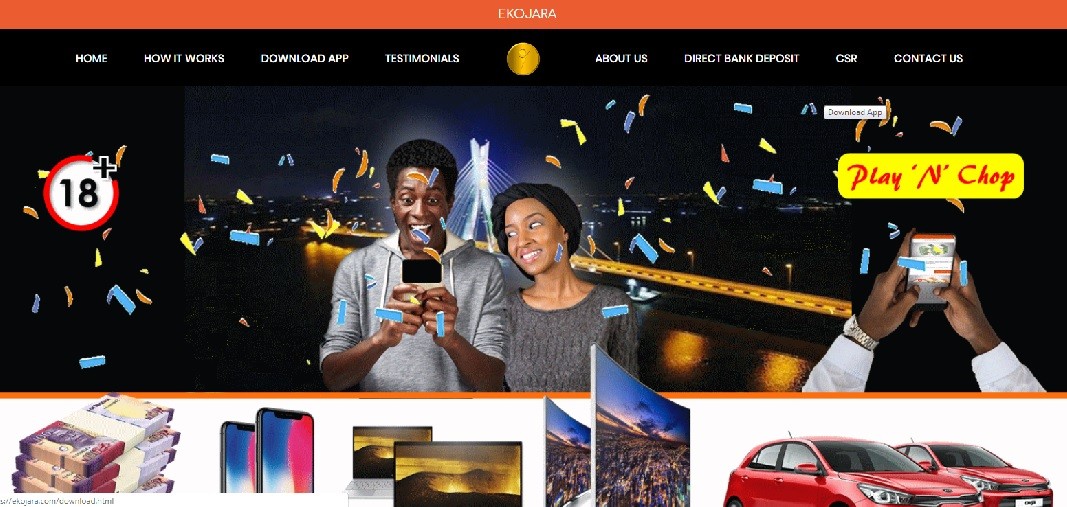 Staking in money makes the process more like a game of chance, which creates the need for a regulatory body to play an oversight role in the way Ekojara works. As a result, the Lagos State Lottery Board (LSLB) is involved  to ensure some level or regulation.
"Ekojara is a unique platform that gives users an opportunity to win big value items and cash with minimum risk of 0.20% of the published value; this is a predetermined amount of money that user pays for each ticket they buy," said Hilary
How to play
To play the game, an intending player will have to download the application on iTunes iOS store and Android version from Ekojara.com.
In getting started with the Ekojara app, after downloading, a user signs up by filling in full name, a Nigerian phone number (since the app is designed mainly for Nigerian users) and a password, then top-up wallet with a minimum of ₦500–money meant for stamp duties and other charges–before having a chance to play the advertised games.
How Ekojara works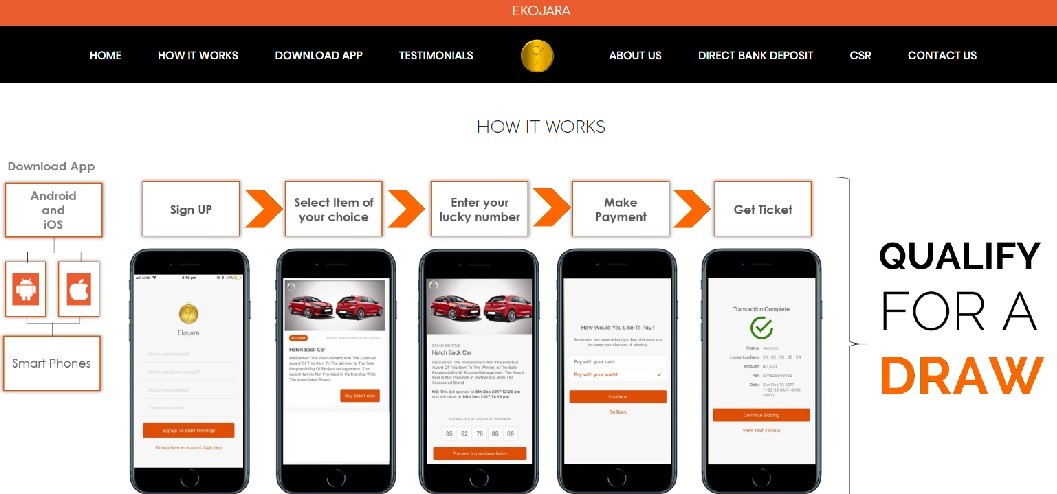 The system is designed into three phases, the User, Administrator, and Regulator interface.
User interface
The user interface is the front end where the user plays the game with the option of selecting games from categories ranging from Household Electronics, Smartphones, Recharge Cards, Data Plan, Automobiles and Cash as explained by Olayemi Agbe-Davies a Co-founder. During the app demonstration at the launch event, Davies hinted that Real Estate will soon be added as part of the advertised items.
"You may notice that we have real estate and automobile listed among the categories. Yes, we are a forward-thinking organisation and believe that very soon 'players' can win houses as rewards likewise automobiles".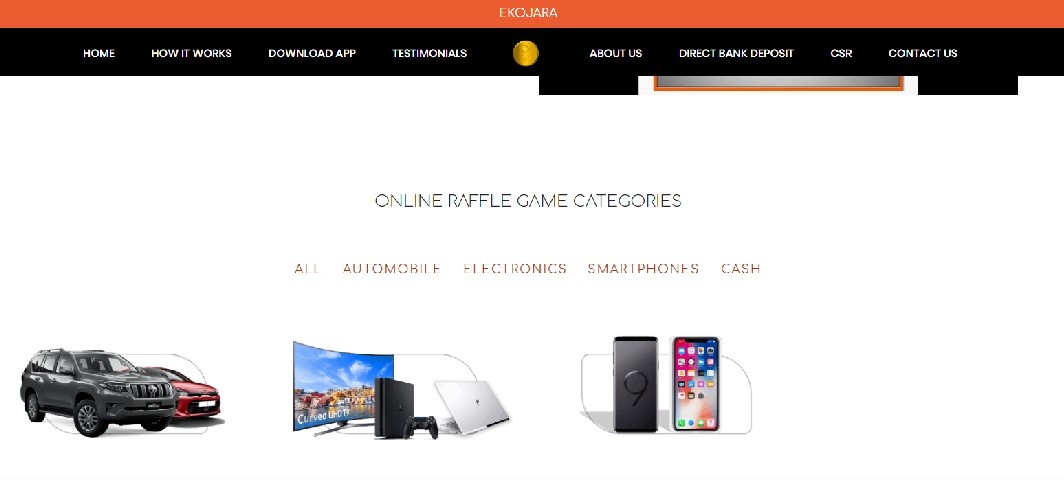 After clicking on any of the published items, a lucky number is generated by the system alongside a ticket number assigned to you. You can also obtain a ticket on a game more than once. According to Hilary, the Ekojara application is similar to the method of the bazaar sales in churches; the idea from this bidding method was implemented into the Ekojara system.
The ticket lucky numbers only serve as a unique identifier for several entries by one and or multiple users. For instance, if Bola Adedeji entered 15 chances in one game, and one of his tickets is selected, the system will quickly pull out the ticket, search for the user who played it and associate that ticket to the user's name and phone number
Though it is a gaming platform that even allows multiple tickets to be played by the same user,  the app has been built in a way to encourage responsible gaming. The system has an inbuilt algorithm that automatically blocks a user that intends playing in excess. The whole idea of the gaming is not for users to channel all their financial resources to the game but to add absolute value to Nigerians.
"If we publish a cash game of ₦10,000, each user that wants to bid to win the prize will be required to play with 0.20% of ₦10,000  equal to N20 Naira perchance", he said, over time it can reduce to 0.1%

"Players enter their dream numbers and submit within the odds of 01-99 into 5 unique boxes provided for a given Dream-bid category. Each submitted set of lucky numbers generate a unique ticket entry. Numbers played can be generated by the players or by the system depending on the option the player wants."
Admin interface
This is the backend of the application where the random selection of a winner is carried out by a manual or automatic process.
"When the bid time elapses on a game, a draw will be carried out by the randomiser system and one ticket out of the lots of entry will emerge a winner for the advertised item. The draw system is transparent and void of human manipulation. The system is designed to entrench probity and accountability"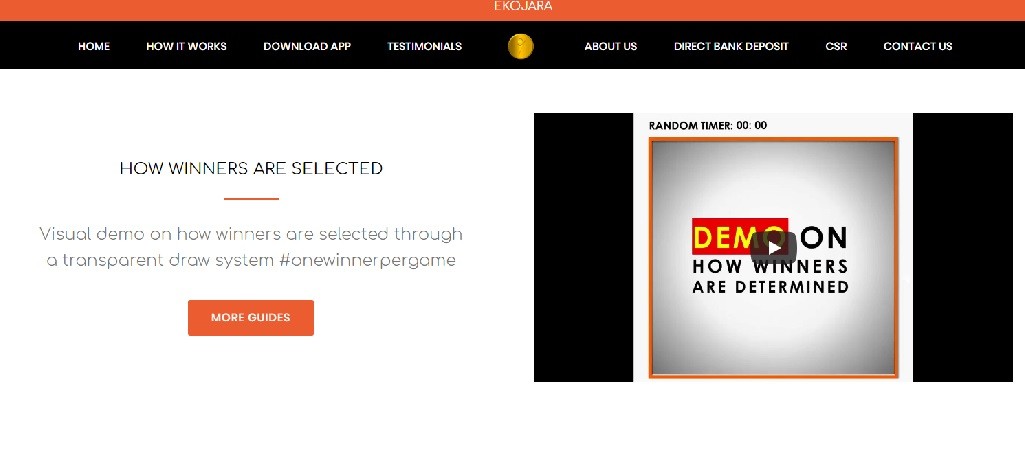 In a live demonstration on the backend during the event, a list of users with their ticket was displayed on the screen, and with a click of the button on a button-randomizer-, a winner emerged in the person of Ajise Samuel, from Lagos, bagging a prize of ₦20,000 for October 1, 2018; he played with ₦40.
Regulator interface
Also Speaking at the event, the General Manager/Chief Executive Officer of Lagos State Lotteries Board (LSLB), Mr. Seun Anibaba, confirmed that Koborise has been authorised to commence the online game.
Mr. Anibaba was represented at the media launch by the Head, Legal (Board Secretary/Legal Adviser), Mrs. Adebanke Ogunode, who affirmed that the Board maintains strict processes before such platforms are approved as means to ensure transparency and customer satisfaction.
"LSLB holds its licensees to high operational standards in the interest of stakeholders. Before Ekojoara was approved, it was subject to tests. LSLB is notable for adopting a stakeholder inclusive approach in carrying out its regulatory functions. We promote a conducive operating environment for licensees and integrity of games for stakers."
Also, the Lagos State Lotteries Board (LSLB) has approved the operations of Koborise App Technologies Ltd., to commence Ekojara gaming activities.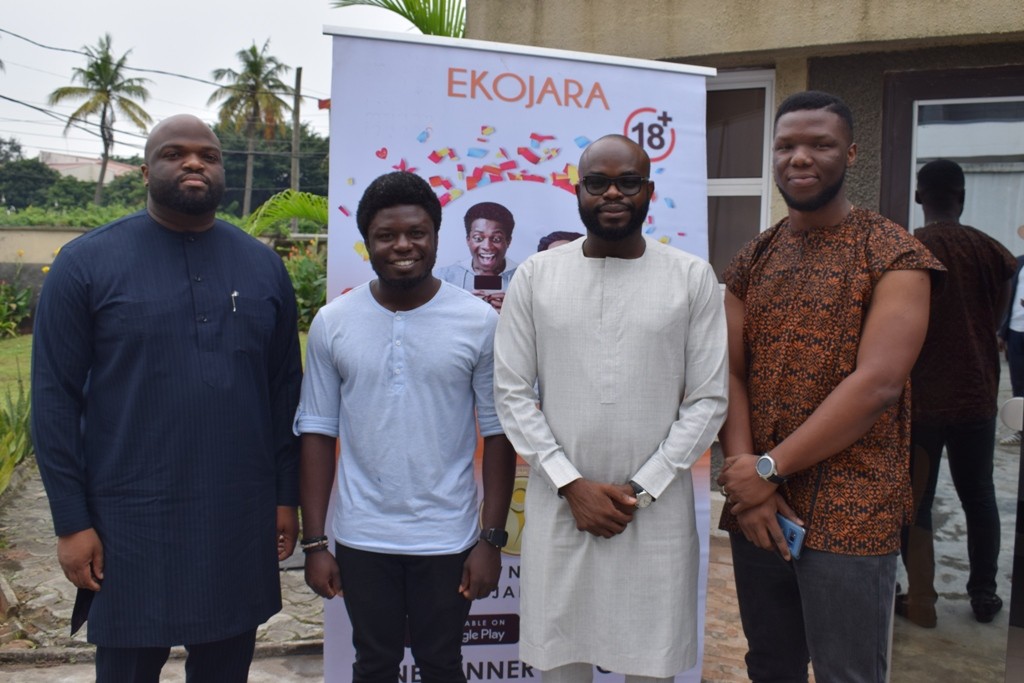 Meanwhile, Mr. Nwaukor said that the Company is equally positioned to outsource the application to Fast Moving Consumer Goods (FMCGs) Companies in Nigeria and Online Brand Influencers – for a general bonanza, giveaways, and promotions driven by its innovative lottery application.