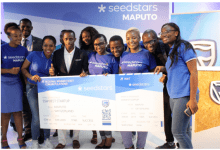 Wenadata Wins Mozambique's Round of Seedstars World
On Friday, September 28, 2018, during Seedstars Maputo, Wenadata won the Mozambique round of Seedstars World.
Seedstars World, which is the largest seed-stage startup competition for emerging markets and fast-growing startup scenes, brought its Mozambique round to a close during Seedstars Maputo.
The grandeur event took place last Friday, at Standard Bank Incubator, and 9 selected startups were invited to present their companies in front of the local jury panel out of which Wenadata emerge the winner.
Wenadata, is an innovative integrated opinion platform it's been named "Best Startup in Mozambique" by Seedstars for its innovative sustainable solution.
"Our team is extremely proud of this recognition and promises to invest in the international promotion of the company and  Mozambique.", explains Luis Fernando, Commercial Manager at Wenadata.
As a part of the prize, Wenadata will also be participating at the Seedstars Summit, which takes place in Switzerland, in April 2019.
Seedstars Summit is a weeklong training program, with the opportunity to meet the 65+ winners from other fast-growing economies, as well as investors and mentors from around the world.
The last day of the Summit is dedicated to pitching in front of an audience of more than 1000 attendees, with the possibility of winning up to $ 1 million in equity investment and other prizes.
The 9 startups earlier selected to pitch in front of a prestigious jury,  which includes Joao Guirengane, Head of Investment Banking at Standard Bank Mozambique, Al-noor Rawjee, Candidate Doctor of Philosophy (Ph.D.) at University of Cape Town, Tiago Borges Coelho, Co-Founder at UX Information Technologies, and Maryam Mgonja, East Africa Associate at Seedstars.
Seedstars Maputo also featured Claudio Banze, of  Standard Bank, who gave the Keynote as the main partners. The local Ambassador of Seedstars World, UX Information Technologies, organized the event with Seedstars World's local partner Standard Bank. Further support was provided by Idea Lab, TVcabo and Mozdevz.
The event attracted interest from over 40 startups, and around 185 attendees.
The other startups invited to pitch were:
Cotus: A cloud-based platform with an inclusive market concept that connects timely Suppliers to Buyers, Promoting transparency and equality.
Huluka: A convenient and cheap way to deliver the expertise and the options for all people facing any sort of symptoms and professional assistance
Marra Lá:  Offering the best study experience through the Internet with relevant study materials, self-assessment, feedback, help, and tutoring.
OUTPUT – tech solution: Xiphefu – A switch on/off to electrical devices locally with a smartphone and when remotely no need internet or smartphone to control.
ScripTech Lda: M-Xitique is a platform for managing informal savings groups. Provide a service that facilitates the payment process.
Startup Africa News: An online platform, a one-stop destination covering the entire startup ecosystem in Africa and connecting the dots.
Continuing on its world tour of fast-growing startup scenes in emerging markets, Seedstars World's next stop is Luanda, to select the best startup in Angola.