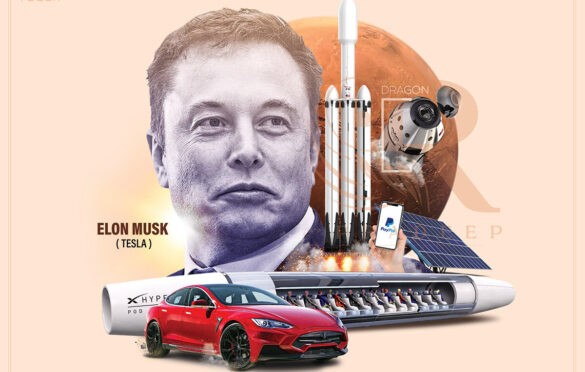 Nearly 2 decades post-Paypal exit, Elon Musk becomes richest man in the world. But for how long?
.@elonmusk is now the richest person in the world at $190 billion.

— Tesla Silicon Valley Club (@teslaownersSV) January 7, 2021
Musk's ascent to #1 on the richest billionaires chart is coming nearly two decades after he exited PayPal and less than three years after Jeff Bezos, Amazon'sfounder bagged the title in 2018.
While Elon's emergence as the world's richest person may not have taken many by the storm (it's high time), the speed at which he's attained the most enviable seat on earth gives the surprise spin. According to Bloomberg, he's had the most dramatic shift and the fastest bout of wealth than his predecessors.
No one has seen a more dramatic shift than Musk. Over the past year the South Africa-born engineer has added more than $165 billion to his fortune in what's probably the fastest bout of wealth creation in history. — Bloomberg 
Given the speed of his ascent to the pinnacle of economic classification on earth, and the antecedents of the title bearers' instability in the last couple of years, thoughts are, what are the chances of Elon maintaining the seat of World's richest man and for how long?
In the past two decades, only Bill Gates founder of Microsoft has held on to the title for six years in a roll, longer than any other billionaire has. The next person who (almost) came close was Carlos Slim, whose grasps of the title could only be maintained for three years. Gates' slip from the position happened because he pledged to donate the majority of his fortune to philanthropic causes. Given that Musk has publicly registered his intention of doing same, he may just as well experience a similar slip to the next man on the line. The more reasons it's irresistible not to explore what Elon's chances of staying long as the richest man are.
So, here we go.
How long will Elon Musk stay as the world's richest? 
Over the years, Musk has risen in his quest to build formidable companies that will disrupt the new century norms from transport, to health and energy. Despite several debates around the profoundness of his ideologies, he maintains seemingly absurd opinions about the possibilities of harnessing space, times, science and technology to create what many consider futuristic ambitions. He's also known to admit his flaws and penchant for over-speculations.
Yet, Elon is dubbed one of the most outspoken innovators of this time. From his speculations on AI toppling industries and careers to his plans of colonising Mars and unpopular opinions on controversial topics like irrelevance of college degrees, there's hardly a time the billionaire hasn't stirred conversations or voiced thoughts that are easily classifiable as "too absurd for the current realities, or too futuristic for the current generation".
But Musk doesn't just talk, he's been known to walk the talk in many ways than one could count. The more reason it doesn't come as a surprise that he's finally emerged the richest on earth.
Here's CBInsight's summation of his impressive personality and seemingly odd suppositions:
"Elon Musk is CEO of Tesla and SpaceX, has plans to colonize Mars, and thinks AI may turn humans into its pets. Elon Musk thinks and acts on a larger, more cosmic scale than we're accustomed to from entrepreneurs. Elon Musk has become a household name synonymous with the future. Whether he's working on electric vehicles (Tesla) or sending rockets into space (SpaceX), his larger-than-life reputation attracts its fair share of attention — and scrutiny." — CB Insights
Going by the historical precedence of the world's richest unseating one another, a trend which began after Warren Buffet displaced Bill Gates in 2008, there are speculations that history may repeat itself in more frequent intervals. For instance, Bezos only maintained the title for roughly three years before Elon's take over in 2021, caused by Tesla's share price, which according to Bloomberg, surged 743% last year on the back of consistent profits, inclusion in the S&P 500 Index and enthusiasm from Wall Street and retail investors alike. The shares have gained more than 23,900% since its 2010 initial public offering, including a 5-for-1 stock split last year.
If Tesla's share rise is anything to go by, the world is fast embracing Elon's ideology, and just as the mass adoption of cryptocurrencies are on the rise, clean energy has gone past theories to getting an early start in mass adoption as well — a plausible incentive that made Tesla produce 500,000 Electric Vehicles (EVs) in the past year. And given what's happened so far, it may be a promising venture for Elon's riches to skyrocket, not taking into accounts the feats of SpaceX in the past year, and the company's promises this year.
It goes without saying that Musk may have a high chance of holding on to the Richest Man on Earth seat for a while. If history has taught us anything, however, it's to not be completely closed upon possibilities. Because in the early 2000s' when Gates, Carlos and Buffet were the cream of the crop, no one thought that in less than two decades, Elon or Jeff Bezos will attain the position, as fast as they did.
Yet, they did. They really did.
---
Featured Image Credit: Pradeep R
---
Got a story worth telling? Shoot us an email with SUBJECT — "Story Worth Telling" — to [email protected].