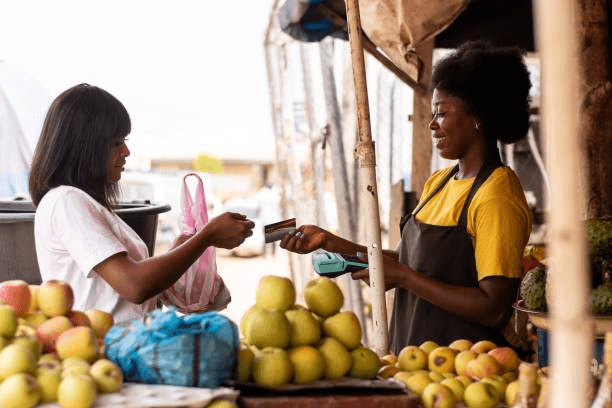 Nigerian Business owner; Source: Unsplash
Entrepreneurship Spotlight: Inspiring Stories of Startups Making an Impact in Nigeria
In recent years, Nigeria has experienced a significant surge in entrepreneurial activity, with vibrant startups in the ecosystem emerging across various industries. 
These startups are not only fueling economic growth but also making a lasting impact on society. In this piece, we shine a spotlight on some inspiring Nigerian startups that are driving innovation, creating jobs, and addressing pressing challenges in the country. Their stories serve as a testament to the power of entrepreneurship and the potential for positive change in Nigeria.
1. Farmcrowdy: Revolutionizing Agriculture through Crowdfunding
Farmcrowdy, founded by Onyeka Akumah, is an agritech platform that connects small-scale farmers with sponsors who provide the necessary funding for farming projects. Through its crowdfunding model, Farmcrowdy has empowered thousands of farmers across Nigeria, enabling them to expand their operations, access modern farming techniques, and improve their livelihoods. By bridging the gap between farmers and sponsors, Farmcrowdy is revolutionizing the agricultural sector and contributing to food security in Nigeria.
2. Paystack: Transforming Online Payments
Paystack, co-founded by Shola Akinlade and Ezra Olubi, is a leading fintech startup that has revolutionized online payments in Nigeria. By providing a simple and secure payment gateway, Paystack has empowered businesses of all sizes to accept online payments, driving e-commerce growth and financial inclusion. The startup gained significant traction and was later acquired by global payment giant Stripe, further validating Nigeria's potential as a hub for fintech innovation.
3. LifeBank: Saving Lives through Efficient Blood Supply Chains
LifeBank, founded by Temie Giwa-Tubosun, is a healthcare startup focused on improving access to essential medical supplies, particularly blood. Using a technology-driven platform, LifeBank connects blood banks with hospitals and patients in need, optimizing the blood supply chain and reducing wastage. Through its innovative approach, LifeBank has saved numerous lives and is playing a crucial role in improving healthcare outcomes across Nigeria.
4. Kobo360: Revolutionizing Logistics and Supply Chain
Kobo360, co-founded by Obi Ozor and Ife Oyedele II, is a logistics platform that leverages technology to connect shippers with truck owners and drivers. By providing a streamlined and transparent system, Kobo360 is transforming the logistics and supply chain industry in Nigeria. The platform enables efficient delivery of goods, reduces costs, and provides job opportunities for truck owners and drivers. Kobo360's innovative solution has earned it recognition both locally and internationally.
5. ThriveAgric: Empowering Farmers through Crowdfunding
ThriveAgric, founded by Uka Eje and Ayodeji Arikawe, is an agritech startup that enables individuals to invest in agriculture by funding farmers. Through its crowdfunding platform, Thrive Agric empowers farmers to expand their operations, access quality inputs, and increase productivity. The startup not only provides financial support to farmers but also offers training and market linkages, ensuring their long-term success. Thrive Agric is driving sustainable agricultural practices and empowering rural communities across Nigeria.
Conclusion
The success stories of these Nigerian startups highlight the immense potential of entrepreneurship in driving positive change. They are not only solving pressing challenges but also creating jobs, fostering innovation, and contributing to economic growth.

As the startup ecosystem continues to thrive in Nigeria, it is crucial to support and celebrate these inspiring entrepreneurs who are making a lasting impact on society. Their stories serve as inspiration for aspiring entrepreneurs and remind us of the transformative power of innovation and perseverance.
In the coming years, we can expect to witness even more startups emerging in Nigeria, addressing diverse sectors and pushing the boundaries of innovation. These entrepreneurs are the driving force behind Nigeria's economic transformation, and their endeavors are shaping the country's future. As we continue to celebrate and support these startups, it is important to foster an environment that encourages entrepreneurship, provides access to funding and resources, and promotes collaboration and knowledge sharing.
The stories of Farmcrowdy, Paystack, LifeBank, Kobo360, and Thrive Agric are just a few examples of the incredible impact Nigerian startups are making. There are countless other innovative ventures across sectors such as healthtech, edtech, renewable energy, and more that are contributing to the growth and development of Nigeria.
As consumers, investors, and supporters, we have a role to play in the success of these startups. By patronizing their products and services, investing in their growth, and amplifying their stories, we can contribute to their continued success and the overall development of the Nigerian startup ecosystem.
Furthermore, the government and relevant stakeholders should continue to create an enabling environment for startups to thrive. This includes implementing favorable policies, providing access to funding and mentorship programs, improving infrastructure, and fostering a culture of innovation and entrepreneurship.
Finally, these startups are not only making an impact in their respective industries but also shaping Nigeria's economic landscape and societal development. By celebrating their achievements, supporting their growth, and encouraging the next generation of entrepreneurs, we can pave the way for a brighter and more prosperous future for Nigeria.