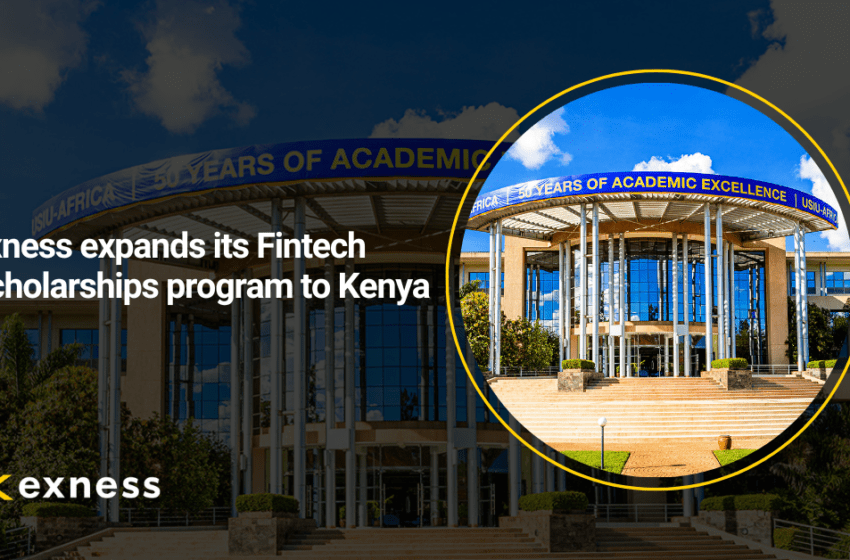 Exness Extends Fintech Scholarships Program to Kenya
Exness extends fintech scholarships program to Kenya in partnership with USIU
Multi-asset broker Exness is extending its Fintech Scholarships program to Kenya in collaboration with the United States International University (USIU).
Exness aims to support exceptional university students pursuing STEM fields. The program offers a unique opportunity for third and fourth-year USIU undergraduates in Data Science, Analytics, and Software Engineering, as well as prospective students accepted into the MSc in Information Technology course starting in September 2023.
Benefits 
Full Coverage: The scholarship will cover the entire amount for tuition fees and living expenses, providing comprehensive support to deserving students.
Prestigious Institution: Partnering with USIU, one of Kenya's most prestigious educational institutions, ensures students receive a quality education that aligns with local and global challenges.
Future Opportunities: The Fintech Scholarships program opens doors to a promising future, enabling students to build successful careers in STEM fields.
Industry Relevance: Students will gain exposure to the fintech industry and its significance in driving technological innovation and economic growth.
Mentorship and Networking: Scholars will have access to a network of industry professionals, mentors, and like-minded peers, fostering invaluable connections for their future endeavors.
Martin Thorvaldsson, Exness Head of Community, expressed his enthusiasm for launching the Fintech Scholarships program in Kenya, emphasizing the company's dedication to supporting education and nurturing the minds of talented students. The extension of the program to Kenya marks Exness' commitment to fostering growth and development in the countries where it operates.
Prof. Margee Ensign, Vice Chancellor at United States International University Africa, was elated about the partnership with Exness and the opportunities it presents to Kenyan youth in the technology space. She highlighted the importance of aligning learning and education with local and global challenges, stating that the scholarship degree programs in Data Science and Analytics, Software Engineering, and Information Security are pivotal for the 21st-century landscape.
Exness, a global multi-asset broker, stands out in the industry by combining technology and ethics to create a favorable trading environment for its clients. With a loyal client base of over 500,000 active traders, Exness records a monthly trading volume of over $3 trillion. The company's commitment to providing a frictionless trading experience and expanding its global footprint makes it a leading brand in the industry.
As Exness focuses on strategic expansion to new corners of the world, the Fintech Scholarships program serves as a testament to its commitment to empowering aspiring talents and contributing to the growth and development of the fintech sector.
How to Apply
Interested students are encouraged to submit their applications to Exness, including a comprehensive CV, academic transcripts, and a motivation letter, by the deadline of 28 July 2023. This opportunity presents a chance for students to showcase their academic achievements, passion for their chosen field, and future aspirations.