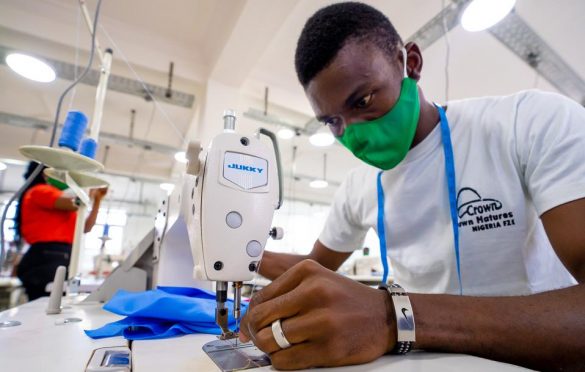 FG, LASG launch Eko Fashion Hub-1 in Lagos, with plans to do the same in Kaduna, Anambra and the FCT
Recently, the Federal Government and the Lagos State Government commissioned Eko Micro, Small and Medium Enterprises (MSME) Fashion Hub-1 in Lagos. The hub is a shared fashion facility expedited by the National MSME Clinics of the Federal Republic of Nigeria for professionals in the fashion industry. 
Located at Old Alade Market, Ikeja, Lagos, the Fashion Hub-1 is expected to serve 380 Small and Medium Enterprises daily according to the vice president, Prof. Yemi Osinbajo. 
One of the ways, the FG has shown its commitment is through the MSME Clinics Initiative. The Clinic extends business support services to small businesses across the country. The MSMEs Shared Facility Scheme is a core component.

— Prof Yemi Osinbajo (@ProfOsinbajo) September 19, 2020
During the commissioning, the VP who joined virtually stated that:
MSMEs are the engine for Nigeria's economy because when they thrive, the country thrives and when they struggle, the country struggles. This is why the Federal Government is committed to creating a conducive environment for MSME to do exceedingly well.
Prof. Yemi Osinbajo also revealed that there's an ongoing plan to commission similar facilities at Kaduna, Anambra and the Federal Capital Territory (FCT) before the end of 2020.
At the unveiling of the Eko MSMEs, the Lagos State governor, Babajide Sanwo-Olu expressed that "The success of MSMEs in Lagos State translates to the success of small businesses across the entire sub-Saharan of Africa and Africa as a whole."
Our belief in small and medium enterprises as the heart and soul of economic growth got a notch up today with the commissioning of the Eko Micro, Small and Medium Enterprises Fashion Hub-1.

It was an honour to virtually have the VP HE @ProfOsinbajo at the commissioning. pic.twitter.com/3MBALrJCjK

— Babajide Sanwo-Olu (@jidesanwoolu) September 18, 2020
The Lagos State Commissioner for Commerce, Industry and Cooperatives, Dr Lola Akande said that the facility is equipped with fashion state-of-the-art machinery such as industrial button-hole machines, monogram machines, among others.
"This would serve for suits and shirts, tinko machines, straight sewing industrial machines, industrial embroidery machines, amongst others, to afford MSMEs in the fashion space the opportunity to utilise them for a token," she stated.
Nevertheless, a question that begs to be answered is why the federal and state governments decided to explore the fashion industry. In a bid to answer this, the vice president explained that the hub will enable the production of a diverse range of clothing and garments and soon enough, the products of the hub will be everywhere on the streets and in stores around the country.
---
Got a story worth telling? Shoot us an email with SUBJECT — "Story Worth Telling" — to [email protected].