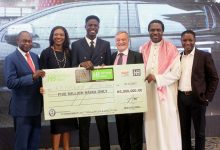 Got an interesting business? Apply for TheNext Titan TV reality show to win a new car and ₦10 million
Sponsored by Heritage Bank Plc, TheNext Titan TV reality show, season 7, is an opportunity for young Nigerian business entrepreneurs, with great and innovative business ideas, to compete against one another in real-life entrepreneurial challenges.
Led by supervisors, the show entails teamwork as well as individual intellectuality, with business tasks and ideas to scale. The results of these attributes leads to an emergence of a winner.
The goal is to engineer entrepreneurship among Nigerian youths, identifying the best business minds and supporting their entrepreneurial acumen through financial and logistical assistance, informal training, knowledge, and other requisite services needed to propel them into successful business personalities.
Benefits
The winner of the TV reality show gets ₦10 million and a brand new car.
Eligibility
You must be a Nigerian citizen
You must be between 21 to 40 years old
You must be in excellent physical and mental health
You must be willing and able to move into and reside in the academy for the duration of the reality show
You must be willing and able to cover all your travel expenses to and from the location of the academy
You must be willing and able to fully participate for the duration of the 10 weeks show, based on the dates set by the producers
You must be willing and able to peacefully coexist with the other contestants in the academy
You must be a graduate or at least an undergraduate of a recognised higher institution of learning and must be willing to show originals of your birth certificate, academic certificates and professional certificates (if any)
You must be willing to assume full responsibility for the consequences of your participation in this show, should you be selected as one of the contestants
If selected as a participant, you may have to fill and/or sign various documents and forms including: application form, eligibility requirement document; and voluntary participation agreement
Neither you nor any of your immediate family members, or anyone resident in your household may be an employee, officer, producer, director or agent of any of the following entities: Bravopoints International Ltd, Heritage Bank Plc, other Sponsors, and Production Consultants
How to apply
If you're an entrepreneur with a brilliant idea or business, and you check all the requirement boxes, sign up for TheNext Titan via the official website while it's still open.
---
Got a story worth telling? Shoot us an email with SUBJECT — "Story Worth Telling" — to [email protected].