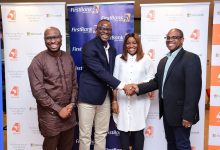 First Bank and Microsoft Sign MoU to Support Nigerian SMEs
First Bank and Microsoft have announced a partnership to leapfrog technology adoption, skills and capacity development among Small and Medium Enterprises (SMEs) in Nigeria. The duo would be working together to empower and create an enabling environment for Nigerian businesses to thrive and also find more creative ways to solve their challenges.
To crown the partnership, a Memorandum of Understanding (MoU) was signed between the two parties at an event held at the Microsoft Nigeria Office, Victoria Island, Lagos. This affiliation will enable SMEs to access value-added products, premium content, business networks, capacity building initiatives and innovative offers of banking and technology services.
As reported by The Guardian, Deputy Managing Director of First Bank Nigeria, Gbenga Shobo expressed First Bank's dedication to the success of SMEs in Nigeria with its products solutions, specially tailored to sustain SMEs, at the event.
We are committed to the development of Small and Medium Enterprises (SMEs) and ensuring their sustained business growth as well as providing the necessary tools to support that growth and Nigeria's economy at large", He said.
Also, Microsoft Nigeria's General Manager, Akin Banuso confirms the company's excitement about the new initiative. According to him, the company is excited that their initial focus (bringing local businesses online to boost their productivity and competitiveness) is now evolving to suit the growing needs of SMEs in Nigeria.
Over the years, as we have worked with and learned from SMEs, our focus has evolved to provide them with a more holistic and game-changing offering, which is: access to technology, markets, finance, information, skills, and services", Banuso said.