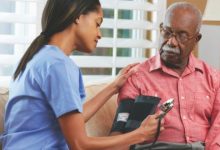 GeroCare Selected as One of Top 50 Startups Exhibiting at AIS 2018, Rwanda
GeroCare, Nigeria's healthcare provision startup for the elderly has emerged one of the top 50 startups showcasing at the African Innovations Summit, holding in Kigali, Rwanda this June.
Co-founded by Dr. Ebi Ofrey, Bruce Lucas and Ajibola Meraiyebu, GeroCare has vested itself with the responsibility of attending to an often easily ignored demographic — the aged. This, it does by offering a subscription-based service that entitles the elderly to regular doctor visits in the comfort of their homes.
According to the founding trio, old parents are usually left in solitude when children are scattered wide and abroad, searching for green pastures. And considering their agedness and senescence, depression could easily set in — and then demise — if they are left unattended for a long period. As such, GeroCare is not only concerned about the health of the elderly, but also intends to provide companionship, especially because "each visit from a doctor serves as a possible reminder to the aged that someone cares."
As an Africa-wide and home-grown initiative, the AIS aims at harnessing the innovation potential of the continent by mobilising the people and, especially those with the 'power to act' — including investors, the people with the ideas, the policy makers, the researchers and academics, the business community, the youth, as well as innovators and thinkers — into a coalition for collective action to promote and build an enabling environment for innovation in Africa. The goal is to engage as many people as possible in order to build a broad constituency in support of innovation in Africa. The basic fact is that Africa cannot outsource its development.
This year, over 600 innovation applications received from across the continent were shortlisted to the top 50 — which GeroCare appears among. Noteworthy is, since inception in 2017, GeroCare has achieved incredible milestones — from emerging one of the top 9 startups that pitched at Techpoint Build, 2018, to now having a fully sponsored international trip, GeroCare is definitely solving a crucial problem and making good business while at it.