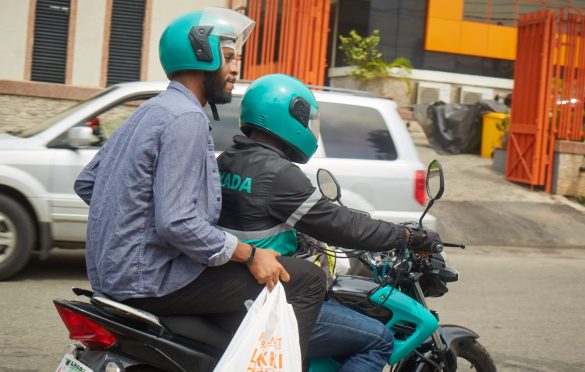 Gokada Unveils New Office After One Year in Business
Gokada, arguably, the future of two-wheeled transportation in Africa has unveiled its new corporate office while celebrating its one year in business.  The transportation company started off on Tuesday,  February 20, 2018, in a one-room apartment at Lawani street, Yaba Lagos, with just about 20 motorbikes.
Exactly a year after its launch, Gokada now boasts of over a thousand bikes and a handful of riders who can be found at strategic locations around Lagos and can also be requested for by using its mobile app.
To mark its one year in business, the company launched its new office and corporate headquarters at Ilupeju, Lagos on  Tuesday, February 26, 2019. The beautiful complex houses its employees as well as Gokada's Riders Training School which is projected to train a minimum of 500 riders at a time. During our conversation with Deji Oduntan, Gokada's Founder and CEO, we learnt about future plans for the company.
"Gokada does not intend to operate only as a motorbike transportation company. Owing to the company's established brand which communicates, safety, comfort and class, we plan to offer multiple on-demand services from buses to taxis and even ferries. The bigger plan is to establish Gokada as a transportation business and not merely a motorcycle transportation business. There are plans to expand to other cities in Nigeria where we would assess the needs of customers in those cities and then begin operations there," Says Deji.
Deji also went further to state that its riders are usually vetted via rigorous background checks together with a series of medical examination they are made to go through. Interestingly, the company is also considering recruiting female riders. And to this regard, it intends to launch a women empowerment campaign sometime in March this year in order to diversify and enable women who have an interest in Gokada, ride.
Presently, over fifty of  Gokada riders now own their own motorbikes, courtesy of Gokada. So far, all operations of Gokada have been funded in-house which is why come April 2019, the Gokada plans to relaunch a financial pattern program that allows individuals to buy motorbikes as a form of investment.
---
Never miss an important story during the week. Subscribe to smepeaks weekly newsletter now.