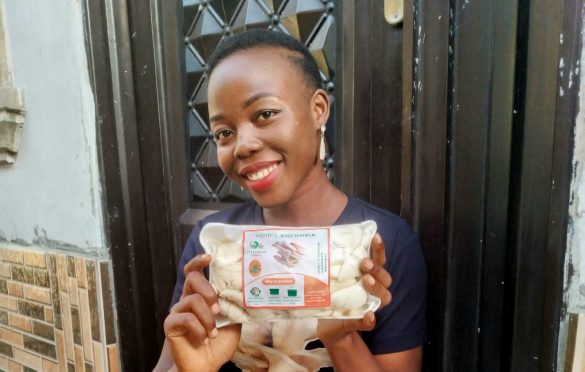 How a miraculous mushroom healing inspired this lady to launch a business in mushroom farming 
The increasing awareness of healthy diets has made mushrooms a little famous in Nigeria. Though mushroom farming is only gaining momentum in Nigeria, a lot of pioneers and patronisers can't stop singing its numerous benefits.
Etimbuk Imuk, the mastermind behind Eti Farms Global, an agribusiness that produces mushrooms appears to be doing exploits in the mushroom farming industry.
We caught up with Etimbuk as she shares her story and business process with us.
Inspiring as Eti's journey sounds, what stood out was the major propellent for her mushroom love. Battling with asthma growing up wasn't an experience the then young Eti looked forward to.
A lot of medical recommendations and other local alternatives didn't do much to alleviate her plight either. However, just when she was about to concede to "accepting she'd always live and cope with being asthmatic" there came a turnaround.
It sounded like every regular recommendation when the doctor suggested mushrooms.
"Mushrooms?" Etimbuk couldn't reconcile what relationship there is between mushroom and asthma. But then, there's no harm in trying.
Fast forward to today, we have Eti, living completely free of asthma, pushing the healthy benefits of mushrooms and making a good business while at it.
smepeaks engaged Etimbuk Imuk in an intense conversation and she couldn't wait to pour it all out.
Omolara Oseni of smepeaks (OO): You seem to play in an interestingly surprising space. I'm interested in what kind of individual you are and your motivation. But before I begin drilling you on the technicalities of your professional choice path, could you let me into your background?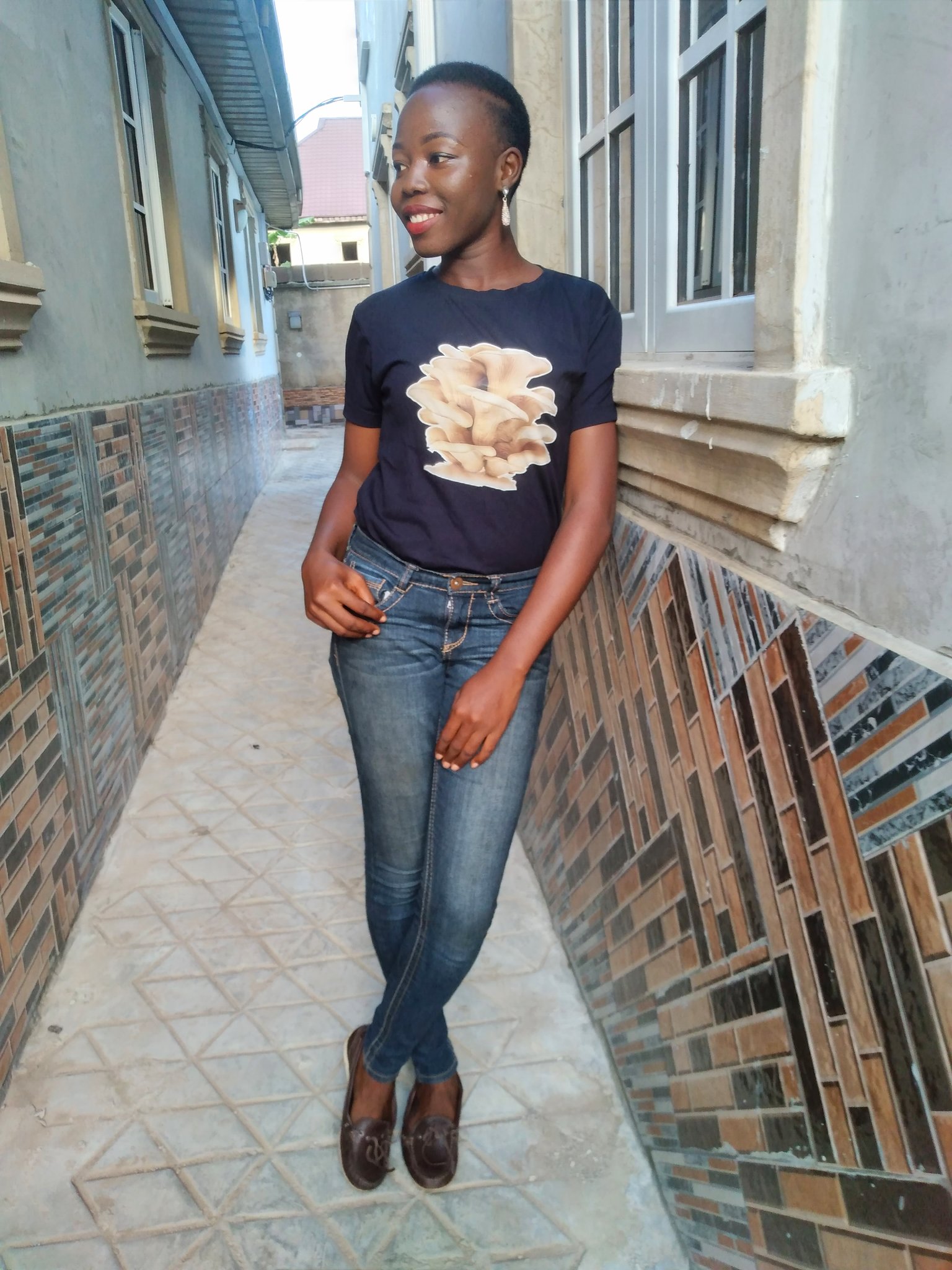 Etimbuk Imuk of Eti Farms Global (EI): I'm Etimbuk Imuk, I have over four years' experience in the agricultural sector in Nigeria. I hold a Bachelor's Degree in soil science from the University of Calabar and also an alumnus of Fate Foundation Aspiring Entrepreneurs' Program (AEP 70).
Currently, I'm the proprietor of Eti Farms Global, where healthy eating is encouraged through the cultivation and sales of freshly grown edible mushrooms. In addition, I'm the co-founder of Agroinnovation Business Hub, where I focus on training people to farm sustainably and smartly. This results in the provision of employment for the unemployed, alternative sources of income for the employed and food security.
I've worked as a soil scientist and an agro-consultant. Within the two years of running my agribusiness hub, I've trained over 5,000 people directly and indirectly on sustainable farming techniques on snails, vegetable, plantain, and mushroom farming.
In 2019, I was recognised and awarded by SME100Africa (25under25 for Agriculture), and Eloy Award for Enterprise.
OO: What is the inspiration behind your agribusiness and why mushrooms? 
EI: I had a grandmother whose pot of soup was incomplete without mushrooms during the rainy seasons. But most importantly, growing up, I was asthmatic and the drugs had awful effects on me. My mother asked for other alternatives and mushrooms were recommended. With every meal I took, mushrooms were incorporated into it.
Being what was rarely available, it was challenging, we cut down our mango tree and after some time, mushrooms began to grow at the bark of the decaying wood. There were issues about poisonous varieties of mushrooms but I was lucky, edible ones grew on the tree. After some years, the attack stopped completely till date.
Leaving home, I needed where to get the continuous supply of mushrooms, of course, there are no bushes or decaying woods in the city. This motivated me to grow it. And now, I'm not just helping myself but others to stay safe and eat healthy mushrooms without fear of eating poisonous types from the wild.
OO: Hearing that mushroom healed and inspired you to delve into the business is a rather interesting story. Besides the mushroom farming, what other values does Eti Farms Global proffer? 
EI: Due to health challenges surrounding animal sources of protein, people are actively in search of healthy plant proteins, and mushrooms stand out.
But the fear of eating poisonous varieties from the wild has kept some people from eating it, some don't even know where to get it. We provide safety, availability and accessibility to our customers.
What we do at Eti Farms Global is beyond selling a product, we're grooming a community of health-conscious people. It's not just about having a product, it's about informing people about the benefits of eating healthy and why they should incorporate mushrooms into their meal. For us, it's a movement where we work every day to make sure more people are well informed.
OO: A lot of people see mushrooms as bad omen, how do you deal with stereotypes and inundation of superstition? And like you mentioned earlier, there are poisonous mushrooms, how deadly are they? 
EI: We may not know of many here in Nigeria but outside of the country where a lot of data is kept, many people have died from eating poisonous varieties of mushrooms. But this doesn't imply that all poisonous varieties are fatal, some have effects such as itching, rashes, vomiting, swollen feet and so on.
As a result, some people conclude that mushrooms shouldn't be eaten because it's poisonous. We're not erasing the fact that there are poisonous varieties, rather we're educating people to only get healthy mushrooms from trusted vendors.
Considering that a lot of people don't know mushrooms are cultivated, they travel as far to rural areas to get them. Some don't even eat mushrooms in Nigeria because they can't trace the source and are not ready to risk their lives, so they only eat mushrooms from outside the country.
Before now, mushrooms were always scavenged from the wild, in the bush, farm or from decaying woods. For us, we don't just sell, we grow the mushrooms because, like maize and other farm produce that has seeds, mushrooms do too.
Some of the mushroom edible seeds are gotten from the wild and groomed into planting. This way, one is aware that the mushrooms are edible and have no side effects.
OO:

Could there be a reason many haven't explored this terrain (mushroom farming industry) yet?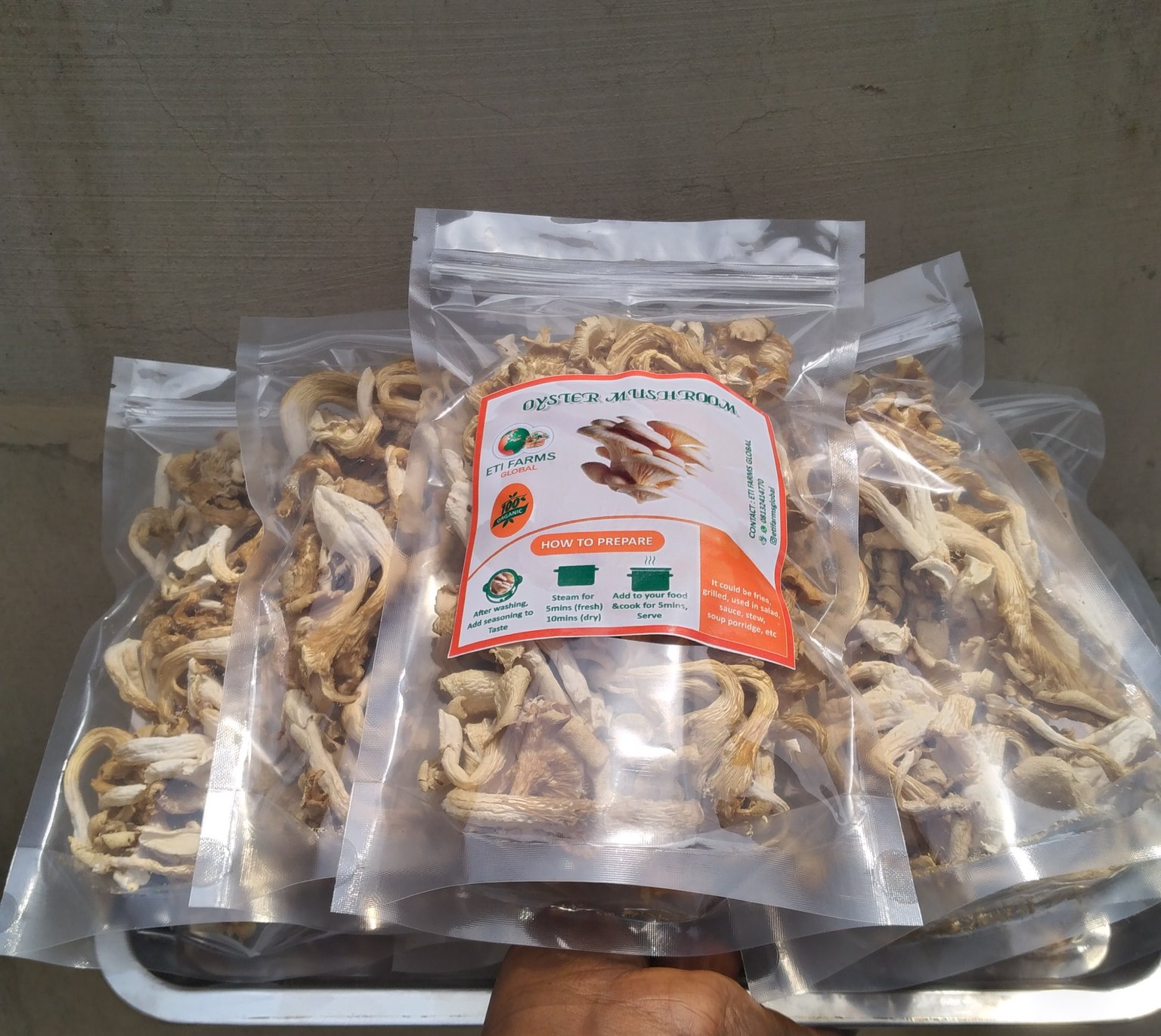 EI: There are many reasons and one of them is the fact that a lot of people are not aware that mushroom is a thing or it could be cultivated. This is because the knowledge about it is not readily available.
Secondly, mushroom farming is a bit technical compared to other parts of farming. A technicality involved is literally soaking yourself into alcohol because of the spores. Spores are used to culture mushrooms and some people can't tolerate this. They could also be allergic to mud and others have different reactions upon entering a mushroom farm.
Lastly, there's the stage where mushrooms can be contaminated and many people have lost thousands of naira at this point. It requires the use of alcohol and sanitisers to prevent contamination. This scares many people from going into mushroom farming.
OO:

Have you encountered challenges in your business? And as a female entrepreneur, do you get special treatment?
EI: Anything that's done definitely comes with its own challenges so there's no exception to our mushroom farming. There are a lot of challenges and one of them is the short life span of mushrooms, this makes it difficult to service our clients.
Sometimes we have to re-deliver maybe because the mushroom got worse before it got to the client. This isn't because we don't use logistics but even at that, the roads still have a role to play. If you have deliveries to make in different locations in Lagos, the traffic poses a challenge because it takes a lot of time before you get things delivered. This is a problem for the fresh mushrooms.
Consequently, we're devising various ways to help reduce the loss we encounter through this process. One of which is why we have dried mushrooms, so if the client's location is far, we advise that they go for the dried mushrooms instead of fresh.
As a female entrepreneur, the world is now moving towards empowering more women into doing amazing things. We've had some support just by being a female doing something in the agric space. But it's still not enough to be a woman and want to do exploits, there is still a whole lot that goes into making it a success.
OO:

As a young lady in her prime, is this what you're looking to do long-term? Or will you move to other areas, since we've also seen you teach people about snail farming?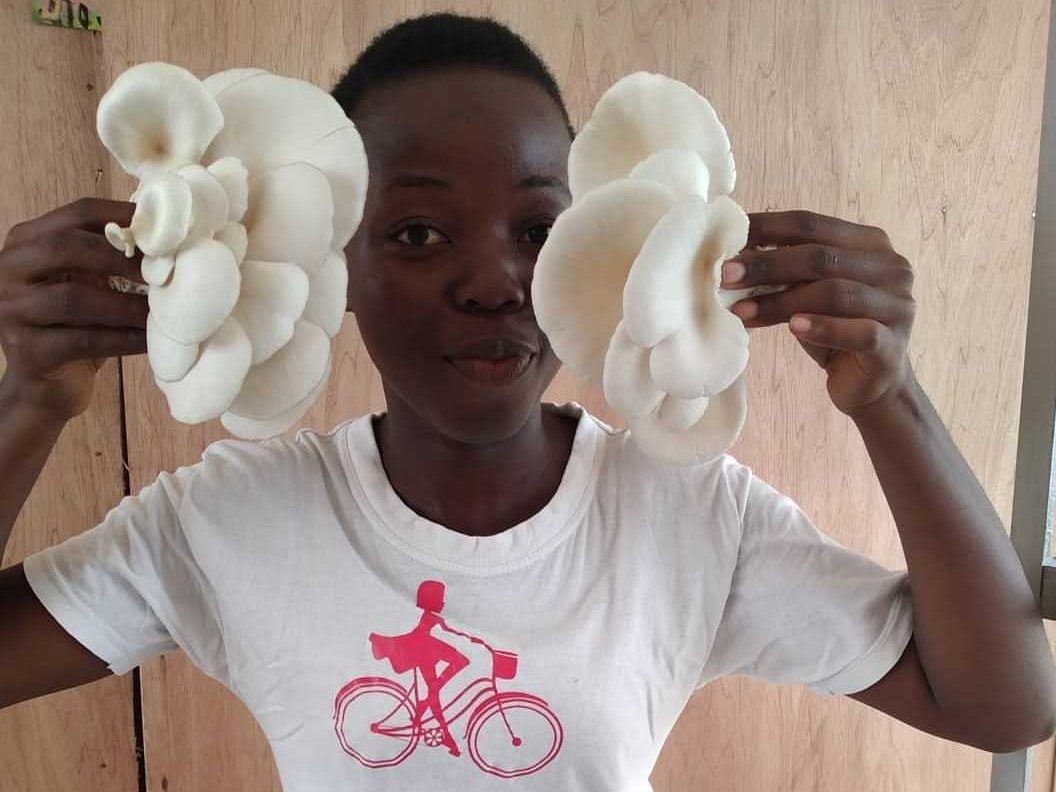 EI: First and foremost, I'm an agric consultant so that means I get to teach people about different things in agrculture, not just snails. There's plantain farming, vegetables, and so on. Mushrooms are one of the many things that I do but because of the passion and the personal experience with mushrooms, I decided to move it a step further.
This isn't for the short term, it's definitely a long term goal. I want it to evolve beyond me because it's not just a movement, it's about helping people eat healthy, to make the right eating decision.
OO: Do you believe that farmers usually end up being poor? What's your own get-rich strategy via farming?
EI: This is one of the very common myths we're working to clear off people's mind. Farmers are now world leaders, the COVID-19 pandemic has shown us that a lot of sectors are obsolete in the face of any crisis. It tells us food is the number one priority but it depends on how you choose to run your business.
We train people that it's not about working hard but working smart. You don't need to do a 6-6 on a farm as our forefathers did. There are a lot of new innovative ways to achieve a lot of things without stressing yourself out.
Personally, I've never had another source of income apart from farming. I'm 100% dependent on farming for my income and I've never regretted it at any step of the way.
Farming is as professional as being a doctor, lawyer etc. For some people, they may not have to use a doctor or lawyer in years but they need a farmer three times a day if not more. This shows that if done properly with the right structures in place, farming is the best place to be.
OO: Let's talk about your business. Through what medium do you serve your users? 
EI: We reach our customers online, through our website and social media platforms. We also have vendors in different states who sell our products.
OO: Speaking of using social media platforms, a lot of investors both local and foreign are now looking at more tech-inclined businesses to invest in, do you see non-infusion of tech as possible jeopardy to your future attempts of securing investments?
EI: Technology is a thing and any business that is not already thinking about infusing it into their activities is heading to the drain quite soon.
There's a whole lot to technology, the fact that you have a social media presence is a tech infusion. Presently, 85% of our sales are done online and this has actually been one of the best things that have helped sustain our business especially with the COVID-19 pandemic.
Tech is a very integral part of every business and we're not left out of it.
OO: Who are your competitors and what makes your business different from theirs?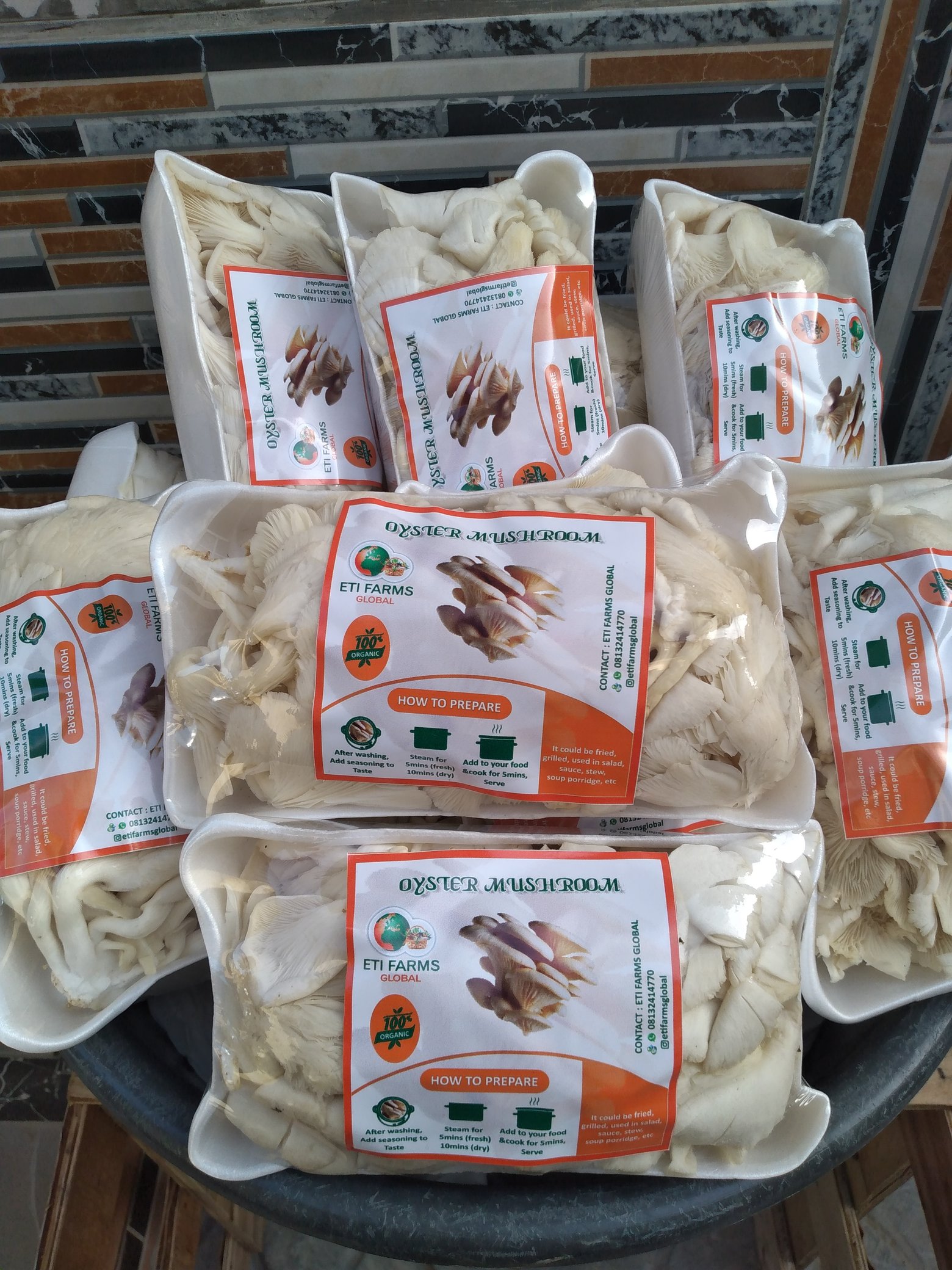 EI: Since we operate physically on Instagram, the basic competitor we have is Mushroom Matters. They are a company that does mushroom supplements and other dried mushrooms.
For a market like this, our competitive advantage is that we grow the mushrooms. We don't just sell dried mushrooms, but also the fresh ones as well. We don't deal in imported mushrooms.
As mentioned earlier, it goes beyond selling our products, we also educate about the importance of eating healthy, it's a movement.
OO: Let's discuss your business funding. Have you raised any investment rounds since you began? 
EI: Since inception, we've had a couple of grants which we've used in operating the business. The business first started with a 100% personal fund. Afterwards, we've been able to secure grants from high net worth individuals, Pitchathon, and a couple of foundations.
OO: Is your current business model sustainable? 
EI: Our first business model is B2C and a few weeks into the year, we were still operating in that model. But we saw that that wasn't very sustainable so we're diversifying and going into B2B. Presently, we have vendors and supermarkets we supply. It's easier, we don't need to be directly involved in doing the work once we've supplied.
One of the things that limit us online is the delivery fee, it scares away some people. For customers, knowing they have a place they can easily walk into makes it easy.
OO: How much have you made in revenue since inception? What is your current customer strength? 
EI: We have over 100 customers and revenue of over ₦2,000,000.
OO: How has the pandemic influenced your sales and operations this period? 
EI: It's been an eye-opener for the business. Before now, deliveries were usually made in person because we didn't trust logistics to handle our products. This is because they are fresh mushrooms and they had to be delivered between two to three hours after pickup. Having experienced this problem, we decided to have our staff take care of the deliveries.
With the pandemic, we had to adjust and fall back to a logistics company. It was challenging initially but we've been able to broaden our delivery scope. Before now, we were able to do three to four deliveries in a day, but now we can do 10-15 deliveries using a logistics company.
Our customer base increased due to the pandemic considering that mushrooms boost the immune system. It opened a new market for us, making more people aware of the product. I'll say it was a good one for our business.
OO: What will you advise your fellow entrepreneurs looking to carve a niche in an uncommon terrain just as yours?
EI: The things I do are not very common, I'm not a fan of going into a very saturated market. There's a whole lot that can be done when you realise there's a need for that service.
You need to figure out that problem people complain about. Right now, in the world people pay for comfort, they pay for that extra convenience so why go clot in an area where people are already struggling to have the market share? Why not create that thing that people really need?
It may not be easy having to introduce something that's not common but consistency always does it. And before anyone begins to copy, you're already the industry name.
If it means that you'll have another source of income as you grow it, that's totally okay. But if you know or have an uncommon space, push it very passionately.
---
We've partnered with Sidebrief, a Legal compliance company to help as many as possible businesses access and get the necessary document for the FG N50bn Covid-19 credit facility. Interested? Get started for free. 
---
Got a story worth telling? Shoot us an email with SUBJECT — "Story Worth Telling" — to [email protected].