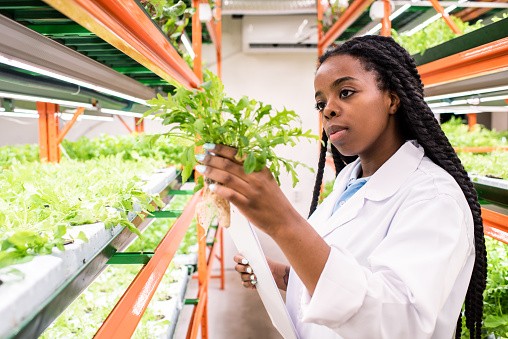 Young African woman in whitecoat holding one of green seedlings while studying its biological characteristics
Win $60,000 in the International Innovation Award for Sustainable Food and Agriculture
Acknowledging digital innovation, new and existing products and practices focused on increasing effectiveness, competitiveness and resilience, the International Innovation Award for Sustainable Food and Agriculture is an initiative organised to boost innovation in the sector.
In partnership with the Federal Government of Switzerland, Food and Agriculture Organisation, FAO, has systematically put the programme in place to promote the use of digital technologies and innovative practices, producing, processing, trading, consuming and building more resilient and robust food systems.
Also, the programme seeks to provide smallholder farmers a better future, making farming more sustainable, and ultimately closing the digital gap between developed and developing countries.
Benefits
The innovation award is in two categories:
Category A
An award of $30,000 for excellence in digitisation and innovation for sustainable food systems
Category B
An award of $30,000 for an innovation that specifically empowers youths in sustainable food systems
Eligibility
Applicants must be 18 years old and above
Individuals, private companies and institutions responsible for an innovation that has demonstrated particular efficiency and used novel tools, products or services to enhance and promote sustainable food and agriculture are eligible 
Both categories of the award consider innovations that have been successfully implemented and validated
The Award is conferred for innovations implemented during the biennium preceding the current one
In line with the requirements and technical competencies of the Federal Office of Agriculture of Switzerland, all innovations must apply to agriculture and pastoral systems only
Application forms that are incomplete, do not comply with the terms and conditions specified, or are submitted beyond the deadline, according to the instructions provided, will not be considered
All categories
All applications will be judged according to:
Quality and merit of the innovation

Potential benefit, impact and sustainability

Scalability 

Value for money
Category A
Applicants need to clearly indicate how the innovation impacts more than one level of supply chain from farmers to consumers

Applicants should demonstrate how the innovation strengthens the link between farmers and consumers, e.g. through tracking sustainability features of traded food and agriculture products on labels
Category B
Applicants need to show how the innovation strengthens the role of youth (under 35) in sustainable food systems
How to apply
Apply for the International Innovation Award for Sustainable Food and Agriculture. Let your innovative idea begin to scale globally. Application deadline is on Friday, March 19, 2021.
---
Got a story worth telling? Shoot us an email with SUBJECT — "Story Worth Telling" — to [email protected].