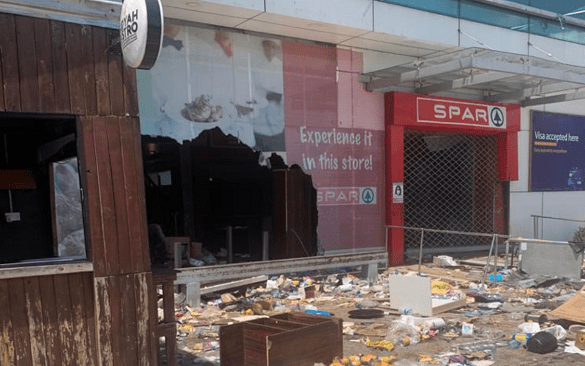 Lagos stores looting: LSETF, corporate and private organisations, rise to support affected SMEs
A series of unprecedented and unscrupulous events have trailed the #EndSARS protest which started in Lagos, on Thursday, October 8, 2020.
What originated as a peaceful demonstration, magnified into violent attacks on protesters and properties vandalism by hoodlums, in about two weeks, after the first march. The sad case of market stores looting by random thugs commenced after the shootings at Lekki toll gate.  Within the same period, destruction of public infrastructures, amenities, and some media houses were recorded across the state.
Some affected stores are the popular shopping malls, supermarkets and many other consumer goods retail outlets.
Following the incidence, the Lagos State Employment Trust Fund (LSETF) alongside some corporate bodies and individuals have set up various schemes to help affected stores owner revive their businesses.
We have compiled a list of initiatives ready to help store owners in their restorative processes with various SME Relief Funds.
List of SME Relief Funds
Naijabrandchick entrepreneurial funding 
Famous for promoting business owners and sharing valuable tips for business growth on Instagram, the Naijabrandchik has pulled resources together to create a funding pool for affected business.
Although, deadline isn't stated yet but the earlier the better. More information will reach you after application but you can stay updated via @naijabrandchic or @nbctribe on Instagram.
Lagos MSME Recovery Fund
A scheme created by the Lagos State Employment Trust Fund (LSETF) to help affected businesses access funds ensuring you satisfy the following criteria:
Must be a Lagos state-based business
Must be able to provide images to show damages
Concerned businesses are expected to fill the application form before Friday, 30th October 2020. Also, LSETF in collaboration with Flutterwave have created a system in which individuals and private sectors can provide grants for these businesses.
Linda Ikeji SME Funds
The popular blogger, Linda Ikeji, is also offering some form of relief to small scale businesses owned by affected female entrepreneurs in Lagos.  To apply, send an email to [email protected] with proof of what was destroyed with an estimated value.
Diary of a Naija Girl SME Support Funds
Ife, the anonymous editor of Diary of a Naija Girl– a personal website that uses storytelling and content creation to analyse issues surrounding social lifestyle- has embarked on a fundraiser scheme for SMEs as a paramount step to help businesses through the recovery process.
She leads the non-governmental organisation, Rock Palmer Foundation, using this platform she has been able to get support from private entities such as the car-hailing company, Bolt Nigeria. To benefit from this grant, the following criteria should be met:
Must be a Small Business Owner
Must be able to show images of damages done.
To apply, send an email to [email protected]
The Phoenix Support Fund 
This initiative is powered by AGS tribe and Diatom Impact to offer financial support to enable affected SMEs rise from the fall and emerge stronger. The Phoenix Support Fund is giving up to ₦500,000 per successful applicant especially those that are female-led businesses.
In addition to the financial support,  the support scheme is also offering business and strategic advice, coaching, training, and mentoring to ensure that the small businesses recover as resilient and sustainable enterprises.
To receive relief from the Phoenix Support Fund, you are expected to satisfy the following criteria:
Proof of residence (utility bill)
Financial documents including bank statements, tax filing, management accounts or audited financials.
 Company documents: CAC registration, Business Owner's I.D card; Voters card, national I.D card or passport
Evidence of damage
Proof of damage to business/property or proof of revenue loss due to unrest.
Link to apply – Deadline isn't stated yet but the earlier the better. Further instruction will be communicated to you after application.
 

Style Me Africa SME Support
StyleMeAfrica, a company that celebrates Africa's fashion and style is raising funds for affected Lagos State-based fashion or beauty businesses. To apply, send a DM to them on Instagram – @stylemeafrica .
Rebuilding Our City Project
Spazio Ideale is offering designing services at zero cost through its rebuilding our city initiative. Selection is on first come first serve basis for the first 10 businesses affected by the recent vandalism only.
Spazio Ideale is a full-service interior design firm specializing in comprehensive interior design and consultancy services and turnkey installations for varied type of projects including corporate and housing sectors.
Fill the application form to access the relief service.
Stanbic Bank SME Support fund
Stanbic IBTC intends to support her customers by helping them with funds to rebuild this period. An application form is to be filled to tell them how they can support you this period
Deadline is Friday, 30th of October, 2020. Application does not guarantee selection.
Access Bank SME Fund
Access bank is set to support her customers by helping them with funds to rebuild again. Stay updated by following them on their social media handles to know when they begin.
First Bank Nigeria Support 
First bank intends to support her customers by helping them however way possible this period. Customers are expected to fill a form on how they can be supported this period.No stated deadline but the earlier the better.
FaceliftSD Re-build Our Community Initiative
FaceliftSD is a multi-faceted syndicate that specialises in real estate development, revamping and maintenance, is offering pro bono services to affected businesses in the following areas:
Evaluation and assessment of damage inflicted
Structural Assessment and Integrity test
Retrofit/Facelift Design of affected building facade
Cost analysis of necessary repairs
Follow their social media handles for terms and conditions.
---
Got a story worth telling? Shoot us an email with SUBJECT — "Story Worth Telling" — to [email protected].