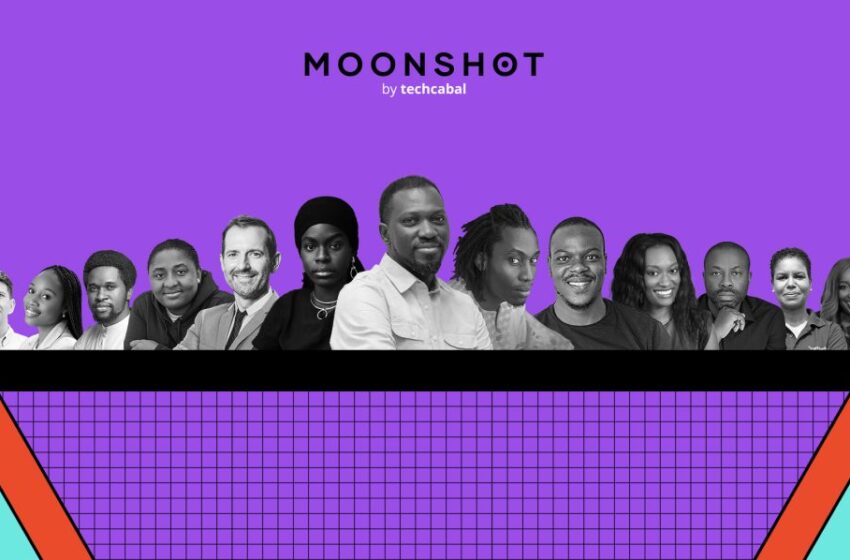 Moonshot by TechCabal: Where tech titans take the stage
Are you a budding tech enthusiast or an aspiring startup founder eager to unlock new opportunities, network with industry leaders, and gain valuable insights into the world of technology and innovation?
Look no further because Moonshot by TechCabal is right around the corner, and it promises to be a game-changer for Africa's tech ecosystem.
The Moonshot Conference: A Convergence of Tech Trailblazers
On October 11 and 12, the Moonshot Conference, organized by TechCabal, will unite Africa's tech ecosystem under one roof.
This highly anticipated event offers a platform for networking, collaboration, knowledge sharing, and a celebration of innovation across the continent.
Whether you're an established business leader, a startup founder, or simply tech-curious, Moonshot has something to offer.
With over 100 influential speakers lined up, we can only give you a sneak peek into the brilliance you can expect to encounter:
Bosun Tijani
Bosun Tijani, the Co-founder and CEO of Co-Creation Hub (CcHub), wears multiple hats as a tech entrepreneur and Nigeria's Minister of Communications, Innovation, and Digital Economy.
His vast experience in both sectors makes him a pivotal figure in shaping Africa's tech landscape.
Juliet Ehimuan
Juliet Ehimuan has over 25 years of experience in tech. She was the former Country Director of Google Nigeria and later as Director for West Africa.
Throughout her career, Juliet has been at the forefront of shaping the African digital technology landscape. She has championed public policy initiatives to increase digital access and affordability.
Juliet Ehimuan's diverse professional experiences, coupled with her board involvement, solidify her position as a respected leader and influential figure in the tech industry and beyond.
Ruth Iselema
Ruth founded Bitmama in 2019, I founded Bitmama, a pan-African blockchain company offering crypto products across payments, with footprints across Africa and Europe.
Prior to founding Bitmama, she consulted for other leading global exchanges and blockchain protocols on their product strategy and market entry into Africa.
With over 6 years of blockchain experience, she currently leads a distributed global team to champion the next use cases of crypto adoption and impact in Africa.
Gbenga Agboola
Gbenga is the founder and CEO of Flutterwave, a pan-African fintech company. He contributed to the development of fintech solutions at several tech companies and financial institutions such as PayPal, and Standard Bank, among others. He is a serial entrepreneur with a software engineering background & MBA.
Kola Aina
Kola Aina is a Founding Partner at Ventures Platform, an early-stage "discovery" venture capital fund championing the next generation of African entrepreneurs.
He is a leading executive and board director who combines a powerful mix of entrepreneurial, investment, and technical experience across diverse industries including technology, finance, media, agriculture, infrastructure, and real estate.
As a venture capitalist, Kola identifies and invests in early-stage technology companies focused on the disruption of financial services, healthcare, education, agriculture, and enterprise software. He has built a strong investment portfolio of best-in-class, high-growth companies.
Eloho Omame
Eloho is a Partner at TLcom Capital, a seed-to-early growth stage venture capital firm focused on Africa. She's also the co-founder of FirstCheck Africa, a female-focused pre-seed firm, and a staunch advocate for diversity, equity, and inclusion in Africa's tech ecosystem. In 2021, she co-founded FirstCheck Africa, one of the few female-led and female-focused technology venture capital firms committed to helping Africa's exceptional female entrepreneurial talent build great companies.
Sam Sturm
Sam's work focuses on turning promising ideas into breakthrough innovations, leading Founders Factory Africa's Build program and venture studio to develop new ventures from the ground up.
He takes a design-led approach to problem-solving, creating products, services, and business models that are equal parts scalable and sustainable.
As a Strategy Lead at the San Francisco-based design firm fuse project, Sam has worked with a broad range of clients – from large multinational corporates to Silicon Valley start-ups – and led the design and delivery of the SPRING Accelerator, working with nearly 80 businesses across East Africa and South Asia to drive commercial success and social impact at scale.
Joshua Chibueze
As an entrepreneur at Endeavor, Josh supports high-impact startups in emerging markets with access to mentorship, capital, and networks. He is also a co-founder and CMO at Piggytech, a digital financial services platform. He has over ten years of experience in marketing and entrepreneurship. He brings diverse perspectives and experiences to the teams he leads and is driven by the mission of catalyzing economic growth and social change in emerging markets.
Eniola Korty Olanrewaju
A graduate of Computer Science who went on to develop skills in film and editing, which led her to her first Job at Zikoko Mag where she spent over a year producing shows before she became the Head of Content at Empawa Africa. Currently, she is the founder of Empawa, one of the fastest-growing YouTube channels in Nigeria.
Uwem Uwemakpan
Uwem is an investor and ecosystem builder with a track record in nurturing talented underrepresented founders, strategic planning, and project management. He is skilled in identifying investment opportunities and delivering results in dynamic market conditions.
Anuoluwapo Adedoyin
Adedoyin is the CEO of Sabi a technology platform that enables and empowers the most underserved merchants in the world.
Its commerce infrastructure enables agents, merchants, wholesalers, aggregators, distributors and manufacturers to grow their businesses using Sabi's technology rails.
Maya Horgan
Maya is a venture capital investor and entrepreneur. She founded Ingressive Capital, a $10 Million VC Fund I and $50 Million Fund II focused on early-stage African tech.
She also heads Ingressive for Good, a nonprofit providing micro-scholarships, technical skills training, and talent placement; as well as Ingressive Advisory, an advisory firm providing market entry/market ops services and tech research for corporates and investors.
Babajide Duroshola
His experience spans across tech, banking, and consulting. Skilled in management, strategy, business operations, expansion, and marketing. He has a strong understanding of startup ecosystems and technology ecosystems across West and East Africa. Babajide is currently the GM for M-kopa Nigeria, previously leading Safeboda's Growth in Nigeria (built from the ground up).
---