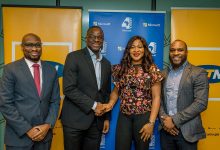 MTN Partners Microsoft to Promote Scalable Initiatives for Nigerian SMEs
The Small and Medium Enterprises (SMEs) segment in Nigeria is set to benefit from the partnership between MTN and Microsoft.
Both MTN and Microsoft recently signed a Memorandum of Understanding (MoU) to collaborate on the creation of initiatives aimed at driving growth within the country's small businesses.
This partnership will leverage Microsoft's technologies and MTN's innovation to create strong value propositions for the SMEs' segment which will ensure the sustainability and scalability of these enterprises.
In addition, the partnership will also address the needs of SMEs such as capability development, access to markets, as well as business networks across Africa as part of their plans to invest in the country's economy.
During the meeting where the MOU was signed, MTN's  General Manager of Enterprise Marketing, Onyinye Ikenna-Emeka, expressed the organisation's unending support for the success of both SMEs and Large Enterprises.
Recognising the substantial contributions of SMEs to the country, Ikenna-Emeka emphasised MTN's strategic position in collaborating with SMEs to create solutions specially designed to provide and facilitate access to technology, new markets, information as well as finance for SMEs.
"We launched the MTN Man-In-The-Box Initiative to further demonstrate our commitment to the development of businesses and ensure their sustained business growth", said the General Manager
In the same vein, Mr Akin Banuso, Country General Manager, Microsoft Nigeria stated his organisation's plan to transform SMEs and help expand their business in this technological era. According to him, the partnership will afford them the opportunity to work with SMEs and find a solution to the challenges they are faced with.
"Our approach at Microsoft has been one of empowerment and collaboration. We work with SMEs and as we learn from them, we're poised to provide solutions to the challenges they face daily. We are excited about this partnership and looking forward to providing support to the SMEs through the Microsoft 4Afrika Initiative. This means that we can empower them to digitally transform their businesses, be more productive and competitive",   said Akin
Although Nigerian SMEs still battle various challenges in attaining scalability, Stakeholders have called for massive support of SMEs as the role played by small businesses can't be underestimated in the economy. Hence the collaboration of MTN and Microsoft.
The Nation reports that  Small and Medium Scale Enterprises (SMEs) in Nigeria have contributed about 48% of the national GDP in the last five years. Therefore, a lot has to be put in place towards rescuing SMEs from inadequate funding.
---
Featured image: pulse.ng