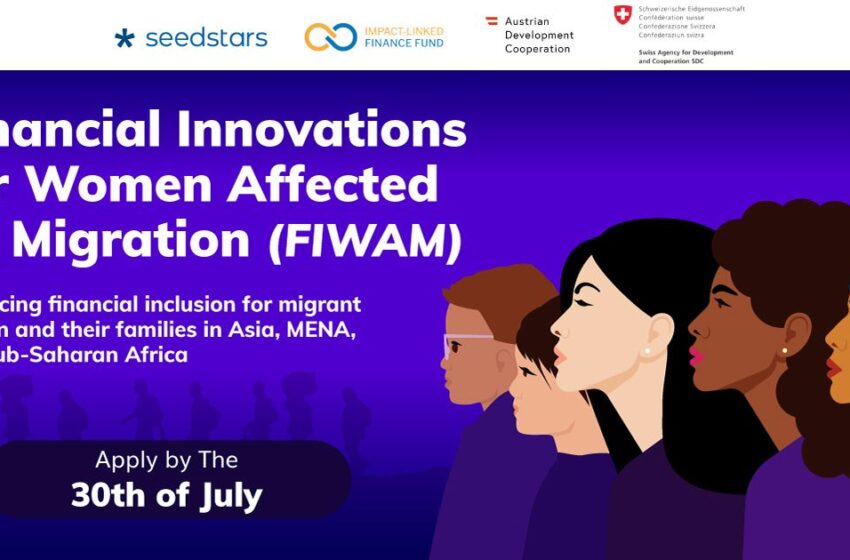 Financial Innovations for Women Affected by Migration (FIWAM)
Seedstars Launches FIWAM: Promoting Financial Inclusion for Women Affected by Migration
Seedstars has launched the Financial Innovations for Women Affected by Migration (FIWAM) program. 
This growth initiative aims to support fintech companies dedicated to promoting financial inclusion for women migrants and women affected by migration across Asia, MENA, and Sub-Saharan Africa. 
By addressing the unique challenges faced by these women, FIWAM strives to empower them and create positive change in their lives.
Benefits
Through the FIWAM program, selected fintech startups will receive invaluable support and resources, including:
Technical assistance to enhance their investment potential and scale their impact.

Direct support from experts in residence (EIR) and mentors who bring regional expertise and guidance.

A three-month program designed to refine their solutions and strategies.
Eligibility
Fintech startups can apply to the FIWAM program if they meet the following criteria:
Must be a for-profit entity operating in a Sub-Saharan African, MENA, or Asian country.

Provide a fintech solution that serves or has the potential to serve women migrants or women affected by migration.

Demonstrate product market fit, be in the growth stage, and generate monthly revenue of approximately $10,000.

Woman-led companies and founders who are women migrants are strongly encouraged to apply.
How to Apply
To take advantage of this opportunity, interested fintech startups should submit their applications before the July 30, 2023 deadline. 
The FIWAM program represents a significant step towards promoting financial inclusion for women affected by migration. 
Seedstars, in collaboration with the Impact-Linked Fund for Gender Inclusive FinTech (ILF for GIF) and renowned partners, is committed to supporting fintech startups that can make a lasting impact on the lives of women migrants and their families. 
Don't miss this opportunity to join a transformative initiative and contribute to fostering financial inclusion for women affected by migration.