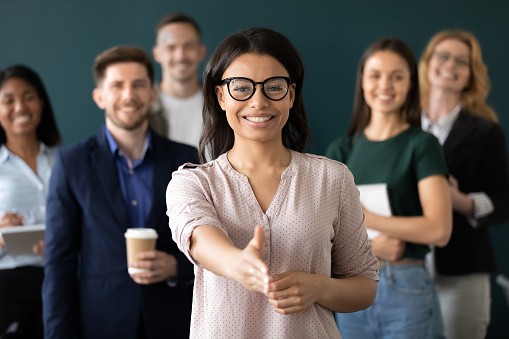 Mixed race woman sales manager stretch out hand introduces herself greeting shake hands client smiling look at camera pose indoors with diverse teammates. HR, job interview, business etiquette concept
SIMP for African changemakers. Become part of a network of great business leaders 
Built on innovation, the Swedish Institute Management Programme (SIMP) is focused on establishing a resilient foundation for the agglomeration of business leaders with a drive to succeed, while ensuring economically, environmentally and socially sustainable change in businesses.
The programme seeks to broaden the understanding of current and prospective leaders, in terms of complexity and unpredictability of imminent global challenges and opportunities. Hence, a sustainable and innovative attitude towards the world at large.
The programme is built on Sweden's prominent position in innovation and sustainable business and its connection to the global economy. It provides methods, concepts and practical applications from leading experts in the key aspects of sustainability.
Benefits
An exclusive suite of workshops, lectures and visits with highly-acclaimed speakers selected specifically for their competence, clarity, and high level of audience engagement
A thorough understanding of the principles of sustainable business with a focus on human rights, climate and the environment, decent working conditions and anti-corruption
A strong set of skills to drive change in your own organisation through responsible leadership
Knowledge to let you work with Design Thinking as a method to develop creative and sustainable solutions to complex problems
A network of leaders who are committed to sustainable business and responsible leadership with whom you will grow and learn from to build lasting business relationships
Insights into business cases for sustainability in Sweden, one of the leading countries in sustainable business practice
The opportunity to grow and develop in the programme's focus areas
Eligibility
Applicants who meet the following criteria are eligible to apply:
You aspire to make sustainability an integral part of your business strategy
You are in a leading position within trade, industry or the public sector
You have a mandate to influence the strategy for your organisation
You want to share and build on the competences and knowledge you gain from the programme within your organisation 
You are willing to support your fellow participants and share your experience and knowledge with them
You are between 25 and 45 years old   
You have a good working knowledge of both written and spoken English
You have a post-secondary education
You are a citizen and resident of Ethiopia, Kenya, Rwanda, Tanzania, Uganda or Zambia
You are keen to take part in a highly interactive online course and look forward to connecting digitally
How to apply
Having gone through the eligibility requirements, and you're fit to apply, without further time wastage, submit your application for the SIMP Africa before the deadline on Sunday, March 21, 2021.
---
Got a story worth telling? Shoot us an email with SUBJECT — "Story Worth Telling" — to [email protected].