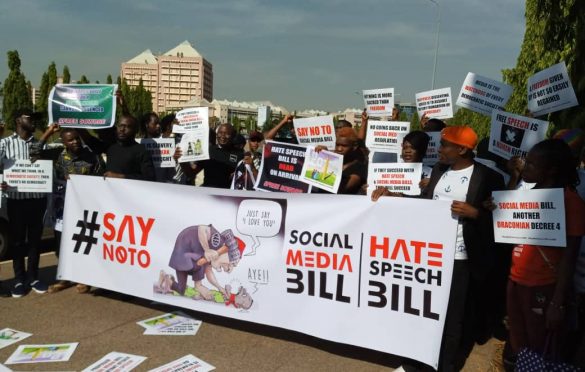 Tech Crawl: Nigerians say #NoToSocialMediaBill, Bundle Africa to launch in Ghana, more 
This week marks the beginning of a new month following the end of a "long" October last week. We bring you interesting updates you might have missed from the local and international tech industry. Interestingly, #NoToSocialMediaBill trends on Twitter this week as Nigerians refuse the bill.
Nigerians take to Twitter to refuse the social media bill with #NoToSocialMediaBill
Last week, we reported that the Nigerian Minister of Information Lai Mohammed while addressing the House Committee on information, national orientation, ethics and values, disclosed that there is a need to regulate social media. 
On Monday, November 2, 2020, after the Northern Governors' meeting, Nigerians took to social media, Twitter especially to refuse any form of social media regulation. This was largely done by sending out tweets with #NoToSocialMediaBill and #SayNoToSocialMediaBill.
For Those Who Don't Understand What The Effect Of Social Media Bill Is:

It Will Literally Mean A Small Jab, Complaints Or Questioning The Government On Social Media Will Land You In Jail Or Worse.

RT To Lend Your Voice #SayNoToTheSocialMediaBill#IconsStreamingParty #EndSARS pic.twitter.com/7o5oAnx4YV

— Alan (@Harbiodinho) November 4, 2020
#saynotothesocialmediabill
A politician brought gun out during protest and shot people in Lagos. He is roaming free like headlice. No arrest. No prosecution.
The journalist who covered the event however got arrested by Lagos TaskForce and he's dead today. SAY HIS NAME. SPEAK UP🗣️ pic.twitter.com/3VQsjmVWEX

— Jantamanta🍀 (@Ikemcfr) November 4, 2020
What is social media regulation?
—Social media users will be punished for freely expressing their opinions.
—Govt. can arbitrarly shut down the internet and limit access to social media.
—Criticizing government will be punishable with penalties of up to three years in prison.

— Amnesty International Nigeria (@AmnestyNigeria) November 5, 2020
Imagine in 2020, what out government are concerns is social media bill while as The world has evolved but they're still going backwards 🤦‍♀️. Just imagine posting your business on your SM handles and they tell you that it is fake news. Very pathetic. #saynotothesocialmediabill pic.twitter.com/vwbMmrVzE5

— Kaylil's Mart (@Iam_lily20) November 3, 2020
Incase you don't know, the penalty for breaking the social media law if the bill is passed includes 300k fine, three years imprisonment for individuals & 100million naira for corporate organisations.
That's the price we're all going to pay if we don't #SayNoToSocialMediaBill pic.twitter.com/5F9r8Zi7MI

— Tolib Ademola 440  (@Oye440) November 3, 2020
During the meeting in Kaduna, the governors call for "major control mechanism and censorship of social media practice in Nigeria" amongst other resolutions as seen in a document. The Northern Governors, traditional rulers, ministers and the National Assembly's leadership were reportedly in attendance of the Northern Governors' meeting which held on Monday.
Social payment app for cash and cryptocurrency, Bundle Africa to launch in Ghana
Bundle Africa, a social payment app for cash and cryptocurrency which has been mainly operational in Nigeria is set to launch in Ghana as announced via the company's official Twitter handle.
Hey, Ghana! 🇬🇭

Are you ready for Bundle? 😎

See you soon! 🎉 pic.twitter.com/tX8Yjp6mF8

— Bundle (@BundleAfrica) November 3, 2020
Launched in April 2020 by Yele Badamosi, CEO of Microtraction, a Venture Capital company and former Director of Binance Labs, Bundle Africa enables users to buy and sell Bitcoin, BNB and Ethereum. Likewise, it supports Naira, Bitcoin, BNB, Ethereum, and BUSD.
Users can buy bitcoin through Naira deposit from their Naira bank account and also deposit Naira on Bundle through bank transfer after passing account verification. It also allows users to sell their Bitcoin into Naira and withdraw it directly into their Nigeria bank account.
Backed by Binance and other African investors, Bundle had reportedly signed up over 30,000 users in Nigeria as at August and hopes to provide support to at least 30 African countries.
South African government to enforce 30% local content quota for streaming services
The African governments appear to be doing the most when it comes to making laws that will regulate or control content streaming in their countries. Recall that earlier in the year, the Nigerian National Broadcasting Commission (NBC), in the amended version of the 6th edition of the Commission's broadcast code required that all online broadcasters register with the commission. Furthermore, the code will compel them to sub-license their content at the prices the commission will regulate.
---
Read also: Tech Crawl: Sudan embraces digital payments, Uber Africa launches Uber Cash with Flutterwave, NBC to regulate VOD platforms, more
---
In a bid to promote local content and languages in South Africa, the government plans to implement a 30% local content quota for internet streaming services.
"Under paragraph 5.2.8, where we deal with the Promotion of South African Content and languages, the Draft White Paper, in paragraph 5.2.8.9, indicates that in respect of on-demand content services targeting South African audiences, they should also have South African content obligations," Minister of Communications and Digital Technologies Stella Ndabeni-Abrahams said.
However, Mybroadband reports that "It is not clear whether the government will require international streaming services such as Netflix to adhere to this content quota, as it may be defined as a "streaming service targeting South African audiences"."
Asides the 30% local content quota for streaming services, the Draft White Paper also intends new licence requirements for internet streaming services such as Netflix, Amazon Prime Video, and Apple TV+ in operations in the country.
The white paper proposes that services which turned over R100 million or more in the previous financial year must have an individual operating licence while on-demand services which had an annual turnover of between R50 million and R99 million in the previous financial year will apply for a class licence. Unlike Netflix, YouTube will be spared from requiring licences to operate in South Africa but "it will have to abide by local legislation around hate speech, incitement to violence, and the protection of minors."
Egyptian startup ILLA raises a US$500,000 seed funding
The FMCG delivery logistics marketplace, ILLA has raised $500,000 seed funding from Averroes VC, AUC Angels, and a consortium of local and regional strategic angel investors, with follow-on investment from Flat6Labs Cairo. This funding is to help expand its reach in the Egyptian logistics industry.
ILLA is said to be a full-stack delivery solution that plans deliveries for large non-retail and retail players such as hypermarkets, convenient stores, hotels and F&B chains.
Commenting on the funding, Dr Ahmed Alsharif, founding partner and chief executive officer (CEO) of Averroes Ventures said:
"We at Averroes are always on the quest of backing up exceptional startups, and we have established this earlier in the logistics technology domain. We believe in ILLA's vision to provide high quality, customised distribution solutions, and in the value of its offering to serve FMCGs in an innovative and effective manner. ILLA's exceptional team of diversified backgrounds are surely capable and well equipped in becoming a key player in the future of the logistics technology industry."
WhatsApp now allows users to send "Disappearing Messages"
One of the most commonly used social media apps, WhatsApp has rolled out the "Disappearing Messages" that automatically deletes messages after seven days once enabled.
Introducing disappearing messages. Now you can set chats to disappear after 7 days. Because not all messages need to stick around forever. pic.twitter.com/3Ny2mVxSaQ

— WhatsApp (@WhatsApp) November 5, 2020
This feature is available for group chats but only group admins can turn disappearing messages on or off while in an individual chat, either user can do the same. WhatsApp said this setting won't affect messages users previously sent or received in the chat and if a user doesn't open WhatsApp in the seven day period, the message will disappear. However, the preview of the message might still be displayed in notifications until WhatsApp is opened.
Additionally, when a user replies to a message, the initial message is quoted. With this new feature, if the message responded to is a disappearing message, the quoted text might remain in the chat after seven days. If forwarded to a chat with disappearing messages off, the message won't disappear in the forwarded chat and if a user creates a backup before a message disappears, the disappearing message will be included in the backup. Disappearing messages will be deleted when a user restores from a backup.
---
Got a story worth telling? Shoot us an email with SUBJECT — "Story Worth Telling" — to [email protected].