Verve goes global, allows you to make international transactions with new card
Verve, one of Africa's leading card payment solutions, has formed an alliance with Discover Global Network, the payments brand of Discover, to launch the Verve Global Card for international transactions.
With Discover being a leading direct banking and payment services company with one of the most recognised brands in U.S. financial services, holders of the new card are able to make payments outside Africa on the Discover Global Network including anywhere Discover, Diners Club International and Pulse and affiliate network cards are accepted, thereby allowing customers to transact in 190 countries across the world.
The agreement, according to Verve, is to facilitate new international and cross border transaction capabilities for Verve Global Card customers and meet the needs of its increasingly global customer base.
Mitchell Elegbe, Interswitch Group Managing Director, noted in an official statement that the goal is to "eliminate existing barriers and simplify the process when Verve Global Card users are transacting abroad."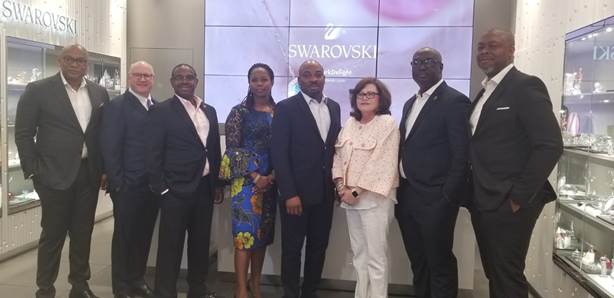 At the announcement event held a week back in Swarovski, New York City, senior bank executives carried out the first international transactions by purchasing various items with their Verve Global Card on the Discover Global Network.
This is huge because…
Verve has not only successfully expanded its existing suite of tailored payment products and solutions but also given African users the liberty to operate globally, especially in Nigeria where only two international card options — MasterCard and Visa– previously existed.
Beyond the international transactions, Verve claims additional benefits will be given to cardholders including broad reward and loyalty schemes that are available both locally and internationally.
On the part of Discover, Ricardo Leite (Discover's Senior Vice President of International Markets) quipped that working with groups around the world to extend acceptance for its cardholders and the ability for customers to use their card of choice no matter where they're are travelling, is of utmost importance to the company.
This indeed is a welcome development from Interswitch, the parent company of Verve and as Mike Ogbaly III (Verve Internation Divisional CEO) puts it, it addresses the challenges and payment restrictions Nigerian Verve cardholders experience while travelling abroad.