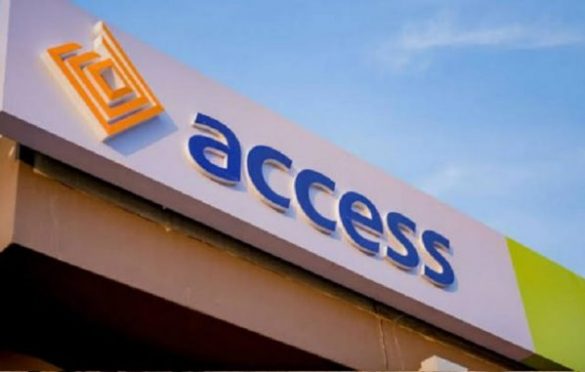 What startups can learn from Access Bank's social media backlash on stamp duty charges
Last weekend, the bank accounts of many Access Bank customers were debited for accrued stamp duty charges. Initially, the tier-1 bank in an email had notified customers that it'll deduct all accumulated stamp duty charges applicable to transactions made between February 1 and April 30, 2020, after the company discovered a mistake in its operations records.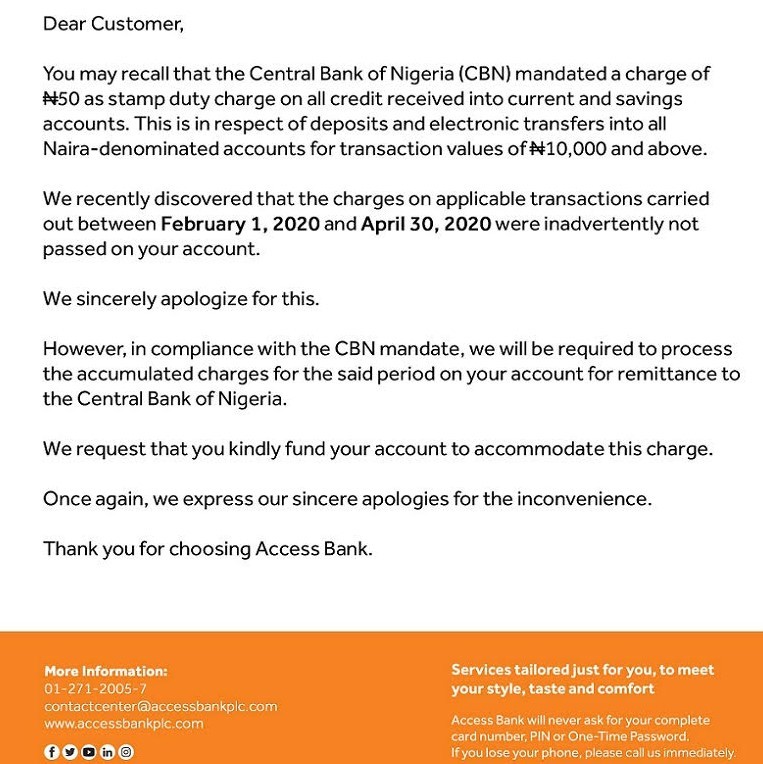 According to the Finance Act of 2019, bank customers are expected to pay a ₦50 stamp duty charge on all credit received into savings and current accounts with respect to electronic transfer and teller deposits of ₦10, 000 and above. The money is, however, remitted to the Central Bank of Nigeria. 
Considering that the coronavirus pandemic caused an economic downturn which has largely affected many people's finances, a couple of customers took to different social media platforms, Twitter especially, to express their grievances using #accessbankscam. 
I donated 1 billion naira to FG, got broke and sacked my employees. Now I'm stealing from my customers to recover…

Which bank am I?
ACCESS BANK#accessbankscam pic.twitter.com/V5XbHoX7Pt

— Ik (@Ik_Okeke23) June 28, 2020
Access bank how did I offend you

😭😭😭 are we dragging the same girlfriend#accessbankscam pic.twitter.com/D4N4wgmaJZ

— EPIC FAILS 🤪 (@Jenkky_2fit) June 28, 2020
Me at access bank on Monday. I want out..
I want my #1290, and I'm closing the stupid bank. #accessbank #accessbankscam pic.twitter.com/DELHS1uasR

— your male hairstylist   (@kent_nuel) June 27, 2020
https://twitter.com/vikiing_/status/1277263712374665216?s=19
#accessbankscam
Top 5 most useless banks in Nigeria in no particular order:

1) Access Bank
2) Access Bank
3) Access Bank
4) Access Bank
5) Access Bank

Which bank did I skip please? pic.twitter.com/UPY0mztHWS

— SUCRE 💘 (@Akache_1) June 28, 2020
In response to customer complaints and understanding its brand essence, the bank thought it wise to quickly save its image and devised an interesting means. The hashtags and complaints had barely trended for three days when in utmost surprise, Access bank refunded the accrued charges to affected customers' accounts. 
The management in a response email says the bank has decided to shoulder the responsibilities and fully absorb the charges. "We have considered your feedback and have decided to pay the Stamp Duty on our customers' behalf for the affected period only. This means that all individuals and SMEs who were debited for the accumulated Stamp Duty for February to April 2020, will be refunded," a part of the official statement from the bank reads.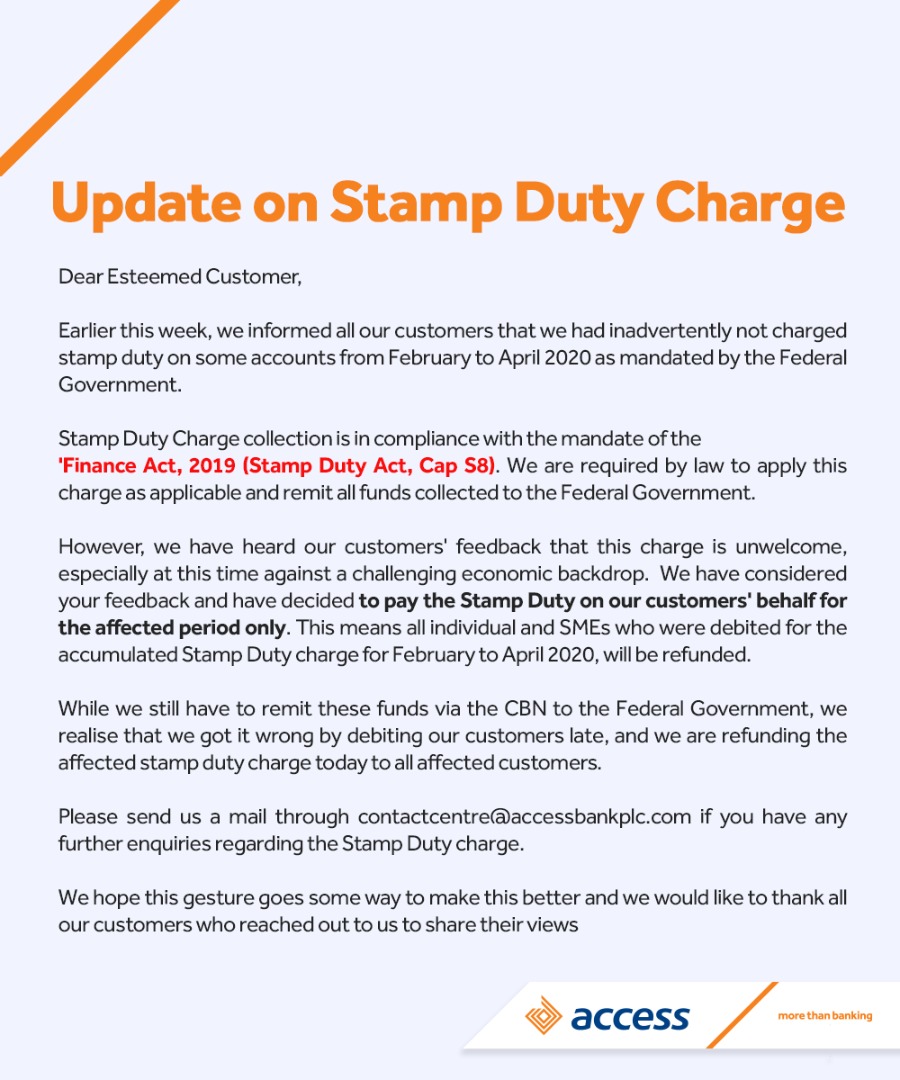 This move of rectification was well welcomed by the customers who not only took to social media to confirm the returns but lauded the bank's effort to please its customers and salvage its image.
https://twitter.com/DijahOfficial/status/1277308051582828549?s=19https://twitter.com/only1mankind/status/1277307147655708673?s=19
https://twitter.com/only1mankind/status/1277307147655708673?s=19
All access bank customers that is planning to visit the bank tomorrow to go and complain about the charges….. It's obvious there's no need again.#AccessBankScam pic.twitter.com/hEOM1Psuv4

— je m'appelle Teekay (@tokunboawo) June 28, 2020
They have refunded my money 😊#accessbankscam pic.twitter.com/lD8Hw9K9WV

— _Drugman (@_drugman) June 28, 2020
On the other hand, another reason the bank can't afford this saga is that its recent acquisition of Diamond Bank in April 2019 reportedly made it the largest commercial bank in Africa with an asset base worth excess of $12.2 billion (₦2.412 trillion). 
Here are some lessons businesses can learn from the whole saga. 
Endeavour not to offend your customers 
For any business, no matter how successful it's being run, there will always be a small percentage of customers who simply aren't satisfied with your products and/or services. But that's totally fine. 
It however becomes a problem if that percentage of customers including those who like your products are offended or given poor services. While some may walk away to your competitors, others could provide negative feedback on social media ruining the reputation of your company. In the case of Access bank, the social media amplified the aggression of such customers hence the trend of #accessbankscam.
Once a business piques the client, it gives away the right to be exasperated by a customer's emotional reaction. Therefore, it's important that your company tries hard not to displease customers as their satisfaction is pertinent to the growth of the business. 
Rectify first, apologise later 
As much as the idea of customer satisfaction should be paramount to every organisation, it's almost impossible not to sometimes get on the nerves of some clients. In this light, how to effectively handle the situation is salient.
For Access Bank, following the social media outcry on Saturday, the bank said it will refund all stamp duty deductions made from the account of its customers. Not only did the company indemnify, but it also offered to pay the stamp duty charge for February to April on behalf of its customers.
No organisation wants its customers unhappy, bearing in mind that it's also bad for business. Rectifying the situation first before apologising helps put the customer at ease. 
Thus, listen to the problems and put yourself in their shoes, fully understand the situation and see it from the customer's point of view before reacting.
Save the brand image: A good name is better than riches
The CEO of Amazon, Jeff Bezos, once said: "A brand for a company is like a reputation for a person. You earn reputation by trying to do hard things well." 
Another lesson learned from the Access Bank saga is how the company saved its brand image by bearing the cost of stamp duty charges on behalf of its customers as mentioned earlier.
The company didn't have to, considering that the charges are legally recognised by the Finance Act but just to save the brand image and retain some of the customers who have threatened to close their accounts, the bank took the bullet. 
Claiming rights may not always be the "right" approach at first
Sometimes, your decision to take certain steps as an organisation may be right and in fact lawful, but as long as your clients do not see sense in it, claiming the right and sticking with your move might spell doom for your business. This isn't always ethical as customers are relatively right from time to time. 
In Access Bank's case, rather than prove to customers that they are legally bound by the government to deduct the stamp duty charges, they took a turn to save their brand image and repair their reputation first by absorbing the costs, and then patiently explained to customers when the heat was less intense. Absorbing the stamp duty charges of over 36 million customers may not have been convenient for the bank.
But there are only one of two ways to go; entertain a little inconvenience or lose your brand and business. The bank took the less risky route.
After all, the inconveniences will only last for a while.
---
We've partnered with Sidebrief, a Legal compliance company to help as many as possible businesses access and get the necessary document for the FG N50bn Covid-19 credit facility. Interested? Get started for free. 
---
Got a story worth telling? Shoot us an email with SUBJECT — "Story Worth Telling" — to [email protected].