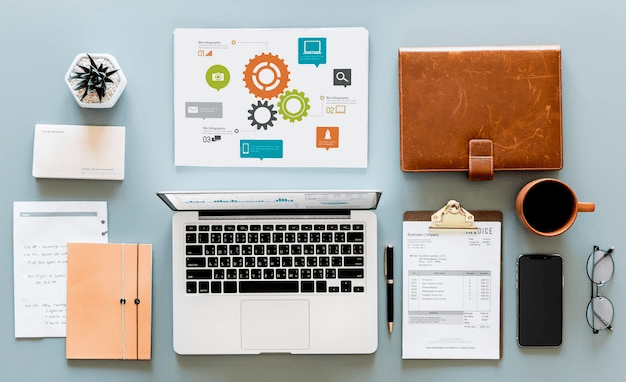 Entrepreneurs' desk
10 Must-Have Apps for Entrepreneurs: Boosting Productivity and Efficiency
In recent times, entrepreneurs are constantly seeking ways to enhance their productivity, streamline operations, and stay organized. 
Fortunately, the advent of technology has brought forth a plethora of mobile applications designed to cater to the unique needs of entrepreneurs. 
In this piece, we will explore 10 must-have apps that can empower entrepreneurs to manage their businesses effectively, collaborate seamlessly, and maximize their productivity.
1. Trello
Trello is a project management app that allows entrepreneurs to organize tasks, set deadlines, and track progress. Its intuitive interface and customizable boards make it easy to manage projects and collaborate with team members, ensuring everyone stays on the same page.
2. Evernote
Evernote is a versatile note-taking app that enables business owners to capture ideas, create to-do lists, and store important documents. It syncs seamlessly across devices, making it a valuable tool for keeping information at your fingertips, whether you're in the office or on the go.
3. Slack
Slack revolutionizes team communication by providing a centralized platform for real-time messaging, file sharing, and collaboration. Entrepreneurs can create different channels for various projects, ensuring efficient communication and reducing email clutter.
4. Expensify
Managing expenses is a crucial aspect of entrepreneurship, and Expensify simplifies the process. It allows entrepreneurs to track receipts, categorize expenses, and generate reports effortlessly. By automating expense management, entrepreneurs can focus more on growing their business.
5. Asana
Asana is a robust project management app that enables entrepreneurs to plan, coordinate, and track tasks across teams. Its features, such as timelines, dependencies, and progress tracking, facilitate efficient project execution and ensure deadlines are met.
6. Zoom
Zoom has become an indispensable app for virtual meetings, webinars, and conferences. As entrepreneurs increasingly rely on remote collaboration, Zoom offers high-quality video and audio capabilities, screen sharing, and chat functionalities to facilitate seamless communication with clients, employees, and partners worldwide.
7. Dropbox
Entrepreneurs often deal with large files and documents, and Dropbox simplifies file storage and sharing. It provides secure cloud storage, automatic backups, and file synchronization across devices, ensuring entrepreneurs have access to their important files anytime, anywhere.
8. Hootsuite
Social media presence is vital for business owners, and Hootsuite streamlines social media management. It allows entrepreneurs to schedule posts, monitor mentions, and analyze social media performance across multiple platforms from a single dashboard, saving time and enhancing engagement.
9. Canva
Business owners frequently require design skills to create eye-catching graphics for marketing materials, presentations, and social media posts. Canva offers a user-friendly interface with pre-designed templates, fonts, and images, empowering entrepreneurs to produce professional designs without the need for graphic design expertise.
10. Xero
Xero is a cloud-based accounting app tailored for small businesses and entrepreneurs. It simplifies financial management, offering features such as invoicing, expense tracking, bank reconciliation, and financial reporting. With Xero, entrepreneurs can stay on top of their finances and make informed business decisions.
In the digital era, leveraging the right apps can significantly enhance an entrepreneur's productivity, efficiency, and overall business success. The 10 must-have apps mentioned above provide business owners with a comprehensive suite of tools to manage projects, streamline communication, organize finances, and amplify their online presence. 
By incorporating these apps into your daily routines, you can optimize your operations, collaborate effectively, and focus on what matters most: growing their business and achieving their goals.