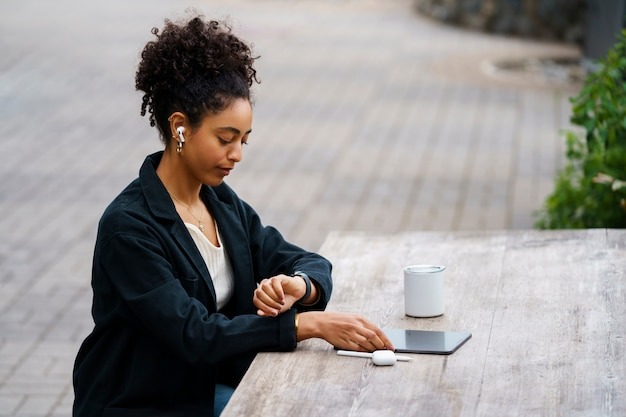 Source: Freepik
5 Healthy Digital Media Habits
As we navigate our way through the digital age, it's important to develop healthy habits when it comes to consuming and engaging with digital media. 
With the constant stream of information and notifications, it's easy to get overwhelmed and feel like we're always "plugged in". 
But by developing these 5 healthy digital media habits, you can take control of your digital life and use technology in a way that enhances your well-being instead of detracting from it.
1. Set Boundaries: One of the biggest challenges of the digital age is the constant stream of notifications and distractions. It's important to set boundaries and establish times when you can disconnect and focus on other things. For example, you can turn off notifications during certain hours, or set a time limit for how long you spend on social media each day. By setting boundaries, you can reclaim control over your time and attention.
2. Engage Mindfully: When we consume digital media, it's easy to get caught up in the endless scroll and mindlessly consume content without really thinking about it. Instead, try to engage with digital content mindfully. Ask yourself why you're consuming a particular piece of content and how it makes you feel. By being more intentional and mindful in our digital consumption, we can become more aware of how technology is impacting our lives.
3. Seek Out Diverse Perspectives: The internet can be an echo chamber, where we're only exposed to content that reinforces our existing beliefs and opinions. To combat this, make an effort to seek out diverse perspectives and engage with content that challenges your worldview. By exposing yourself to different viewpoints, you can broaden your understanding of the world and become a more informed and empathetic individual.
4. Take Breaks: Just like our bodies need breaks from physical activity, our minds need breaks from digital consumption. Make an effort to take regular breaks from technology, whether that's going for a walk outside or spending time with friends and family. By stepping away from the screen, you can recharge and come back to technology with a refreshed perspective.
5. Practice Digital Hygiene: Just like we practice good hygiene to keep our bodies healthy, we need to practice good digital hygiene to keep our digital lives healthy. This means taking steps to protect your personal information online, such as using strong passwords and being cautious about what you share on social media. It also means being mindful of the apps and services you use, and being intentional about the data you share with them.
By developing these 5 healthy digital media habits, you can take control of your digital life and use technology in a way that enhances your well-being. So next time you find yourself mindlessly scrolling through social media or feeling overwhelmed by notifications, remember to set boundaries, engage mindfully, seek out diverse perspectives, take breaks, and practice good digital hygiene. Your mind and body will thank you.