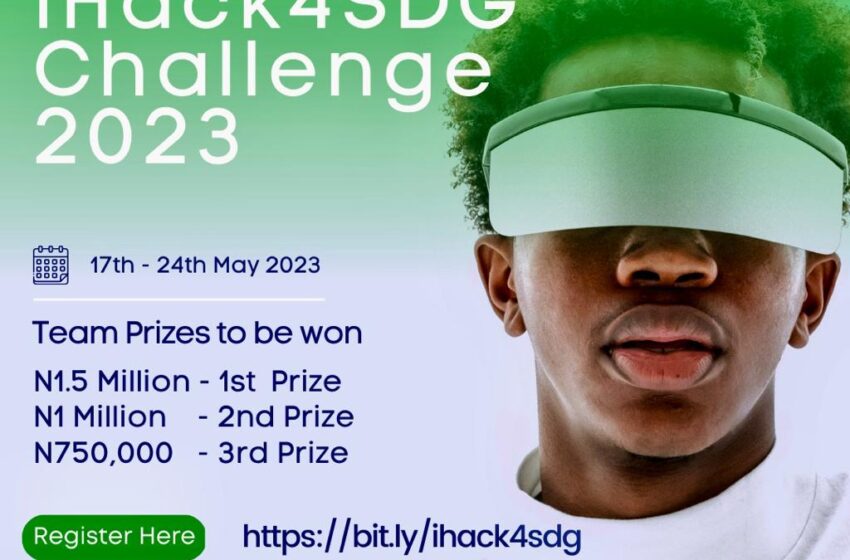 iHack4SDG Challenge 2023
Applications Open for Innovators to Win $3.5 million at iHack4SDG Challenge
Lagos, the economic capital of Nigeria, is a major tech hub for innovation in Africa. The city's tech ecosystem has grown rapidly, fueled by the rise of technology, increasing internet penetration, and a growing entrepreneurial spirit. 
ICAN-BOI, in collaboration with the Institute of Chartered Accountants of Nigeria and the Bank of Industry, will gather a new generation of innovative thinkers from across the tech industry to tackle some of the most pressing Sustainable Development Goals (SDGs), tagged "iHack4SDG Challenge 2023."
ICANBOI, an innovation hub at the heart of Yaba and Ebutte Metta, opens applications for the iHack4SDG Challenge, scheduled to take place from May 17 to May 24, 2023, at the ICAN-BOI Innovation Hub. Ten ideas will be selected to participate in the challenge, from which three teams will emerge winners.
Benefits 
The challenge provides an opportunity for participants to collaborate and develop innovative solutions based on 10 out of the 17 SDGs. These winners will be given resources and support to improve, test, and scale their ideas, which will ultimately become real businesses. They will also have a chance to demo their solutions and have the opportunity to move into the ICAN-BOI incubation program.
Why Participate?
Access to a dynamic network and platform

– Tap into ICAN and Bank of Industry networks.   

Access to a dynamic platform of innovators

– Tap into a conducive space to converge around practical SDG solutions.

Immense networking potential-

 Build connections and be part of a community of practice around eco-systemic, collaborative solutions.

A space to exercise your global citizenship muscle

–  sharpen and hone your skills in leadership, innovative thinking, analytic thinking, interpersonal communication, intercultural collaboration, and allied areas.
PRIZES 
1st Prize – N1,500,000

2nd Prize – N1,000,000

3rd Prize –  N750,000
How to apply
Applications are open until Sunday, May 14, 2023. 
This is an opportunity for innovators who have a knack for problem-solving to showcase their skills, connect and make a difference. 
Venue: ICAN-BOI, 5th Floor, 82 Murtala Muhammed Way, Ebutte-Metta, Lagos
.