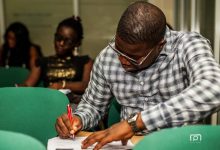 Looking to actualise your ideas and business plans? Apply for Orange Corners Nigeria 2019
Orange Corners Nigeria 2019 has launched its programme to give entrepreneurs (within the age range of 18-35) the opportunity to test their entrepreneurial acumen.
The Dutch Company, affords young entrepreneurs across Africa, the avenue of advancing their ideas into startups and growing those startups efficiently. Through its vast range of  local expertise and stakeholders, Orange Corners promises to ease the entrepreneurial hardship faced by budding business owners via its training sessions, strong network base and resources.
The program is instituted for entrepreneurs with uncommon ideas, having the mindset but lacking the resources and tutelage to project their ideas into becoming a reality. It also looks into half-baked ideas, concepts and business plans that are yet to be actualised.
Orange Corners Nigeria program 2019  is set with the objective of improving the Nigerian entrepreneurial ecosystem for innovative minds and assist them in execution of viable ideas. Furthermore, the program requires young minds that are  socially impactful, competent, have a clear vision of the market structure and are team and individual players.
Benefit
Provision of necessary opportunity, skills and access to a wide range of networks
Enabling youths develop their business concept and access to market
Tutelage, master classes and seminars
Provision of working hub for networking
Seminars and workshops
Eligibility
Applicants must adhere to the following for a chance to qualify:
Entrepreneurs must be below 35 years of age
The business innovation shouldn't be more than two years
Brand or service in question must be a solution to a local challenge
Product or service must be in line with sustainable development goals
How to apply
Do you have any substantial business ideas or plan ready for execution? Or you have what it takes to be a problem solver? Ensure you fill the online registration form . Deadline is in four days from now.
---
Never miss an important story during the week. Subscribe to smepeaks weekly newsletter now.