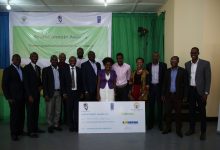 African Innovators? Apply for YouthConnekt Africa Award 2018 ($20,000)
Launched in Rwanda in 2012, YouthConnekt Africa has been embraced for its innovative design, implementation in providing youth with the skills, networks, and information needed to scale their initiatives and gain meaningful employment.
Till date, six countries (Liberia, Congo, Rwanda, Uganda, Zambia) have already launched YouthConnekt and many others are in the process of implementing the model.
YouthConnekt Africa awards is a competition of innovative projects across the continent. Selected innovators will spend 3 days with different mentors and attend intensive courses to improve their business models to scale. Through a rigorous competition, 3 best finalists would be awarded financially.
The Youthconnekt Africa summit 2018, is hosted by the Rwandan Ministry of Youth and will convene more than 3,000 young leaders with head of state, leaders from business, academics and civil society.  These programs will further assist in measuring, monitoring and maintaining successful initiatives aligned with the YouthConnekt objectives.
Eligibility
Nominee is between the age of 16 and 35
Nominee is a citizen of an Africa Union state
Project clearly addresses one of the four award categories ( Economic development, social development, environmental sustainability, and digital inclusion.
Project is registered as a company or cooperative
Project has been in operation for two years or fewer
Nominee is able to attend the YouthConnekt Africa 2018 for boot camp and award ceremony (October 8-10)
The Summit Highlights
AU Youth Volunteer Corps
The 9th Batch Training African Union Youth Volunteer Corps (AU-YVC) will be held in Kigali, Rwanda from 26th Sept – 7th October 2018 bringing together more than 100 youth representatives of every African Union member state for an intensive training on volunteerism before deployment in different regions.
Discussion with the Leaders
This year's Summit, will feature a unique opportunity to the African youth with a exceptional discussion with leaders across the continent, including the AU Chairman, H.E Paul Kagame around the summit theme "Connekting Youth for Continental Transformation" that will tackle topics around youth cross-border employability, nurture African's young visionary leaders, close the Gender gap and many more.
Youth driving SDGs
This program will facilitate discussion on how African youth serve as a driving force to achieve SDGs. It will engage young entrepreneurs, youth volunteers, policy experts, community leaders, and youth-led organizations to exchange experiences, skills, inspiring stories with innovative programmes contributing to scale-up the SDGs achievements. It will create and harness partnerships, provide policy recommendations to educate, empower, and support youth-led initiatives that positively impact Africa's SDG mandate.
Urban youth Forum 
Led by UN Habitat, the Africa Urban YouthConnekt 2018 session will focus on influencing jobs and entrepreneurship through education, innovation, civic participation, and leadership as well as reducing gender inequality. The session will also open up dialogues and come up with integrated & crosscutting approaches to enhance results. This will include art, sports, culture, and access to finance.
YouthMobile
In partnership with UNESCO, The YouthMobile Initiative aims to create a platform of coding experts as a lever for the economic and social empowerment of young generation. The session will serve to strengthen the capacities of youth in mobile applications development for community solutions. Most promising coders will be awarded and linked with significant partners and incubation hubs.
Benefits
12 Finalist will be invited to the YCA summit to present their projects and 4 winners will be awarded in a ceremony on Wednesday, October 10, 2018
The Victors from each of the four categories will receive $5,000 to help expand their business.
How to Apply
Interested innovators can go ahead and visit the website to obtain the form. Deadline for applications is Saturday, September 29, 2018.
---
Featured image: flickr