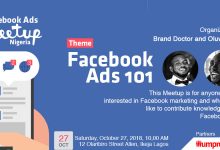 Attend Facebook Ads Meetup to Learn Facebook Advertising Hacks from Scratch
Branded.ng, a leading branding and design agency is launching the first edition of its Facebook Ads Meetup.
According to Chinonso Anyaehie the Convener and Cofounder of Branded.ng, the meetup is for anyone who is interested in Facebook marketing and who would like to contribute knowledge about Facebook ads.
To stay on top of our game, we need to share experiences gained in the course of marketing on Facebook so that we can improve each other and become great Facebook advertisers.
At the Facebook Ads Meetup, issues ranging from:
Creating the right Facebook ads objective,
Installing and tracking Facebook pixel to optimise conversions
Setting Facebook Custom Audience and Lookalike audience,
And a lot more will be laid bare — all geared towards getting the optimum result for Facebook ads and to avoid poor advert ROIs. The meetup is open to business owners, social media managers, digital advertisers, and anyone who utilises online advertising for their business objectives.
Training Details
Venue: 12 Olaribiro Street Allen, Ikeja (off Alada Market), Lagos
Time: 10:00 am prompt
Date: Saturday, October 27, 2018
You can register online to attend the Facebook Ads Meetup. You can also keep up with the event on Facebook.
---
On Saturday October 13, 2018, Accounteer is hosting SME Meetup to teach emerging businesses how to overcome financial challenges. See details of the event and register to attend.