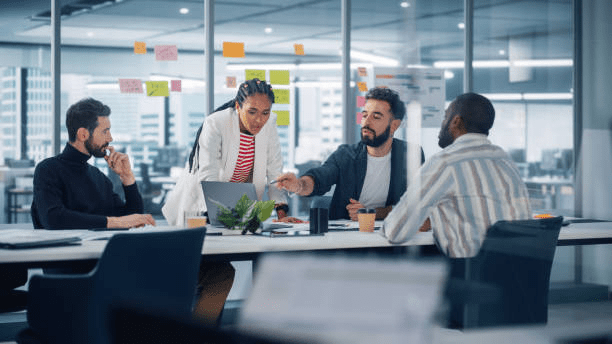 Strategic Planning
Building a Resilient Business: Strategies for Navigating Uncertain Times
Uncertainty has become the new norm today. Whether it's economic downturns, technological disruptions, global pandemics, or political instability, businesses must be prepared to navigate through turbulent times and emerge stronger. 
Building resilience is the key to not only surviving but thriving amidst uncertainty. Hence, the need to understand effective strategies to help build a resilient business that can weather any storm and adapt to changing circumstances.
1. Develop a Clear Vision and Agile Strategy:
Resilient businesses start with a clear vision that outlines their long-term goals and purpose. This vision serves as a guiding light during challenging times. Alongside a vision, an agile strategy is crucial, allowing the business to quickly respond and adapt to unexpected events. By regularly reviewing and adjusting your strategic plans, you can proactively address potential risks and seize emerging opportunities.
2. Diversify Revenue Streams:
Relying too heavily on a single product or market can leave a business vulnerable to disruption. Building resilience involves diversifying revenue streams to spread risk and capitalize on different market opportunities. Explore new product lines, target new customer segments, and expand into untapped markets. This approach not only enhances your ability to withstand uncertainties but also fosters innovation and growth.
3. Foster a Culture of Innovation:
Embracing innovation is a fundamental aspect of building a resilient business. Encourage creativity and out-of-the-box thinking within your organization. Create platforms for employees to share ideas, experiment with new processes, and collaborate on problem-solving. Fostering a culture that values innovation will help you stay ahead of the curve, adapt to market shifts, and uncover new avenues for success.
4. Build Strong Relationships:
In uncertain times, strong relationships with customers, suppliers, and partners are invaluable. Invest in building long-term relationships based on trust, open communication, and mutual support. Understand your customers' needs and adapt your offerings accordingly. Collaborate with suppliers to ensure a stable supply chain. Seek strategic partnerships that can provide access to additional resources, expertise, or distribution channels. Strong relationships can provide a safety net during difficult periods and open doors to new opportunities.
5. Prioritize Agility and Flexibility:
Resilient businesses are nimble and quick to respond to changing circumstances. Establish processes and structures that enable flexibility and agility. Encourage cross-functional collaboration, empower employees to make decisions, and embrace a mindset of continuous improvement. Being adaptable allows you to pivot swiftly, seize emerging opportunities, and mitigate potential risks.
6. Invest in Technology and Digital Transformation:
Technological advancements are reshaping industries at an unprecedented pace. Embracing digital transformation and leveraging technology can significantly enhance the resilience of your business. Invest in robust IT infrastructure, data analytics, automation, and cloud computing. Embrace e-commerce, social media, and online marketing to diversify your customer reach. Technology can streamline operations, improve efficiency, and provide valuable insights that inform strategic decision-making.
7. Continuously Monitor and Plan for Risks:
Building resilience requires a proactive approach to risk management. Continuously monitor industry trends, market conditions, and potential risks that could impact your business. Develop contingency plans and scenario analyses to prepare for different outcomes. Regularly assess your financial health and explore insurance options to protect against unforeseen events. By staying vigilant and proactive, you can minimize the impact of risks and position your business for long-term success.
Conclusion
Building a resilient business is an ongoing journey that requires foresight, adaptability, and a proactive mindset. These given strategies will help you navigate uncertain times with confidence. Resilience not only enables survival but also paves the way for growth and success in the face of adversity.
Remember, resilience is not built overnight. It requires a commitment to continuous improvement, a willingness to embrace change, and the ability to learn from both successes and setbacks.