#EndSARS: How technology and creativity influenced the course, adversely and otherwise
Like every other day of the week, Tuesday, October 20 started out on a calm note. As I prepared myself to set for the day's work and stepped out of my house, I encountered an unusually busy road, along one of the suburbs in Lagos. The road blockade had emanated from protesters who formed several groups barricading many areas across Lagos. 
Although I was able to manoeuvre through the labyrinth of streets, I couldn't but marvel at how, for the first time in the Nigerian history, young citizens are exercising their constitutional rights to demand actionable changes from the government against police brutality, in a peaceful and coordinated way. 
The protests went on, and in barely 12 days, what began as a peaceful demonstration of civic rights had deteriorated into chaos. Somehow, the protests across several Nigerian states were hijacked by unscrupulous thugs, who induced violence at intervals and also attacked innocent protesters. 
---
Read also: #EndSARS in retrospect: A 14-day sequence of "hopeful agitations"?
---
But the most saddening event happened on this day. As usual, peaceful protesters had conveyed at one of the major points, the Lekki toll gate, and remained, despite an imposed curfew by the state government earlier that day. In an unprecedented turn of events, armed military men arrived at the scene towards the evening time and began shooting at the protesters, leaving at least 12 people dead, according to Amnesty International, and many others injured. 
Amid the chaos, some major scenarios stood out. One of them was when an on-site protester, DJ Switch, a Nigerian Disc Jockey and Artiste, live-streamed the horrific ongoings to over 130K+ viewers who watched real-time. In the live-stream, Switch captured lots of injuries and some deaths.  
Why would anyone use live rounds near a public gathering? #LekkiTollGateShooting https://t.co/JMOY4pn9hA pic.twitter.com/w7LpXIWmDK

— TD (@TomiDee) October 20, 2020
However, beyond the stirring emotions from that horrific sight and agitations that followed days after, the manner with which protesters like DJ Switch maximised the social media, technology, and embedded creativity, to drive home their pain points during the protests is worth recounting and exploring. Here's a deep dive into these elements that made the #EndSARS protest worthwhile.
Use of social media, Twitter especially

 
From historical precedent, social media plays vital roles in driving protests, both online and offline across the world. In Nigeria, past protests that have stemmed from the social media include #OccupyNigeria, #BringBackOurGirls and #NotTooYoungToRun. While in western countries, social media has fuelled protests like #BlackLifeMatters, Arab Spring, the Hong Kong protest, and many more. 
This time, we see the same pattern unfold. Could history be repeating itself? 
Not a day's journey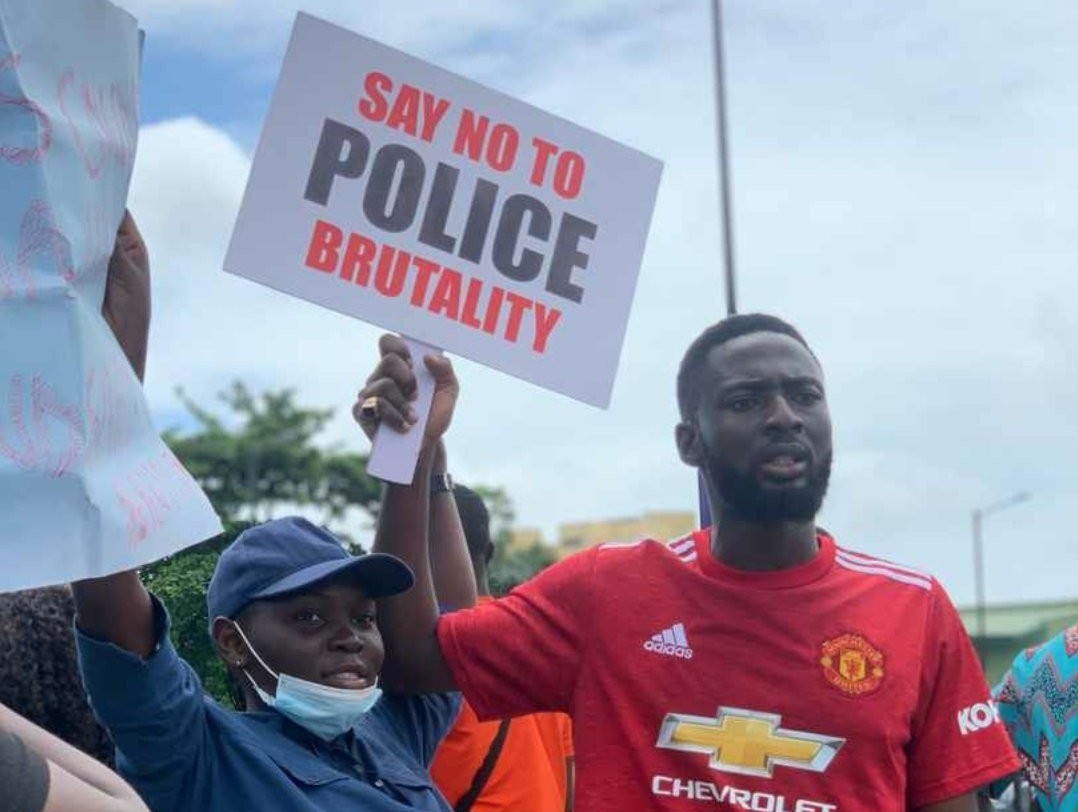 Prior to the recent protests, there has been a continuous outcry against police brutality, dating as far back as 2017. The #EndSARS hashtag was thereafter promulgated on Twitter by a Nigerian activist, Segun Awosanya, popularly known as Segalink and a few others in that year. The demand was that the Nigerian federal government should scrap the Special Anti-Robbery Squad (SARS) on accounts of robbery, extortion, torture, rape, extrajudicial killings and abduction of young Nigerians. Although year after year, disbandment of the notorious police unit was promised by the government, the ordeals only exacerbated. 
In this year's "uncoordinated-coordinated" protest (as many have labelled it), #ENDSARS hashtag garnered momentum like never before. Many Nigerians took to social media to share stories and series of video evidence of how they've been victimised by officers of SARS.
International and local celebrities like Trey Songz, Beyonce, Cardi B, Davido, Falz, Tiwa Savage, including footballers like Mesut Ozil and Marcus Rashford, lent their voices using the #EndSARS hashtag. 
When the happenings across social media became too difficult to ignore, #EndSARS protest started gaining international media coverage from the likes of CNN, BBC, Guardian, New York Times and many others, all jumping on the reportage as events unfolded.
Nigerian brands and companies were not exempted. Flutterwave, PiggyVest, Eden, Bundle Africa, BuyCoins, amongst others, were seen supporting the cause on social media. 
We've raised 2m so far, and the team decided to open it up to the public. 

We are 100% against all forms of violence & brutality and we need to band together to put an end to this.

You can join the donation here – https://t.co/87hm5RdsYN #EndSars

— GB 🦋 (@TechProd_Arch) October 9, 2020
While this was quite impressive, other sides of tech that played out so well were the use of solar panels. 
Self-generated power source; solar panels 
It's inevitable for protesters to run out of power on their devices, following regular online updates, streaming, tweets and retweets, in the bid to increase and maintain #EndSARS' online visibility.  
An extraordinary way the protesters mitigated challenges of flat batteries is the adoption of solar panels and chargers at protest grounds.
Lekki #EndSARS protesters can now charge their phones , solar inverter and phone chargers have been made available 💪🏽💪🏽💪🏽 pic.twitter.com/tlenP8NQWE

— Naija (@Naija_PR) October 16, 2020
This improvisation for alternative power was not only applauded but enabled the continuous activities of the protesters both online and offline. The online streets were never short of live footage, and the global audience was able to keep track of the happenings.  
Real-time streaming documented video clips and live footages
A report has it that the mobile industry in Sub-Saharan Africa had largely risen to the challenge of keeping individuals and businesses connected during the pandemic. This is evident in how young Nigerians made use of their mobile phones to the fullest despite the data consumption patterns. 
More than anything, young Nigerians made videos and audio recordings on their mobiles, while expressing their freedom of speech on social media. And this made everyone plug into real-time streaming of the protest scenes that were made available online. Some international and local media platforms were able to connect and re-use scenes made available online for live broadcasting. 
Without an iota of doubt, the live footage and real-time streaming was useful in the compilation of evidence on the October 20, 2020 shooting of protesters at the Lekki toll gate. The videos were analysed by forensics to confirm its originality and also debunk the Nigerian military claims. 
#LekkiMassacre: Forensic Analysis Proves Videos Of Killings Are Genuine | Sahara Reporters https://t.co/Z1D4Xcrm8Z#EndSARS pic.twitter.com/CzGuYnfOpv

— Sahara Reporters (@SaharaReporters) October 24, 2020
What's happening in Nigeria. This injustice needs to be stopped. Our support is with the citizens of Nigeria. Never let your voice be silenced. #endsars #endsarsbrutality 🇳🇬 pic.twitter.com/kI81V7GNcL

— MEFeater Magazine (@mefeater) October 21, 2020
They were #unarmed#LekkiGenocide #BlackTuesdayNigeria #EndSARS #EndSARSBrutality #EndSarsNow pic.twitter.com/oBd7h5S8Oh

— Daily Guide Network (@DailyGuideGH) October 21, 2020
My loudest voice is telling stories with my camera and I did.#EndSWAT pic.twitter.com/MJiAvQXEMW

— Arakunrin Enahoro (@Zoeinc_) October 14, 2020
One of favorite moments from the #EndSARS has to be the prayer sessions and walks. pic.twitter.com/YKRnPPpSWI

— Big Fish Gee 🦈 (@GbemmyG) October 22, 2020
Next on our list is the use of cryptocurrency. 
Self-generated funding pool: cryptocurrency at the core  
In a country like Nigeria where fintech startups, Flutterwave, Paystack, PiggyVest, among others are leading the front, it was quite easy to raise funds from supporters at home and abroad for the #EndSARS protest. Donated funds were used to sort out foods, drinks, first aid kits, hospital bills and other necessities for protesters. 
Funds poured in nicely, until suddenly when the Central Bank of Nigeria (CBN) reportedly summoned Flutterwave to take down the donation links on the basis that it's funding terrorism, at a point during the protest. Although, in an update published on the company's blog, Flutterwave debunked the news stating that its "payment platforms are up and running efficiently", many protesters opined that the move must have been a deliberate and malicious one by 'the powers that be' to distort the protests' progress. 
Whatever must have been the case, people were quick to improvise donations, and cryptocurrency saved the day. A gender equality group formed by young Nigerian feminists in July 2020 — Feminist Coalition — became the convergence point for crypto donations and accepted bitcoins from funders globally. 
We're moving to only accepting donations in Bitcoin using BTC Pay. BTC Pay is a free, secure, decentralized and censorship-resistant platform, which makes it our best option, given the past few days #EndPoliceBrutalityinNigeria

Please donate here: https://t.co/FvsEKetUL9

— feministcoalition (@feminist_co) October 15, 2020
Interestingly, CEO of Twitter, Jack Dorsey, also donated bitcoins in support of the #EndSARS protest, according to a tweet he made. 
Donate via #Bitcoin to help #EndSARS 🇳🇬 https://t.co/kf305SFXze

— jack⚡️ (@jack) October 14, 2020
As of October 22nd, 2020 when the group stopped receiving donations, it received a total of ₦147,855,788 in USD, CAD, GBP, EUR, GHS, KES, and BTC. It's interesting to see that cryptocurrency which is largely associated with fraud was adopted as a mainstream donation for a movement this strong.  
Creativity and multimedia at play; a picture is worth a thousand words

 
Undeniably, many young Nigerians are internet-savvy and talented. All through the protests, different graphic and pictorial designs were created to push the #EndSARS narrative. Impressively, the logo which was in a way the "face" of the protest was designed by Ire Aderinokun, a Nigerian Designer, who never thought it'd be as symbolic at the onset of designing.
On another note, it was honestly so heartwarming to see how this logo I designed in less than 30 minutes and under so much pressure became such a powerful symbol in the movement 💛

+ it was hilarious that misogynists thought the female symbol in it was "hidden" pic.twitter.com/EHpGUEPyG2

— Ire Aderinokun (@ireaderinokun) October 23, 2020
It is said that necessity is the mother of inventions. This was evidently displayed in how creatives swung into action to document the protest, from prayer walks to peaceful movements in different locations of the demonstration to creating video content, designing platforms that aid coordination of meeting places, graphic design and even building a dedicated website of #EndSARS for people to share their experiences with SARS. 
Additionally, some brands like Cakeswalkintall, Genevieve Magazine, She Leads Africa and more jumped on the trends to create interesting spins. 
Apparently, technology and social media largely influenced the success of the protests across states. However, there are side effects that may not have been noticed. Let's explore these defects. 
The adverse effect of the internet and social media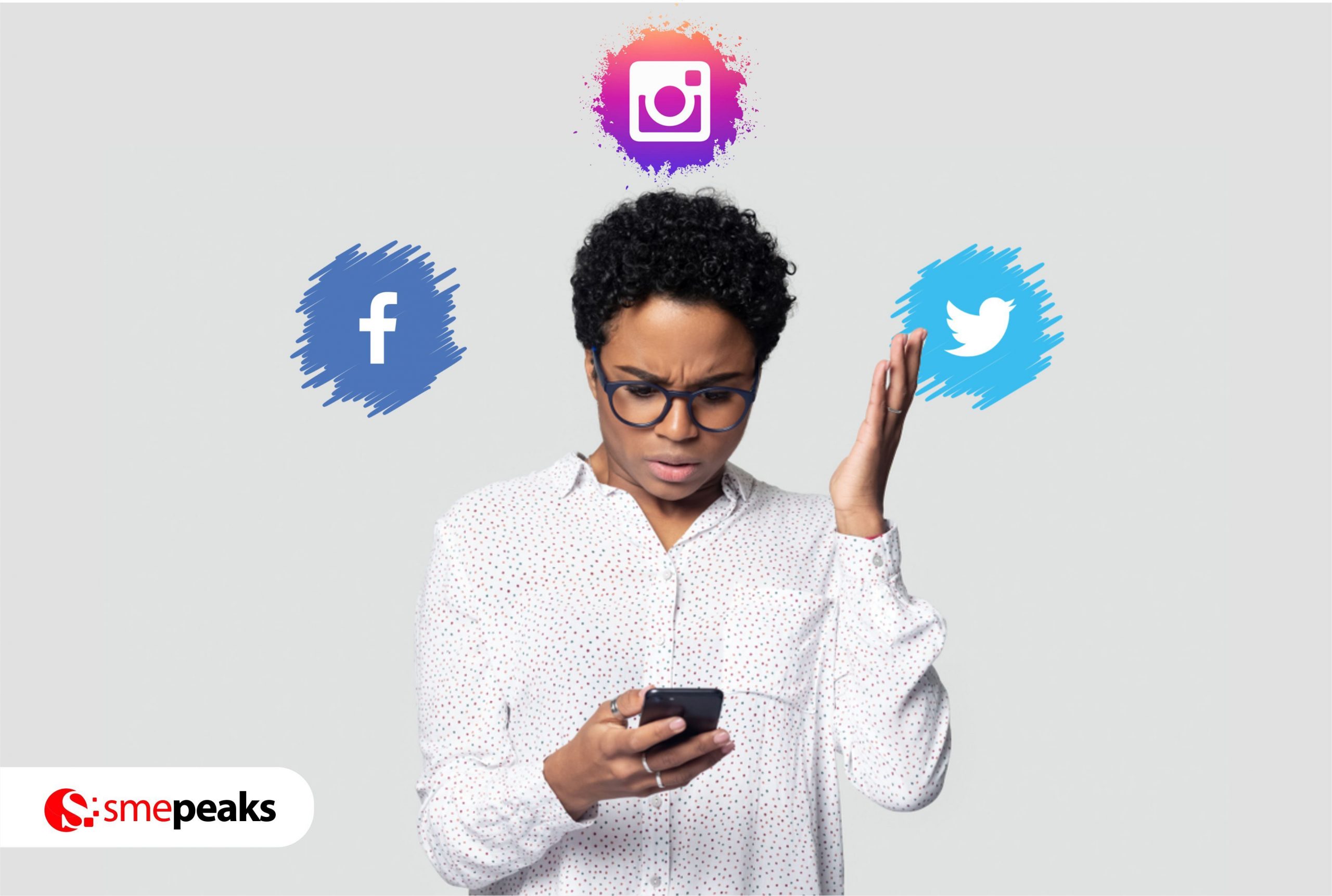 In the last few days, nearly everyone I've spoken to has been psychologically traumatised by Tuesday's shootout at the Lekki toll gate, and other violent-themed occurrences across the country. Even for me, many of the gory pictures and videos of death I saw on social media caused unpleasant nightmares. 
To make it worse, the fake news making rounds on social media instilled fear and aroused agitations in many. In a bid to salvage this, individuals began to fact-check information posted online while many also turned to platforms that entertains to alleviate the fear. Yet, the traumas lingered. 
It was a really bad state of uncertainty, where many thought the country was tinkering at the edges of a civil war. This, combined with news of deaths, properties' vandalism and conflagration by hoodlums, weren't a good combo for the mental faculty of many. 
Although the rough times seem to have quelled, many of the protesters, especially those present at the night of the shooting, are still far from normal. Some business owners had to give "mental relief holidays" to their staff just to restore balance. 
A better way to go around things?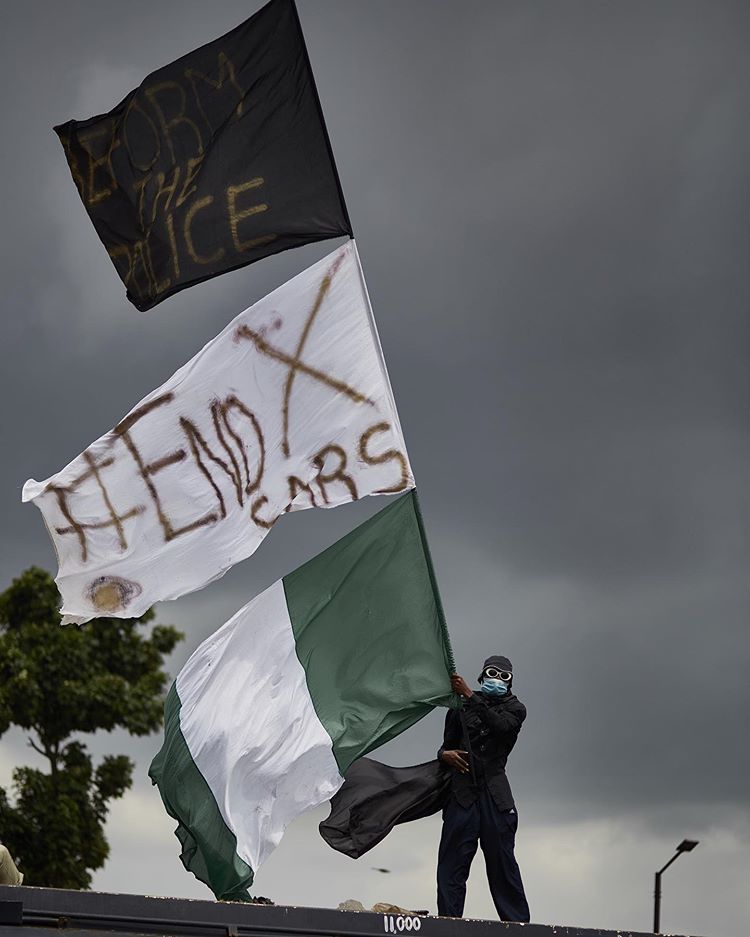 Granted, the unprecedented protest which started off in an "uncoordinated-coordinated" way made some significant successes considering disbandment of SARS by the government, yet there were certain things that could have been done better or, should I say, smarter? First, let's go back to what could have changed the game during the night of #LekkiMassacre.
One of the things that could have been of great importance to the protest was a standby power supply. In addition to the solar panel made available, the backup power source will not only enable the protesters to charge their devices but provide electricity at the Lekki toll gate as well as other protest locations where power went out. 
Another thing that could have made a difference would be the use of drones. This would have allowed the full and wide reportage of the event as they happened as well as providing time stamped video evidence of the Lekki tollgate shootings. 
Logistics and housing arrangements for protesters

 
Transportation and accommodation could have been provided for protesters who may want to leave the protest ground. The availability of this would have helped protect them against harm. In this case, a situation where Bolt drivers were reportedly picking up demonstrators who ordered a ride from the protest ground and dropping them at the police station would be avoided. 
Counter offensive mechanism 
One of the crucial things that should have been done is taking into account how to counter offensive mechanisms that could be deployed against peaceful protesters. For instance, teargas could have been countered with science? A similar scenario played out in the Hong Kong protest where protesters used umbrellas, face masks, hard hats and respirators to shield themselves from projectiles and teargas. 
Thoroughly thinking things through (TTTT)
Conclusively, there should be end-to-end planning. This will help in fleshing out the potential risks, analysing the possible loopholes and also exploring on-the-go liaison with international media for immediate visibility. 
Although these are delicate times for Nigerians, the question of whether or not people will hit the streets again to protest is very sketchy to answer at this point. But if at all there's such consideration, a well thought-through, strategic plan, that takes into account risk-mitigation techniques, is essential, to save lives. And at the very least, the directions revealed in this piece could be a good start.
---
Got a story worth telling? Shoot us an email with SUBJECT — "Story Worth Telling" — to [email protected].