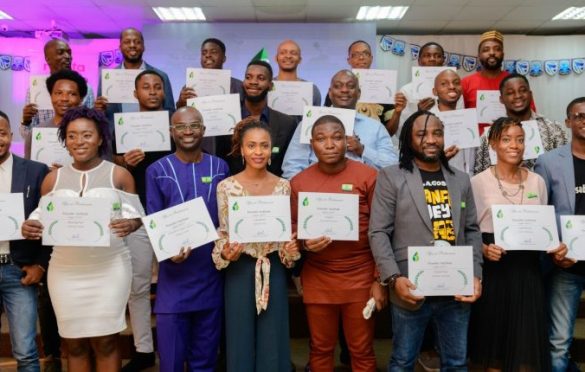 FI releases Lagos Startup Resource List: 250+ Accelerators, Incubators, Investors and more
It appears the new year is starting on a 'resourceful' note for the Lagos startup ecosystem.  After putting in long hours of work and research, the StanbicIBTC Founder Institute has released a definitive list with more than 250 Accelerators, Incubators, Investors and much more information, to serve as a start-up guide, for upcoming and existing startups in Lagos.
A WeeTracker report reveals that African startups raised $1.34 billion, in venture capital in 2019. Nigeria led the investments, with $663.24 million, followed by Kenya and South Africa, amounting to 75% of the deals, for the entire continent. This development shows that indeed Lagos is, a great place to build your start-up, however, most of the early-stage entrepreneurs we speak to, are not aware of the local tech resources that are available, to help them.
Based on this need, the institute's Lagos Directors, Chukwuemeka Fred Agbata Jnr. (Co-founder, GoDo Hub); Fasuyi Oluwarotimi (VAS Digimobility); Ifedy Eze (Lead Strategist, Maisematrix Consulting) and Wande Adalemo, (Founder/CEO, Wave5Wireless [Atmosphere]), with their experience, in entrepreneurship and the start-up ecosystem, made their contributions, towards the Lagos Startup Resources Guide, version one.
 "Our aim is to add value, by providing very early stage founders, with the support and curriculum they need, to develop and take their ideas, to the market. In the same vein, it is hoped that this Startup Resource List, will benefit the ecosystem in general and also, appreciate the multiple players, for the hard work they are doing, to build the ecosystem", concluded Chukwuemeka Fred Agbata Jnr., Regional Director for Africa, Founder Institute. 
---
Read Also: StanbicIBTC Founder Institute is inviting you to its Startup Legal Session, this Thursday 
---
The Lagos Startup Resource List is open to all and sundry. FI, in its quest to create a plain ground for promising companies to thrive, is still calling on startups to apply for its programme.  The institute promises to get you to traction and help secure funding with a support network of startup experts that are invested in your success. FI claims its structured business-building process that has helped alumni raise over $900M, and yours could be next. Admissions close on January 26, 2020.
---
Got a story worth telling? Shoot us an email with SUBJECT — "Story Worth Telling" — to [email protected].