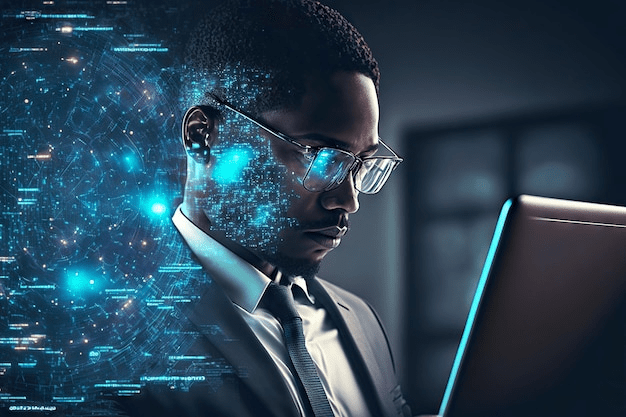 Small Business Owner
How Artificial Intelligence is Transforming Small Businesses
In today's rapidly evolving business landscape, small businesses face both challenges and opportunities. 
One of the most significant game-changers for small businesses is the integration of artificial intelligence (AI) into operations. 
With AI, small businesses can streamline processes, make data-driven decisions, and compete effectively in the digital age. The impact of AI on small businesses is huge, helping them drive growth and success.
Enhanced Efficiency and Automation
AI-powered tools and automation have the potential to revolutionize the way small businesses operate. With the ability to analyze vast amounts of data quickly, AI systems can automate repetitive tasks, freeing up valuable time and resources for small business owners and employees. From inventory management and customer service to data analysis and marketing campaigns, AI streamlines operations, reduces costs, and enhances overall efficiency.
Improved Customer Experience
Customer experience is a critical factor for small businesses to thrive in a competitive market. AI technologies, such as chatbots and virtual assistants, provide personalized and real-time customer support, enhancing engagement and satisfaction. AI algorithms can analyze customer behavior patterns, preferences, and feedback, enabling small businesses to tailor their products, services, and marketing efforts to meet customer expectations. This level of personalization not only improves customer loyalty but also drives sales and business growth.
Data-Driven Decision Making
AI systems can analyze vast amounts of data and extract valuable insights, empowering small businesses to make informed and data-driven decisions. By leveraging AI-powered analytics tools, small businesses can identify trends, patterns, and consumer preferences, enabling them to develop targeted marketing strategies, optimize pricing models, and identify new business opportunities.

The ability to harness data and gain actionable insights gives small businesses a competitive edge in understanding their customers and adapting to market dynamics.
Enhanced Cybersecurity
Small businesses are often vulnerable to cybersecurity threats, and the cost of a data breach can be devastating. AI-powered cybersecurity solutions can help small businesses protect their sensitive data and detect and respond to potential threats in real-time. AI algorithms can continuously monitor network activities, identify anomalies, and provide proactive security measures to mitigate risks. This level of cybersecurity protection is crucial for small businesses to build trust with their customers and safeguard their reputation.
Job Evolution and Skills Development
While there are concerns about AI replacing human jobs, the integration of AI technology in small businesses can lead to job evolution rather than displacement. AI automates mundane tasks, allowing employees to focus on more strategic and creative aspects of their work. It also creates new job opportunities in AI development, data analysis, and AI system management. Small businesses should embrace this change and invest in upskilling their workforce to adapt to the evolving demands of an AI-powered business environment.
Conclusion
The impact of artificial intelligence on small businesses is transformative, offering small business owners the tools and capabilities to enhance efficiency, improve customer experiences, make data-driven decisions, strengthen cybersecurity, and adapt to the changing business landscape. 
Leveraging AI technology and integrating it into operations is essential for small businesses to stay competitive, drive growth, and navigate the complexities of the digital age. By harnessing this innovation, small businesses can unlock new opportunities, achieve operational excellence, and thrive in today's dynamic business environment.