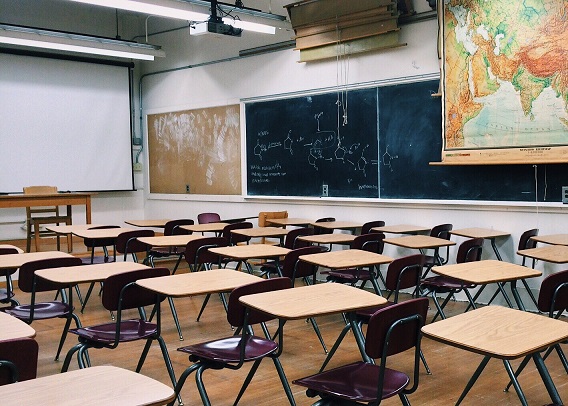 Nigeria is tilting towards online learning, but the challenges are far too overwhelming
Just as many other industries are affected by the global pandemic, another key sector taking a hit is education. Following the lockdown directive in many countries, schools are expected to shut down.
On March 23, in a bid to curb the spread of the coronavirus, the federal ministry of education announced the temporary lockdown of all schools in Nigeria. This means that both students and teachers in all academic institutions — primary to the university level — are required to stop academic activities physically.
The United Nations Educational, Scientific and Cultural Organization (UNESCO) as of April 13, 2020 states that an estimated 1,235,602,579 learners have been affected by school closures which represents about 70% of the world's student population.
To contain the spread of the disease and also mitigate the impact of the sudden closure of schools on students, schools have been prompted to deliver classes virtually in many parts of the world: they are pivoting to online learning and Nigeria isn't left out.
Some institution owners at different levels in Nigeria who are able to provide online services have initiated the use of e-learning platforms to teach students remotely during this period. Though, some are still struggling to shift their classes online.
As much as the solution proffered to cushion the impact of the school closure on students seems unprecedented, it still won't change the fact that not every parent can afford their children the opportunity to learn remotely.
In this regard, some schools claim that they are conducting radio lessons via radio stations broadcast to help students continue with the academic calendar while observing the stay-at-home order by the government.
The classes are focused on students preparing for entrance examinations — school leaving certificate (Primary 6), Junior School Certificate (JSS3), and Senior School Certificate (SSS3) Examinations in Nigeria. Additionally, the West African Examinations Council (WAEC) has a section of its website assigned to students to help them prepare for the exam.
The World Bank is also supporting the ministry of education in different countries in their efforts to provide students with opportunities for remote learning.
In Kenya, the ministry of education is reportedly using four main platforms to deliver educational programs and resources to students: the radio, TV, the television program is made available as live stream as well as on-demand content via Kenya Institute for Curriculum Development's (KICD) EduTV Kenya YouTube channel and students can also access digital learning resources from the Kenya Education Cloud-hosted and curated by KICD.
Similarly, the Libyan ministry of education purportedly made a deal with local television stations to screen "compulsory" lessons for middle and secondary students.
Asides schools shifting into online e-learning for their students, more webinars are being held and course providers are also giving out their content for free or at a discounted price.
Challenges of online learning in Nigeria
Prior to the global pandemic, online learning in Nigeria for school children seems impossible given the effort and facilities that need to be in place to help students learn smoothly as well as enjoy the feel of being in a classroom.
Although technology guarantees students access to school no matter the condition of the country, one of the major threats of online teaching in Nigeria is electricity. Considering that power is rarely stable which also varies in some areas, it will be difficult to access online lectures, especially if it's broadcasted on TV with no opportunity for highlights of the classes.
During these schools shut down, many parents have also been forced to work from home. This means that parents and their children could be competing for computers or mobile devices to either work or follow online classes.
"Before the lockdown, the school already have database of parents so they were able to add us to a WhatsApp group; however there's a need to get devices so the children can also be on the group to receive lectures. The classes are held on WhatsApp between 7 a.m to 9 p.m with a 45 minutes break and since we are also on the group, if the child is not responding we are aware," Mrs Akindele, a parent stated.
Whilst this is a good initiative, the challenge is that parents need to monitor the children when they are in class to make sure they are paying attention while they are also focusing on their daily tasks. In some cases, the children also have to mark the register like they are in class physically.
Even though some parents can afford computers for their kids, they could also be at a disadvantage due to the country's weakness in internet infrastructure. Making the internet equally accessible to students to attend online classes could pose a challenge.
Asides constant power supply and internet, parents and teachers are also having a difficulty in grabbing the attention of students or making them concentrate.
"Some students that rarely pay attention in class before now are even finding it hard to stay focused when they are online. This is where the parent comes in but then, some of them are busy with other things hence less attention is given to the child," Mr. Ayomide, a teacher in a private school mentioned.
However, a positive side to this will be that some students who are usually scared of asking questions or contributing in class can easily drop their questions on the WhatsApp group without being scared of the response or comments from the teacher and other students.
Meanwhile, not just the students and parents are being affected by this new development: some teachers are also on the receiving end. Considering that just the main subjects are being taught this period, teachers who teach minor subjects like physical health education, home economics, social studies, french, music etc are left out of the equation.
Mr. Ayomide confirmed that the direct implication of this is that some schools are not paying the teachers taking these subjects due to the fact that they are not teaching this period.
While the government is focused on the health and economic sector this period, this might also be an opportunity for the educational policymakers to take a deep look into the system: proffer more viable solutions that could reach everyone, regardless of whatever means they choose to learn with or the end of the spectrum they are on.
---
We've partnered with Sidebrief, a Legal compliance company to help as many as possible businesses access and get the necessary document for the FG N50bn Covid-19 credit facility. Interested? Get started for free. 
---
Got a story worth telling? Shoot us an email with SUBJECT — "Story Worth Telling" — to [email protected].