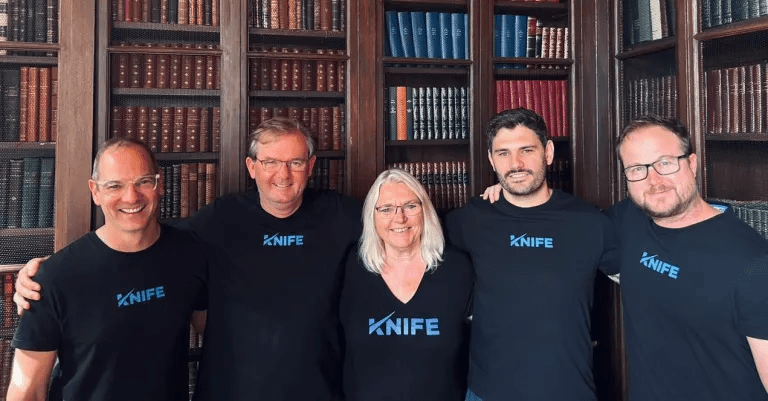 Knife Capital's Partners
Knife Capital Closes $50 Million Fund to Bridge Growth-stage Funding Gap
Focused on funding growth-stage startups, South African investor Knife Capital has announced the final close of its $50 million fund, aptly named Knife Capital III. 
The venture capital firm, founded 12 years ago, aims to provide much-needed support to South African entrepreneurs at the Series B stage, empowering them for substantial growth and returns through strategic exit opportunities.
Knife Capital's approach, often referred to as "looking at the business from exit backward," focuses on identifying startups with strong potential and the capacity to generate remarkable returns through exit strategies.
The VC firm's success is evident through its track record of seven exits across its previous funds, including significant acquisitions like Fundamo by Visa and orderTalk by UberEats.
The fund's strategic alignment with local needs is bolstered by partnerships with prominent names in the finance and investment landscape. These partnerships include the International Finance Corporation (IFC), Mineworkers Investment Company (MIC), SA SME Fund, Standard Bank, and AfricaGrow, among others.
Despite the firm's impressive track record, the road to closing Knife Capital III wasn't without its challenges. Co-founder and partner Keet van Zyl acknowledges the difficulties in converging various limited partners (LPs) into the same fund due to varying mandates and diligence processes. However, Knife Capital's history of repeated successes and its commitment to building a credible venture capital asset class in Africa helped attract LPs to join the fund.
With the fund now closed, Knife Capital plans to deploy investments in 10-12 firms with an average investment of $3 million per startup. The firm's focus remains on capital-efficient, high-growth businesses with an emphasis on sectors that tackle Africa's unique challenges, such as edtech, healthtech, fintech, AI, and agritech.
The recent investment in Kasha, a Rwandan health access platform, showcases Knife Capital's readiness to explore opportunities beyond South Africa's borders. This strategic expansion into other African markets aims to leverage the firm's expertise while fostering growth in emerging economies.
As Knife Capital embraces its new fund, the firm continues to exemplify its commitment to driving innovation and growth within the African startup ecosystem. The successful fund closure marks another chapter in the firm's journey to empower entrepreneurs, bridge funding gaps, and catalyze economic growth in the region.