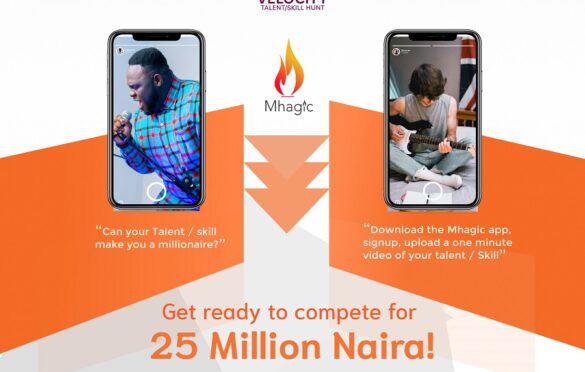 Got an amazing talent/skill? Win $60,000 reward from the Mhagic Velocity Competition
Mhagic, a new and innovative app developed by Eloksware, has created its first in-app show; "THE VELOCITY", a multi-talent & skill hunt competition that aims to find and award the most talented and skilled individual or group within Africa. This year's winner goes home with ₦25 million ($60,000).
The organisers believe that "everyone has a voice when it comes to Mhagic". As such, the Velocity show is making it possible for regular and top individuals with talents and uncommon skills to have a global stage where they can make their dreams come true, with an opportunity for unlimited promotion and an audience base comprising potential clients, employers, partners, collaborators and investors. 
Eligibility criteria for the Mhagic Velocity Competition 
The mobile-based virtual competition is open to all gender and age group (from ten years old). In addition, people from all over Africa are invited to participate. All talents and skills are accepted in the following categories:
Entertainment: Singing, Dancing, Instrumental playing, Lip Synching, Beat Production, Mimicking, Sports
Tech: Animation, 3D Simulation, AR/VR Development, Programming, Architecture Fabrication, Gaming/Development, Robotics development, IOT, Electronics
Art: Painting, Drawing, Sculpt, Photography, Cartoon/Animation, Magic, spoken words, Acting, Acrobatics, Cooking, Confectionery
Fashion: Weaving, Makeup, Braiding, Cobbling, modelling
Others: Any talent or skills not listed
While participation is from the comfort of the contestant's home, a smartphone (Android or iOS) with the Mhagic app is required to be a part of the contest. 
Highlights 
The Mhagic Velocity show is a 13-week in-app competition features weekly:
Video or pictorial upload of talents & skills

Tasks 

Evictions 
Contestants have to secure:
 Votes now cost 10 Naira each or $1 for 20 votes

Views by fans 

In-app following from fans. 
These are cumulated every week, from which our algorithm determines who advances to the next week or gets evicted until the finalists in the 12th week; who would compete for the grand prize of 25 Million Naira ($60,000). 
How to participate: 
To join the Mhagic Velocity Competition:
Download the MHAGIC App via Google Playstore; or AppStore: 

Register 

Edit your profile and 

Upload a 1-minute video of your talent/skill (15 MB)

Share your entry on social media with the hashtag #MhagicTheVelocity and tag @themhagic
Entries are now open for submission until Wednesday, January 13, 2021. Successful candidates will be notified of their selection before the show starts on Sunday, January 24, 2021.
By the end of the show, we have plans for many of the contestants to win contracts, funding, orders, advanced training opportunities and partnerships. Some of our sponsors include ADDYFX, OKsROLL, AihCALL & ThisOKs.
You may also follow Mhagic across social media; @themhagic on LinkedIn, Twitter, Instagram, Facebook and @TheMhagic TV  on YouTube.  You can follow up the Mhagic Velocity Competition on WhatsApp.
---
Promote your content to thousands monthly. Shoot a mail to [email protected] for our sponsored content enquiries.